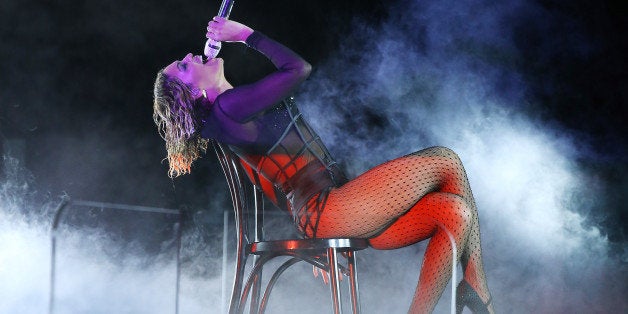 If you watched the Grammys this past Sunday, you were doing either one of two things: gawking about Beyoncé's size 2 dress she wore on the red carpet (hint: Google, "Beyoncé size") or gawking about the sheer bodysuit she wore during her sexy performance with the hubby.

But I wasn't.

In the midst of everyone drooling, I was in Houston holding down her hometown -- watching the awards show and enjoying my dinner with a nice glass of wine when I began to look way past the obvious beauty, style, and talent the superstar possesses.

While I took notice of the couple's performance -- the sexiness, her wet hair and Jay's sensational grasp of Bey's rear, I began thinking about a quote that has weaved its way through the interwebs rampantly.

"It takes years to become an overnight success."

Yep.

After all the sexy smoke disappears, the popping red lipstick smudges and Jay releases the firm grip on his wife's bum, the reality is, Beyoncé is a hard worker whose work ethic, professionalism and ability to keep pushing past the odds is something to admire and respect much more than the tiny transparent ensembles she wore on Sunday.

Since the early 90s' Yoncé -- or Sasha in 2008 -- has been working fiercely at her craft, which has consisted of all-nighters, nervousness, last minute changes, frustrations, transcontinental flights at wee hours of the morning, severe jet lag and probably a bunch of other things that artists experience on the journey to stardom. Simply put, this woman is who she is today because of the risks and sacrifices that she has made, which has enabled her to build an amazing iconic brand.

So instead of being floored by how the icon has inched her way into a size 2, what can we really learn from Beyoncé when it comes to successfully building our own empire?

Never stop taking risks. The release of her self-titled visual album, "Beyoncé" was the first of its kind and performed exceedingly well -- in case you missed out on just how well it did, go see for yourself. Numbers definitely don't lie when it comes to Bey. When we don't take risks, we never know if the outcome will be good or bad. Granted, every risk you take may not land you 1.3 million bucks after the first 17 days you tiptoe out of that comfort zone of yours, but what happens if you don't try it anyway? Instead of continuing to watch others experience successful outcomes due to their bold pursuits, why not take a deep breath, count to ten, take a leap and make a few big splashes of our own?

Stop worrying about what others think. I doubt Beyoncé worried about whether people would love or hate her hair after she cut it into a blonde pixie cut. How do I know? Because we talk almost every day -- okay I'm kidding. So many times, I've based a decision on the feedback I received from friends and family -- and for what? There comes a point when you have to ask yourself, "Who am I really doing this for?" and who really has to live with the decision? Sure, Beyoncé definitely has a team of people that she works with when it comes to making important decisions about the future of her career and her brand, but it's not like she sends out a survey asking everyone what kind of song she should make next. No more surveys people, got it?

Prove the naysayers wrong with your actions when necessary. Remember when Bey admitted to lip syncing the national anthem at President Barack Obama's inauguration last year? Well, if you remember that then you certainly recall how she hushed up the critics and the media during her live Super Bowl press conference where she sang the Star Bangled Banner like it was her last performance ever -- only it definitely wasn't her last time and there definitely was no pre-recorded version around. Long story short, she nixed that drama in the bud and of course after she finished, she asked if the media had any questions. I guess you could say her magical voice turned them all into crickets.

Beyoncé is living proof of why we should always boldly and fearlessly go after our dreams.

Despite her saying "she woke up like this," I'm sure even she will tell you herself that it took years of "waking up" and putting in hard work to achieve the level of success that she has obtained.

Although everyone's story is different, we all have the potential to be great.

So let's get to work why don't we?