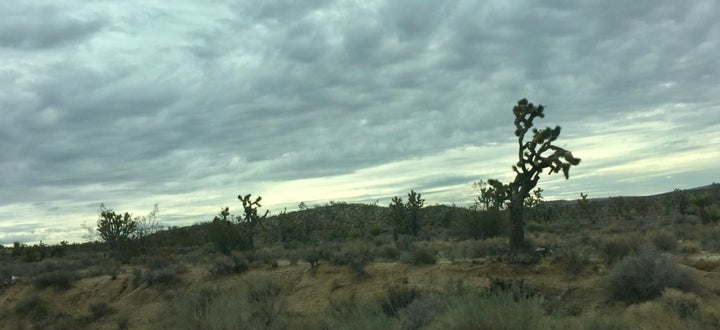 Oh, it's tempting. And according to my Facebook feed this morning lots of my colleagues have decided on this Ash Wednesday that giving up Trump for Lent is going to be part of their spiritual discipline. And I'm not here to judge that decision.
But for me the option of giving up Trump for Lent brings me face to face with the fact that having that option is emblematic of my privilege as an upper-middle class, over-educated, white clergy woman.
It is not an option my undocumented neighbors have as they worry about the knock on the door with a deportation order. It is not an option my African American neighbors have as they wait for the next incident of racial profiling. It is not an option for my transgender teen parishioner as she makes daily decisions about whether it's safe to use a public bathroom. It is not an option for families who depend on the Affordable Care Act for health insurance, for women who depend on Planned Parenthood for healthcare or for soldiers who depend on their Commander in Chief to defend — not dismantle — the Constitution they swear to risk their lives for.
What is at stake in this nation and in this world is too grave for me to opt out — even for forty days — from my foundational baptismal promise to resist the forces of evil and to respect the dignity of every human being.
So instead of giving up Trump for Lent I'm taking on the Daily Ritual for Sacred Resistance we developed at my church: All Saints Church in Pasadena.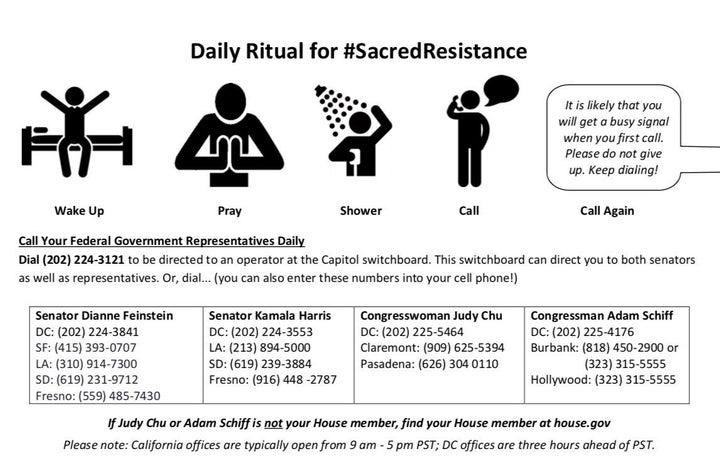 Let your elected official know, one or more of the following:
→ I support equal protection for the LGBTQ community and as a person of faith, I oppose so-called "religious freedom" initiatives that institutionalize discrimination
→ I support the Affordable Care Act and oppose its repeal, especially without a replacement plan → I support Planned Parenthood and oppose efforts to defund Planned Parenthood
→ I support women's reproductive rights, here and around the world, and that includes access to education and birth control from health providers who also provide abortion services and I oppose the Global Gag Rule
→ I support a woman's right to choice, I support Roe V. Wade and urge opposition to any Supreme Court Justice nominee that does not honor the decision
→ I believe climate change is real and that the public has a right to information regarding the work of the Environmental Protection Agency and I reject a gag on the EPA's communication
→ I stand with the water protectors in North Dakota and urge opposition to the advancement of the DAPL
→ I stand in solidarity with the undocumented in our nation and oppose the creation of a wall between the US and Mexico as a solution to our nation's immigration reform dilemma
→ I believe that there is more the U.S. can do to support refugees from around the world and oppose any effort to further limit the number of refugees entering the nation, especially those from particularly identified countries
→ I support the extension of the DACA program through the Bridge Act and oppose any effort to deport registered students that are part of the program
→→→ Or, share any other issue of concern!
Tips: Be clear that you are a constituent and state your City and Zip Code of residence. If possible, ask to speak with the staff person responsible for the issue(s) (health care, immigration, etc.) Make sure the staff person you speak with tallies your comment. If you do not know how your elected official stands on the issue, ask the staff person and push for a firm response.Share personal, relevant, stories and you share your position and reasoning. Leave a message on the voice mail if calling after business hours. Don't get discouraged if you don't get through easily/quickly ... Keep trying!
So that's what I'm doing this Lent. I'm not giving up Trump — I'm taking on a Discipline of Sacred Resistance to the systemic evils that oppress and marginalize any member of our human family – including but not limited to racism, sexism, nativism, homophobia, anti-Semitism and Islamophobia.
Join me ... if you feel so called ... and let's see what kind of good trouble we can get into for the next 40 days. And the next. And the next. Until there's no good trouble left to get into — until there is only the good news that liberty and justice for all has become a reality we live, not just a pledge we make.
REAL LIFE. REAL NEWS. REAL VOICES.
Help us tell more of the stories that matter from voices that too often remain unheard.