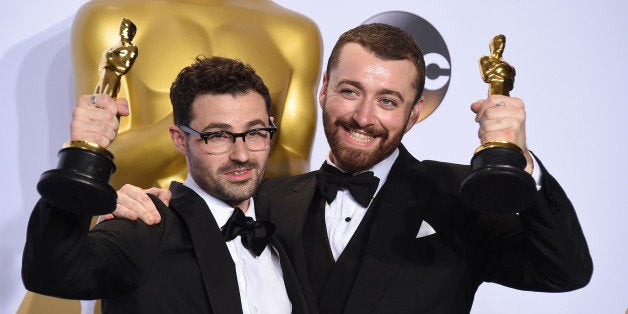 Okay, so Sam Smith won an Oscar this weekend for writing a Bond song. Congratulations! There's just one problem. When he won, he said that he heard from Sir Ian McKellen that an openly gay man has never won an Oscar, and so he dedicated his award "the the LGBT community."
That's nice. So what's the problem? Well, what Sir Ian actually said was that no openly gay man has ever won Best Actor. As it turns out, lots of openly queer people have won Oscars for very queer movies. There's Bill Condon, who wrote Gods and Monsters (starring Ian McKellen); and Alan Ball, who wrote American Beauty. Dustin Lance Black gave a whole speech about being gay when he won an Oscar for Milk.
Sam's not even the first openly queer musician to win -- Elton John won for writing a song for The Lion King, and Melissa Etheridge won for a song in An Inconvenient Truth.
In 1995, Best Live Action Short went to a project called Trevor, which inspired the formation of The Trevor Project.
And one of the most moving Oscar wins ever was in 1992, when Howard Ashman won Best Original Song for Beauty and the Beast. Ashman died from AIDS complications right before he won, and his partner Bill accepted the award on his behalf with a beautiful speech.
And there have been some very queer moments during past Oscars. In 1993, Elizabeth Taylor delivered an extremely moving speech about supporting people living with AIDS. In 2004, Adam Elliott won for animated short and thanked his boyfriend in his speech. Ellen hosted in 2007.
Joel Grey won in '73 for Cabaret, though he wasn't publicly out at the time. Sir John Gielgud won in '82 for Arthur. Strange coincidence: both of those movies star Liza Minnelli, just in case they weren't gay enough already.
Depending on how you define queer and out, there have been over a dozen people who've won Oscars. But you know what? I don't mind that Sam Smith didn't know that. He's a musician, not a Jeopardy contestant.
Now as you may have guessed, I like gay entertainment history. It makes me feel good to be connected to the generations who blazed a path for us. But not everyone feels that way, and that's fine.
I promise there are enough gay Oscar trivia nerds in the world that nobody is going to forget our contributions to culture anytime soon. From the good, like Howard Ashman ... to the bad, like Alan Carr's 1989 opening number that is possibly the tackiest moment in broadcast television history.
And honestly, I'm glad that Sam got his facts a little wrong. It's a good thing that we've gotten to the point where it's possible to lose count of the number of openly queer people who've won Academy Awards.
REAL LIFE. REAL NEWS. REAL VOICES.
Help us tell more of the stories that matter from voices that too often remain unheard.