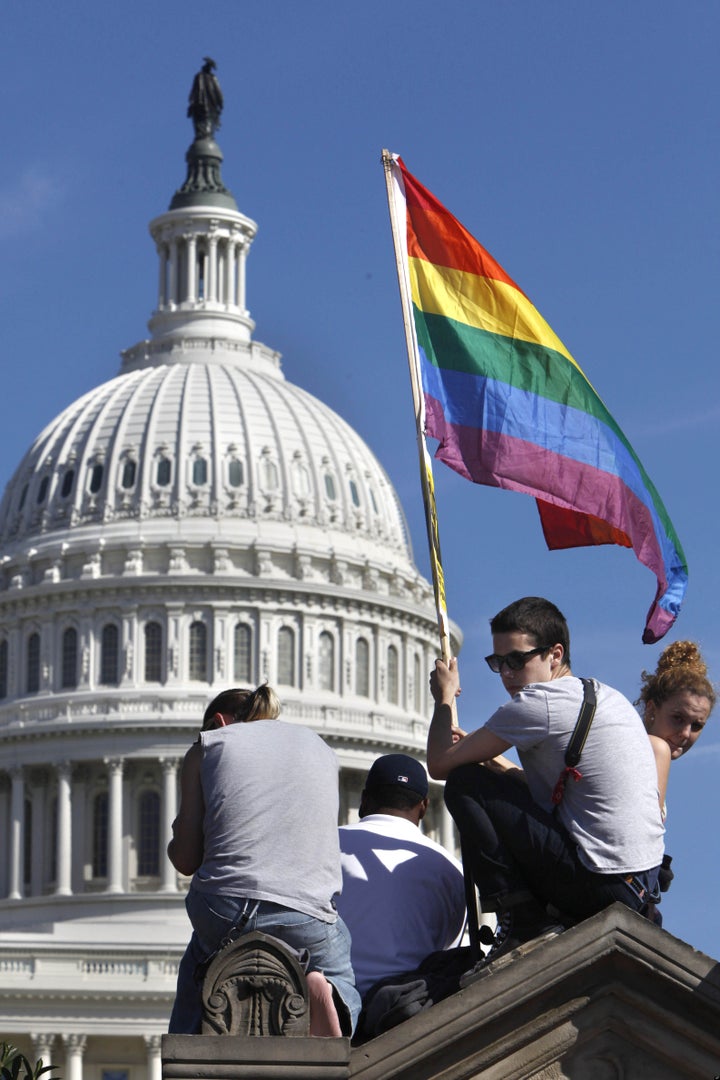 I'm back home in San Francisco, after spending 10 days on the ground in Maine with the "No on 1" campaign. After my time there, I truly believe that - with our help - Maine will become the first state in the nation to successfully defend marriage equality at the ballot box, providing a roadmap for California to repeal Proposition 8. Maine activists have been working hard for five years to pass gay marriage, but events in the last few days now point to what should be an historic victory on November 3rd. With only 19 days left, what I'm seeing from the "Yes on 1" campaign reminds me of where "No on 8" was at this point last year - outgunned by the opposition, unable to control the message and at a loss about what to do. If Question 1 passes, it will be our fault for not having done more. But if Question 1 fails, those of us who get involved will have made history - which is why I hope to go back for the last four days. Here are the reasons for my optimism ...
An Early Fundraising Advantage
One reason why I got involved in this effort was that "No on 1" said they only needed $3 million dollars for the entire campaign - a pittance compared with California efforts. "We're a cheap date," said campaign manager Jesse Connolly at this year's Netroots Nation Convention. New fundraising totals that came out this week show that "No on 1" has already raised $2.7 million (with most of the money coming from Maine residents) - and bloggers are planning a big fundraising push for today that should keep them on track with their goal.
The bigger news, however, is that "Yes on 1" reported only raising $1.1 million - with a campaign debt of $400,000 (our side has no debt.) This provoked their spokesman Marc Mutty (who is on loan from the Portland Archdiocese) to send out an urgent message on October 13th that their cause was under "financial assault." In the mass e-mail, which can be reviewed in full here, Mutty says they had known from the opposition's superior ground game that our side had been raising more money. But they had "never dreamed the situation was as dire as it is," and are now urging their supporters to make a "sacrificial contribution" to pass Question 1.
To me, the most revealing part of the e-mail is when Mutty mentioned their Sacramento consultant, Frank Schubert: "Our campaign strategists, who helped pass Proposition 8 in California and who have won dozens of initiative campaigns around the country, tell us that we cannot win if we continue to be outspent as we have to this point. It is amazing that we are still in a dead heat. We've had to cut our voter contact program dramatically. Every week, we've cut our advertising budget. We've eliminated a statewide bus tour that we had planned for next week. We've had to cut back on staffing. And collateral materials. And direct mail. Our grassroots organizing has suffered."
Reading this e-mail brought me back memories about the "No on 8" campaign. At around this time last year, marriage equality advocates in California sent out a red alert to their supporters - when it became clear that a lot more Mormon money was coming into the state than anticipated. Gays and lesbians were asked to shell out more than they could afford, but we still lost. I always say that the worst hangover of my life was two weeks after the election, when I opened my credit card bill to get hit with $200 to "No on 8."
Will Mutty's plea fuel a huge influx of cash to the "Yes on 1" campaign in Maine? Of course, but they will only have 19 days to spend it. Recall that by the time the election was over last year, "No on 8" ended up out-raising the opposition ($43 million to $40 million) - in large part because the October "red alert" galvanized the LGBT community. But money that comes in during the last month is less effective, and campaigns that are unprepared for a much bigger budget may not know what to do with the money. "Yes on 1" will use the cash to run even nastier ads, but I don't see it salvaging their bad situation.
Religion Issue Has Been Deflected
I have been impressed with the "No on 1" campaign's outreach to communities of faith - which has helped counteract the Portland Catholic Diocese's aggressive involvement in passing Question 1. A group called Catholics for Marriage Equality has staged walk-outs on Sunday services when the Church took up second collection plates on behalf of the "Yes on 1" campaign, and "No on 1" has organized several press conferences with religious leaders. As a result, media coverage in Maine newspapers has talked about how communities of faith are on "both sides" of the issue.
Now, the question has taken center stage. The "No on 1" campaign's latest ad features Yolande Dumont, a French Catholic grandmother from Lewiston - a conservative city in Maine - who speaks about her gay son, his partner and their child. Yolande mentions that she's a devout Catholic, her faith is important to her, and that she supports marriage equality. In an election where "No on 1" has had to respond to many of the opposition's attacks, it is a positive TV ad with a general "feel-good" message about the value of strong families.
But it clearly struck a nerve with opponents of marriage equality. Catholic Vote Action (a conservative political group) sent out a press release on Tuesday, demanding that the ad be pulled: "For decades gay and lesbian groups have attacked the Catholic Church for refusing to accept their skewed views on human sexuality and marriage ... Everybody knows the Catholic Church is opposed to counterfeit marriages ... For homosexual groups to suggest that the Catholic Church believes otherwise is disingenuous, dishonest, and an insult to the intelligence of Catholic voters in Maine."
Such a response will backfire, because it fails to acknowledge a distinction between rank-and-file Catholic voters (many who, like Dumont, support marriage equality) and the Church hierarchy. Maine is a very Catholic state, but it also has one of the lowest levels in church attendance - which suggests that many Catholics are already a bit disillusioned with their Church leadership. The reason they cite for pulling the ad will only infuriate Maine Catholics, because it says they cannot have a different opinion from the hierarchy.
In fact, it reminds me of a famous political gaffe in 1990 that happened in Minnesota. The late Paul Wellstone was running for the U.S. Senate against incumbent Rudy Boschwitz. Both men were Jewish, and in the final days of the campaign Boschwitz sent a fundraising letter to conservative Jewish donors, asking for support because he had been a "better Jew." Wellstone, he explained, had married a non-Jew - and had not raised his children in the Jewish faith. The letter infuriated Jews, not to mention the majority of Minnesotans who are Christian. I'm not suggesting the Catholic attack on the "No on 1" will have the same potency, but it's never good politics to start questioning a religious person's convictions.
Taking Ownership of "Protecting the Children"
In every state where marriage equality has been on the ballot, opponents have used "the children" as a means of scaring swing voters - preying on their worst fears about what gays and lesbians will do to kids in the classroom. From the start, "No on 1" has pre-empted this attack by bringing up the fact that many gay couples raise children. When opponents brought up the tired line that gay marriage will be "taught" in public schools, our side has countered that what schools teach is that no child should feel ashamed of what kind of family they may come from.
On my last morning in Maine, the Portland Press Herald had a front-page "human interest" profile of two couples on each side of Question 1. The ones supporting it were a Christian couple concerned about the "sanctity" of marriage. The opponents were a lesbian couple who are raising two daughters. For them, said the Press Herald, it was "all about the kids" - i.e., they want a safe and secure future for their children that comes from being raised by a legally married couple. When I saw the article, I knew that our side's ownership of "protecting children" has affected mainstream media coverage.
Mobilizing Students Will Be Key
The reason I plan to come back for the final four days of the Election is that Question 1 will be decided by turnout. With college students strongly supporting marriage equality, having them show up could be the margin of victory. Maine has same-day voter registration, so having young activists on campuses for the tail end of the campaign will be absolutely critical. As someone who ran voter registration drives in my college days at UC Berkeley, I'm excited about working in a state with same-day voter registration.
In fact, it's clear to me that the "Yes on 1" campaign's strategy for college campuses is to ignore students, and hope they don't even realize that there's an Election coming up. At the University of Maine at Orono last week, the campus was preparing for a Question 1 debate - with representatives from each side. The event was cancelled, however, when "Yes on 1" pulled out. As one of their spokespersons later told the school newspaper: "statistically, going in front of college students doesn't make the most sense." In other words, they were afraid that having an open debate would only draw more attention.
But while I remain optimistic about Maine, the "No on 1" campaign will need volunteers for the last 19 days in order to score a victory. That's why getting involved for the final push will be so critical. If we lose, it will be because not enough of us got involved.
Out-of-state volunteers can make phone-calls from home, while there are organized phone-banks going on across the country. East Coast volunteers can take a day (or weekend trip) to Maine and find a carpool through an online feature that pairs up people in your area. And you can donate money or airline miles to send volunteers for a week at Travel for Change. Or you can give to the California Young Democrats, who will be helping the last-minute college campus push by getting plane tickets for volunteers who will be on the ground during the last four days.
With only 19 days to go, it's all hands on deck to win in Maine. If we win, it won't just be good for Maine couples. It will set a new milestone in the fight for marriage equality.
Paul Hogarth is the Managing Editor of Beyond Chron, San Francisco's Alternative Online Daily, where this piece was first published.
Popular in the Community