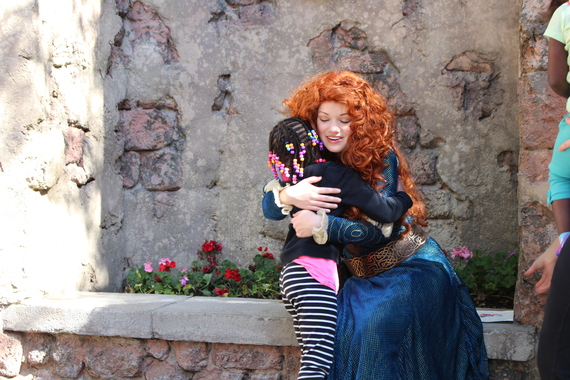 Two years ago, we took our three children ranging in age one to five, to Disney World. It was just as magical as the brochures and website claimed. The staff was incredibly friendly and energetic, the rides were thrilling and imaginative, the food was delicious and meeting the characters was enchanting.
On our third day, we visited Magic Kingdom and stood in a winding line to meet Merida, the headstrong heroine from the movie Brave. In the queue, my girls stood at a rock table and colored a picture of Merida. My oldest daughter thrust her paper at me and squealing, "Look at my picture, Mommy!" I glanced down to see that my daughter had colored Merida's skin a medium shade of brown. "Lovely!" I exclaimed with only the enthusiasm a mother can have. My girls clutched their pictures as we inched forward in line. Soon Merida was in sight.
My in-laws got into position to take pictures while my husband and I walked our children toward Merida. With her red bouncing curls and her piercing blue eyes, she greeted us in her Scottish accent. My girls hung back a bit, shyly examining Merida, mystified by her presence. After warming up to her, I asked my daughters if they'd like to give Merida the pictures they colored, to which they nodded "yes." I held my breath, not sure how "Merida" might react to my daughter choosing to color her traditionally translucent skin a shade of brown.
"Oh!" Merida exclaimed. "I love how you colored my skin! Though I am glad you kept my lovely red hair." My oldest daughter beamed. Merida offered the girls a hug, a moment captured on our camera.
As we sauntered away, later meeting some of our other favorite characters, it dawned on me that though Merida is a favorite character of ours, she is a white character among a slew of white characters who is glorified, admired and emulated by little girls everywhere. If you're a little black girl who wants to find someone who looks like you, you have one princess choice. But if you are little white girl, you have a slew of options including Cinderella, Ariel, Belle, Elsa, Anna, Snow White, Aurora, Sophia, Rapunzel, and Merida.
My children are black, and my daughters have long been infatuated with anyone who is, in their words, "brown like me." This ranges from women and girls they see every day to characters in books, movies and television shows. They love pointing out brown-skinned dolls and action figures at the store, and it's rare, but it happens, that we'll find a t-shirt, an advertisement, or a greeting card featuring a black girl. We, as their parents, have filled our home with the rare finds that feature people who look like our children.
Unfortunately, not all black characters are suitable for praise. Take, for example, the television show Jessie, which features a nanny named Jessie who works for a multi-racial, adoptive family. I was intrigued by this show because my own family was formed by adoption and is multi-racial. However, after watching a few episodes, I observed how Zuri, a tween black girl, is stereotyped. She's street smart but certainly not book smart, and she is the epitome of a Smarty Pants. She takes every opportunity to say something sassy to one of her siblings, her nanny, or her parents. This cues the audience's laughter. Not exactly the message I want my daughters to receive about black girls. And oftentimes, when there is a present black character, she is a side-kick (the token black friend) or worse, the antagonist, always bathed in stereotypes.
The toy store shelves are often lined with dolls targeted at young girls like mine; however, rarely do we find a doll that isn't a "catch all." Usually the "ethnic" doll has brown-ish skin, green or blue eyes, and straight dark brown hair. Her assigned name is usually Kierra or Jasmine or something that supposedly doesn't sound too-white but also not too "ethnic." She stands on the shelves among the blonde, brunette and red-headed dolls with milky white skin and blue or green eyes that are named Madison or Jessica. The problem is that the "ethnic" doll looks nothing like my daughters or most little black girls, and there is only one of them. Where is the kinky hair, the brown eyes and the darker brown skin?
I recall the beginning of my oldest daughter's unicorn infatuation. One afternoon I took her to the local bookstore to purchase a birthday present for a friend. My daughter was insistent that she find a unicorn book with a "brown girl" included. We seemingly searched every book shelf, many of which had unicorn-themed books, all with a princess-like character with flowing blond or brown hair, blue eyes and peachy skin. I saw my daughter's disappointment. It was the fleeting disappointment that a child faces when she doesn't get what she wants. My daughter's eyes showed a heartfelt and deep beginning understanding of what it's like to be excluded.
Yes, progress has been made. There's the smart and kind Doc McStuffins, the beautiful and ambitious Princess Tiana, and the spontaneous and empathetic Annie. This is encouraging, but it is not enough.

I hope that in the years to come, and perhaps when my grandchildren are visiting Disney for the first time, they can pose for photos with many characters who are brown like them. Characters who exemplify the characteristics of strength, kindness, intelligence, and beauty, beauty that is accurate of a person of color.
In essence, I yearn for the day that instead of little girls like mine using crayons to shade their favorite White characters' skin brown, there will be ample brown-skinned characters who are beautiful and celebrated just as they are.
Popular in the Community