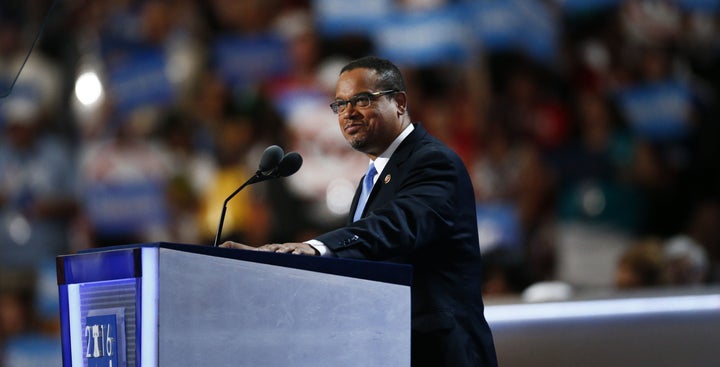 To my neighbors, my friends, and my fellow Democrats:
I decided to run for Chairman of the Democratic National Committee for the same reasons I ran for the Minnesota State Legislature and for the House of Representatives: because I believe working people need to have someone fighting for their interests. And I believe the Democratic Party is the only party that can do it. 
Democrats win when we harness the power of everyday people and fight for the issues they care about. Standing with working people is the soul of our party. We must be with them fighting for a better wage, for affordable college, for the right to join and stand with a union, and for the end to prejudice and hate crimes. When voters know what Democrats stand for, we can improve the lives of all Americans, no matter their race, religion or sexual orientation.
But this election cycle, we didn't do a good enough job. We lost. And now, it's time to put it all on the line. That's why I'm willing to give up my Congressional seat, and to work night and day to strengthen the Democratic Party.
Our party is right. Our values are just. Our future depends on grassroots organizing.
I've won eight elections myself, two in the Minnesota State Legislature, and six to the United States Congress. I also know how to get others elected. I've fought year-round to increase voter turnout and develop real relationships with voters. 
And it's worked. In Minnesota in 2014, a Democratic governor and senator were on the ballot who had both won their previous elections in squeaker recounts. My district increased the Democratic turnout by 13,000 votes — and both were elected in blowouts. This year, my turnout strategy helped deliver Minnesota for Hillary Clinton, while the rest of the Midwest went for Trump.
A DNC that is able to take on Republicans and President Trump needs to prioritize grassroots organizing and voter turnout, like we do in Minnesota. For the Democratic Party to win elections, from the city council to the White House, we must invest in and empower our state and local parties, and we must train a bench of diverse, qualified candidates to be ready to run. 
We need a DNC that isn't just a political organization or a fundraising apparatus, but a true organizing tool, from the grassroots up. We need a DNC that works for every Democrat, in every precinct, in every state – from Montgomery to Flint, from Los Angeles to Tampa. Simply put, we need a DNC that works for all of us. 
Our party is right. Our values are just. Our future depends on grassroots organizing. When Democrats champion the challenges of working families, voters will have a reason to show up at the polls in 2017, 2018, and beyond.
Calling all HuffPost superfans!
Sign up for membership to become a founding member and help shape HuffPost's next chapter
BEFORE YOU GO