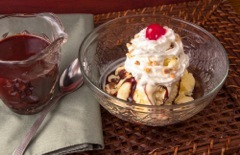 Some years ago, my daughter and I sat in Ghirardelli Square in San Francisco, scraping up any smears of chocolate left in our dishes of hot-fudge sundaes.
This was a treat to congratulate ourselves on making it through the first hellish week of the "breakup blues." For her, the man she intended to marry was gone. For me, a gentleman who had been my cheerleader -- then lover for two years after my divorce -- went back to live in Arizona.
My daughter and I looked at each other and giggled. Chocolate was everywhere! On our fingers, our faces, even on my white scarf -- now permanently unwearable. What a sticky, decadent, delightfully sweet mess!
It's now been eight years since that day we celebrated at Ghirardelli Square and 10 years since the gavel came down after 30 years of marriage. Are there times when I dream of a white-picket fence with perfect little grandchildren bouncing on my knee?
Not really. I love my life now, even with all of its flaws -- and there are many. But in spite of the tears, fears, loneliness and middle-of-the-night gremlins, I'd rather be free than trapped in a marriage gone wrong.
This Thanksgiving, I'm thankful my former spouse pushed me to realize that parting ways was the best thing for us. I'm thankful for my divorce because I learned how to better deal with whatever life hurled my way -- and taste the sweetness of freedom.
And I'm thankful that he continues to be a wonderful dad to our daughters.
The messy, luscious chocolate I've tasted since we divorced helped me get a second wind. And I realized: I wasn't getting older. I was just getting started. Without the divorce, I couldn't have known that.
That's life -- one big messy package, but worth every bite of possibility.
Need upbeat energy first thing in the morning to go into the talk with confidence?
Get my morning inspirations to get you energized for whatever happens! Go here for my 30-day audio download of inspirational (and often funny) four-minute messages to Love your Life Now, no matter what!