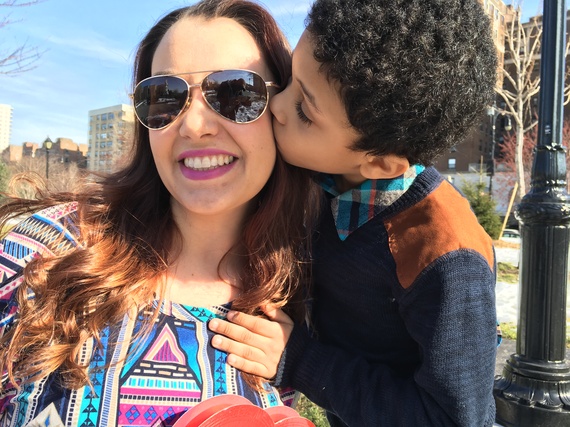 Like many women, I have always wanted multiple children. I'm the oldest of four, but my husband is an only child, so our plan was to have two children -- keeping things at a happy medium.
Being a military couple, we stereotypically got married young and had our first child right before my 22nd birthday. At that point, my husband was finishing his active duty contract while I took care of little baby Branden as a WAHM and full-time college student. We, of course, started getting questioned about when baby number two was coming pretty much as soon as Branden turned 1. Knowing this was too soon for us, we set out to somewhat establish ourselves before getting pregnant again.
So here we are, seven years later, finally expanding our family. At first, I had many reservations about waiting this long to have a second child, and I asked myself all the typical questions: Will my children be close? Will Branden have any interest in a new baby? But now that I'm "in it" -- morning sickness and all -- I couldn't be happier with our decision to tune out the noise from everyone around us and wait until our family was ready for a new member. Here's why:
I wouldn't have the energy to run after a toddler while pregnant.
I keep thinking back to my first pregnancy, when I was going full force at age 21 in New York City, both working and going to school full-time -- hell no could I be doing that now. I'm not sure if it's because I'm almost 30 this time around, or just really sick, but my energy and ability to hold food down has been pretty much nonexistent. Yes, our days start super early and I have to get our little guy on the bus by 6:50 a.m., but I have the whole day to slowly make it through my WAHM schedule. I can't imagine being pregnant and also running after a toddler. Seems. Exhausting.
I have the help of a kid who is actually old enough to help me.
Although the chores are minimal at this point, Branden knows that he will have to help out more once the baby gets here. But for now, bringing me glasses of ginger ale and crackers when I call for him is such an added bonus in my life.
My son understands what is going on, and is so excited to experience it all with us.
Branden has been wanting to be a big brother for some time now, so we were excited to tell him that it was finally happening! He gets to be a part of almost everything, every step of the way, and really understands what's going on. We're doing our best not to tune him out at any point (and to let him take part in picking clothes, cribs and all that fun stuff), all while we share memories from when we were going through the process for him. It's been a great bonding experience!
Yes, Branden's relationship with the baby will be different, but that doesn't make it any less special.
Being the oldest of four kids meant that I was 9 when my youngest sister was born, and surprisingly, we are the most alike out of all four kids and have an amazing relationship. This is very reassuring to me, because I know that Branden's relationship with his sibling will still be strong, regardless of the large age gap.
Is there an age gap between your children? Did that bother you? Or was it a blessing? Let us know below!
Photo courtesy of Allison Cooper
This piece was originally published by Allison Cooper on Mommy Nearest. Allison Cooper is the Founder & CEO at Project Motherhood, which is a resource for moms learning to accept their post-pregnancy body and always rock their #MamaStyle! She also provides Styling Services for those in need of a little fashion assistance!