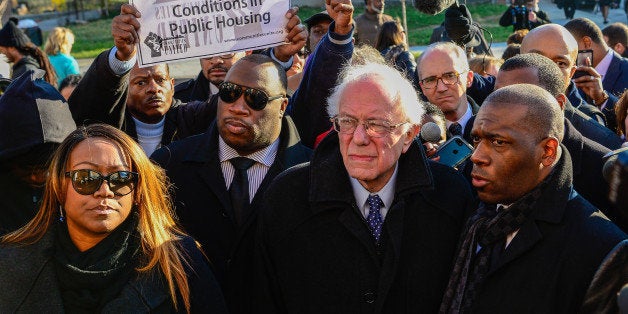 We are living in unprecedented times; the fallacies of America are now being told by those who have been most affected. As someone who will be a first time voter in this election, I, along with many other people throughout this country, am fed up with "politicians" and not interested in engaging in a political process that is rigged. Just this week we saw how the Clintons continue to to demonstrate that they are unwilling to listen to the concerns of young Black voters, when former President Bill Clinton shouted over protestors at a campaign rally.
Black people in this country are not looking for a savior, we are looking for people that will stand with us, fight with us and shackle themselves to us in the midst of it all. A person's actions speak highly about one's character. For more than 40 years, Senator Bernie Sanders has been on the frontlines of direct action against the very institution he as a white man could have benefitted from.
A few weeks ago, I penned an article expressing why I wasn't inspired to vote for Senator Sanders at that time. I felt that during his visit here to Baltimore, there was a missed opportunity to engage many of us who traditionally have not been a part of the process. Senator Sanders could have taken the route of ignoring this call for accountability, instead he and his team have worked to establish a relationship with young people here on the ground in Baltimore. From weekly phone calls to consistent efforts to fill the void between us and our representatives and those of us who have previously been un-engaged, it's actions like these which prove that Senator Sanders is still willing to stand with those of us who have never had a voice in politics.
I believe Bernie Sanders is the only candidate that truly believes a better tomorrow exists for the millions of unengaged young people fighting to create a prosperous future. We cannot afford to go backwards. Not only is Senator Sanders fighting the for the issues that matter most to the least among us but he did so yesterday, and I believe he'll wake up tomorrow with his mind set on carrying this fight forward. I honestly can't say that about any other candidate for president.
Bernie's been fighting for change for longer than I have been alive, and he has remained dedicated and determined to put an end to racial oppression and colorline inequity just as he was when he was arrested while shackled to the causes of Black people in the '60s. His justice reform proposal mirrors the aims of the Black Lives Matter movement, and his economic policy positions will benefit distressed communities in ways that could finally begin to reverse the damage caused by the so-called war on drugs.
Bernie Sanders is a man who is true to his morals and values. A sitting United States Senator who has refused to be part of the political machine, Bernie Sanders is a seasoned revolutionary willing to amplify the voices of those of us who have for too long been neglected and unengaged.
I am proud to vote for Bernie Sanders, a man with the heart, the will and the courage to engage.
Popular in the Community