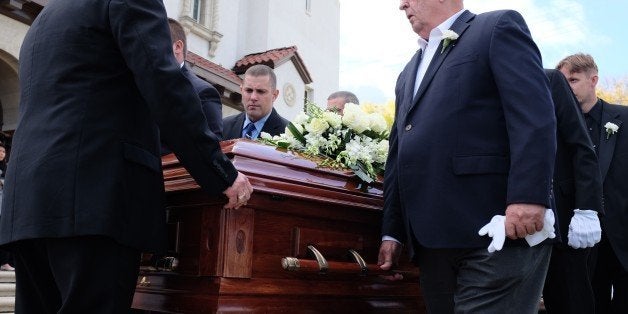 Co-authored by Manjusha P. Kulkarni

Southern California residents Syed Rizwan Farook and Tashfeen Malik--who killed fourteen people in San Bernardino last December--were South Asian and Muslim. In our respective roles as the executive director of the South Asian Network (SAN), a community-based organization serving South Asian Americans in Southern California, and as the director of the Center for the Study of Immigrant Integration (CSII) at the University of Southern California, we were deeply troubled by both the carnage and the subsequent reaction to this tragedy.
In the weeks after the rampage, cable news commentators and presidential candidates offered a range of ideas for preventing future attacks. What grabbed the headlines, of course, was Donald Trump's proposal to ban Muslims' entry into the United States even as more "moderate" candidates suggested imposing a religious test on refugees from war-torn Syria.
While many in the press and in the Beltway were particularly shocked by Trump's remarks, a review of recent history shows us that federal law enforcement policies implemented within the past 15 years did not differ greatly from the Republican frontrunner's proposals. However, analysis of those policies demonstrates that such faith-based tracking, ethnic profiling, and declarations of war against Islam did little to prevent attacks--and instead bred distrust among communities whose help is needed to combat terrorism.
After 9/11, federal law enforcement pursued massive surveillance and profiling of South Asian, Arab and Muslim American community members. The U.S. Department of Justice implemented "Special Registration"--as part of the National Security Entry-Exit Registration System (NSEERS)--which required non-U.S. citizen men and boys over the age of 16 to report to local immigration authorities. These men and boys hailed from 25 Muslim majority nations, including two South Asian countries: Pakistan and Bangladesh. In total, the program resulted in the registration of approximately 83,000 individuals and the placing of over 13,000 individuals into deportation proceedings, but failed to identify even a single terrorism suspect or produce evidence of any terrorist activity.
While neither of our organizations had any contact with Farook or Malik, we have indeed seen or studied hundreds of couples like them in ethnicity and religion. And we are left to wonder whether the attack could have been prevented if rather than tracking and profiling South Asians, Arabs, and Muslims, we had instead redoubled our efforts to improve the integration of immigrants into our communities.
At the South Asian Network (SAN) which one of us directs, we have seen clients--often families with young children--who have achieved economic mobility after enrolling in Covered California, the state's version of Obamacare. We have seen improvements in their ability to speak English, another factor key to economic opportunity. Meanwhile, women experiencing domestic violence have found, through SAN's collaboration with other organizations and law enforcement, an openness in society in securing shelter housing or in obtaining a restraining order from their batterers.
In the area of civic participation, SAN has helped South Asian seniors who are permanent residents gain U.S. citizenship and then go on to vote in presidential or L.A. mayoral elections. In addition, SAN's leadership development programs have enabled clients to testify at city council meetings, lead the school PTA or consider running for office. SAN is not unique in this; other South Asian, Arab, Sikh and Muslim organizations across the country are engaging in similar efforts.
To be sure, critics will say that none of these efforts would have prevented Farook and Malik from the mass shooting on December 2. That may be true. But details of his parents' divorce proceedings indicate that for many years, Farook's family struggled with domestic violence; Farook was often called to intervene to save his mother from his father. In addition to regular attacks on his wife, Farook's father threatened daily to commit suicide.
This is not unlike the Tsarnaev family whose turbulent lives were replete with mental health issues and run-ins with the police years before the two brothers killed three in the 2013 Boston bombing. It is possible that for Farook (or even Tamerlan or Dzhokhar Tsarnaev), obtaining mental health and other supportive services in a timely manner could have helped them deal with severe trauma that manifested instead in extreme violence. Engaging with others in their local community through volunteerism and civic participation could also have helped these individuals choose a very different direction.
The clients that SAN serves may look like Farook and Malik, but they are very different in their attitudes and actions precisely because of successful immigrant integration efforts. They are individuals who, instead of seeking to destroy lives and cause deep harm to a community, work to provide for their families, enhance their schools, and deepen their roots within their neighborhoods and cities.
With the help of agencies and others to access mental health care services, improve their English proficiency and take part in elections, South Asian Americans in Southern California have gone on to become hospital volunteers, AYSO soccer coaches, and PTA presidents. And they have pledged their allegiance not to ISIS or Al Qaeda, but to the United States of America--a country they love and have made their home.
This is exactly what immigrant integration is all about. Instead of proposing bans, stirring fears, and shunning refugees, it would behoove candidates running for national office to propose programs and promise resources that send a clear message: The U.S. remains a land where profiling is rejected, immigrants are welcome, and integration is not just possible but celebrated and supported.
Manjusha (Manju) P. Kulkarni, Esq. is Executive Director of South Asian Network (SAN). Located in Artesia, California, SAN serves the needs of individuals of Indian, Pakistani, Bangladeshi, Nepalese and Sri Lankan descent in the areas of civil rights, violence prevention and health and health care access. On April 24, 2014, Manju received the White House Champions of Change award for her dedication to improving health care access for South Asian Americans. Prior to joining SAN, Manju worked as Senior Attorney at the National Health Law Program and Director of Intake at the Office of the Civil Rights Monitor. She has authored numerous articles, reports and training materials and provided legal assistance and training to hundreds of health attorneys across the country. Manju has taught classes on health care access, civil rights and policy advocacy at Stanford Law and Medical Schools, University of California at Los Angeles and University of Southern California.
Calling all HuffPost superfans!
Sign up for membership to become a founding member and help shape HuffPost's next chapter