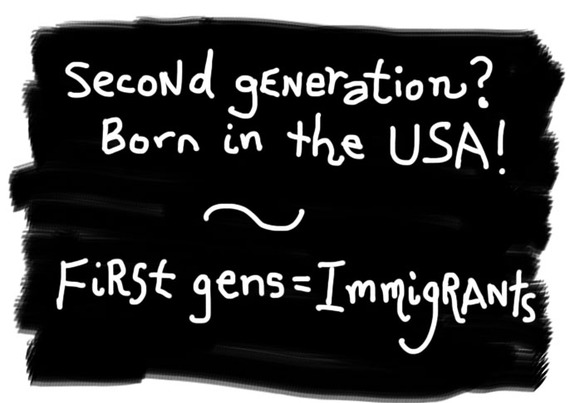 My father came to the U.S. from South Vietnam. My mom was from China. Me? I'm born here. That makes me second-generation American, which leads to my pet peeve.
It's EVIL when people say I'm "first-generation American." Let's be logical. If I'm first, then my parents are zero generation. And that's just wrong.
Of course, haters treat immigrants like zeroes. But in reality, America would be zero without our folks and our families. Right now, 45 million immigrants live in this country, including 11.3 million who are undocumented. That's just the first gen. Then we have their 37 million kids who were born here. That's me, the second gen.
Most of us are people of color, leading to more interesting facts: The white, non-Latino population is at an all-time low of 62 percent, according to a new PEW Research Center report. By 2055, whites will no longer be a majority; no single racial or ethnic group will take its place. Within another decade, 2065, one in four people in the U.S. will be Latino.
The shifting scene features a new role for Asian immigration, which hit a historic high in 2013 and now accounts for 41 percent of all new immigrants, the study found. Today, 6 percent of the U.S. population is of Asian heritage. Most new arrivals are educated professionals flying here on work visas.
Asians replace Latinos, who were the fastest-growing immigrant group over the past 50 years. The Latino population is still larger, at 47 percent of all immigrants. But combined, they form a formidable community: Seven out of every 10 second gen adults are either Latino or Asian American.
In September, a team of scholars released another massive
This study debunked many common immigrant stereotypes:
Fact: Immigrants are healthier and less likely to die of heart disease or cancer.
Fact: Immigrant neighborhoods have lower crime rates and violence.
Fact: Immigrants divorce less and have more two-parent families.
Fact: More than 25 percent of all immigrants are college educated.
Fact: Immigrants tend to work more and make less.
The new research is timed to celebrate the 50th anniversary of the Immigration and Nationality Act of 1965. The law, signed on Oct. 3rd half a century ago, overhauled a racist quota system that favored white Northern European immigrants. That's why so many of today's immigrants are from Asia, Africa and Latin America; the 1965 law finally let us in.
And as a community, the American-born children have done well, according to a 2013 PEW report. We tend to be better off financially and have more education than our parents. We are most comfortable speaking English. Our friends and spouses often come from outside our ethnic group. We also tend to think of ourselves as "typical American." Of course we are!
So it's time to claim our birthright as second gens, and to acknowledge our parents as first-generation pioneers. Anything less makes us perpetual outsiders, the "other" who never belongs. Instead of treating us like newcomers -- or thinking of ourselves as newbies -- let's celebrate our numbers. And, our roots.
Calling all HuffPost superfans!
Sign up for membership to become a founding member and help shape HuffPost's next chapter