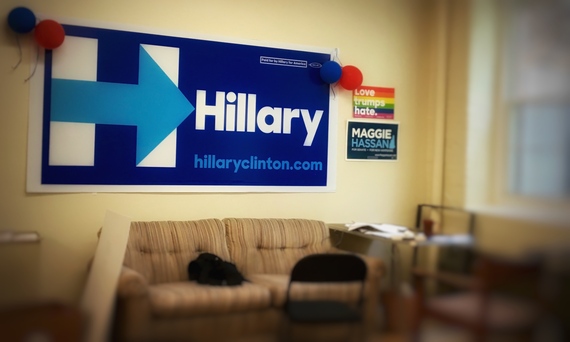 When I was in third grade, I wanted to be the "first girl President" of America. I was inspired by then President Bill Clinton. While I didn't understand the issues and the politics, I heard his powerful message as the boy from Hope. To me, he embodied the American dream. He allowed me to believe that if I wanted, I could do anything that I was determined to accomplish. His story inspired my third grade self to aim higher - not just by his words, but by the life he had lived. He left me with hope and promise. The President motivated me to aim to make the world a better place - and this is exactly what I hope the future President will do for the next generation.
When I think of leadership, I think of someone who can bring people together - not through fear - but through example, through perseverance, through service - someone who points to the light and not the darkness, someone who has a vision. After all, that is the job of our commander in chief - to motivate us, to inspire the world through example, and to set a new standard for a future generation of leaders - just like President Clinton did for me and President Obama has done for my younger brother and sister.
#ImWithHer because Secretary Clinton's story inspires me. She has lived her life serving our country in a very public manner. We scrutinize her every move and detail because we can. We can scrutinize her tax returns, her public records, her evolving stances on political issues, her haircuts, her pantsuits, her daughter, and her husband. We probably have over a million data points on her - why? Because she has served in some of the highest positions - either through appointment of through the will of the people. In my eyes, she is bold - she is relentless. In my eyes, she cares.
#ImWithHer because there has always been a gap in our nation's highest position. For the first time in history, there is a candidate who not only understands what it means to lead and serve America - but understands what it means to be a mother, a daughter, a wife, a grandmother, and above all else, what it means to be a woman. Her - our - perspective has been missing from our nation's narrative since the founding of our union. The very fact that she is a woman already means that this will be a presidency unlike any other we have ever seen or experienced as a nation.

Fast-forward 20 years. I am looking for the candidate that can motivate our country - especially, our youth. Secretary Clinton's story inspired me to want to become a better American and enter public service. As she shatters the glass ceiling for the highest office in our country, she will inspire the next generation to dream big and truly believe that the sky is the limit. That's why #ImWithHer.
Calling all HuffPost superfans!
Sign up for membership to become a founding member and help shape HuffPost's next chapter