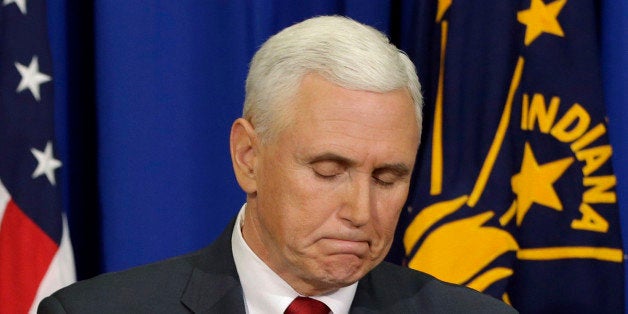 Back in March, when Republican Gov. Mike Pence of Indiana and the state's Republican-controlled legislature retreated under pressure on a Religious Freedom Restoration Act (RFRA), many heralded the Indiana "moment" as a "turning point" in the battle for full LGBT rights. Big business would now lead the way, they proclaimed, and no state would dare cross corporate America again, fearful of its might.
But last week both North Carolina and Michigan passed discriminatory laws far worse than Indiana's ever was, as anti-gay conservatives said "Screw you!" to all that. North Carolina's legislature overrode Republican Gov. Pat McCrory's veto and now allows public officials to opt out of licensing or performing same-sex marriages. In Michigan Republican Gov. Rick Snyder signed a bill into law allowing state-funded adoption agencies to discriminate against gay couples based on the agencies' religious beliefs.
Unlike in Indiana, these laws went far beyond allowing private businesses to decline to serve LGBT people: In North Carolina and Michigan, agencies and individuals who get taxpayer dollars, including public servants, are now allowed to discriminate.
None of it should come as a shock, however, because we'd been through this just last year. After Arizona's Republican governor, Jan Brewer, vetoed a RFRA in her state in February 2014, under pressure from big business, so many in the media and among activists thought that we'd seen the "turning point" and the end of this strategy by enemies of equality. But little over a month later, with the national media and big business paying little attention, Mississippi passed a RFRA that was applauded by the Family Research Council as one that would allow businesses to discriminate against gay couples.
Ah, but the Indiana moment, I was told by some activists, was truly different from the Arizona moment. The Indiana moment, they exclaimed with jubilation, was really, totally and completely the true turning point, honest!
Unfortunately, they were swept up in victory blindness, intoxicated by a win, letting their guard down, seduced into believing in the inevitability of equality while anti-LGBT forces moved on to other states. Just last month I penned an op-ed in the Washington Post pointing out that, on balance, anti-LGBT conservatives actually had a pretty good 12 months, despite Indiana and other losses. I noted that they operate through trial and error, and that they'd be back, finding a new way to turn their animus into law. Last week they did, and it was a stellar win for them and an infuriating setback for LGBT people.
And please, spare me the argument that the laws won't hold up in court, which is often yet another symptom of victory blindness. First off, no one knows that, and after the Supreme Court's Hobby Lobby decision, we should all be concerned. Secondly, the goal of anti-LGBT conservatives is in fact to keep LGBT equality tied up in the courts as they gather their forces, raise more money and deny us our rights for as long as possible while they attempt to roll them back, just as they do on abortion rights, voting rights and other issues. So, yes, they had exactly the win they were seeking.
In the Washington Post piece I wrote, I focused on reporting from my new book, It's Not Over, in which I quoted anti-gay leaders at the Values Voters Summit in September of last year, discussing what they'd do if the Supreme Court did in fact rule for marriage equality:
[Proposition 8 mastermind strategist Frank] Schubert said they would have to find a political strategy to stop progress on gay rights that was akin to the concept of "partial birth abortion" and its impact on abortion rights. Which gives some clues about the strategy. "Partial birth" abortion is not a scientific or medical term; it was created by abortion opponents to appeal to a wider swath of the public....

Later, he told me in an interview that if the Supreme Court rules for marriage equality, opponents' strategy, "in a broad sense [will be] be similar to the pro-life movement after Roe v. Wade -- regrouping, looking at trying to change the culture ... and of course religious liberty issues will be very much in the crosshairs." An example of the gay marriage version of a phrase like "partial birth" abortion, he said, would be "protecting the right of a believer in traditional marriage from being punished from the government," and another example would be "conscience protections," which are policies that allow religious believers to opt-out of certain duties of their jobs that violate their beliefs.
North Carolina and Michigan were right out of that playbook. And why you should be fighting mad is simply that the enemies of equality made their strategy very clear and very public back then, yet some of our major LGBT groups haven't been paying attention. They've been heralding the wins against bigotry, such as those in Indiana and others, as major turning points -- not to mention the fact that these wins are good opportunities for the groups to fundraise around -- and they have run away from the battles in the states where losses are a real possibility or probability.
For example, I was in Texas last month, broadcasting my radio program there live and reporting for HuffPost Gay Voices, covering the attempts by conservatives in the legislature there to pass over 20 anti-LGBT bills. Texas LGBT activists and politicians and their progressive allies were impressive to watch in action. They did something many thought next to impossible: They beat back every dangerous bill, running out the clock on anti-gay Republicans.
What I didn't see or hear much of a presence of in Texas, however, was the largest national LGBT group, the Human Rights Campaign (HRC). And where was HRC's president, Chad Griffin, while local activists were fighting the fight in Michigan and North Carolina but came up just short of achieving what Texas activists did? He was taking a marriage-equality victory lap in San Francisco, celebrating the Supreme Court win that actually hasn't even happened yet, and which, of course, would be due to the hard work of the legal groups involved, not HRC. If this isn't the essence of victory blindness, what is? And if national leaders don't snap out of it soon, anti-LGBT forces will continue to regroup and advance.
Popular in the Community