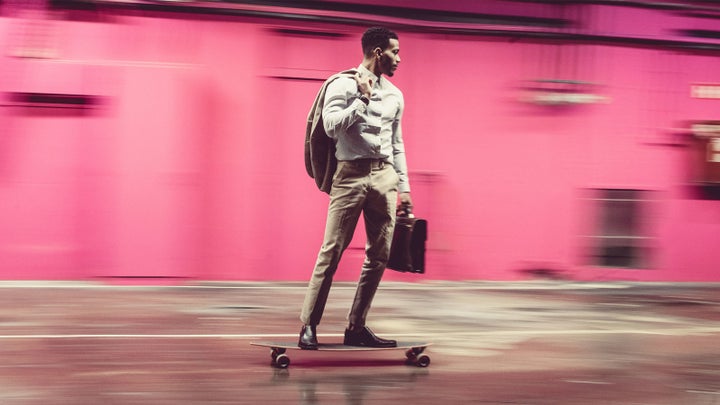 By Alex Bennett-Grant, Co-Founder & Managing Director, We Are Pi
Let's face it, true independent thinking is dwindling. Independent thought, leadership, and companies are all but buried in today's navel-gazing adland; blinded by industry clickbait headlines and marketing trends. We have become an industry glued to social feeds full of frivolities that we perpetuate. Our top talent is inspired by the same narrow field of cultural references. We bring a somewhat flawed and limited perspective to our superficial strategies. We offer little diversity of thinking because we are shamelessly under representative of the audiences we purport to serve. Meanwhile, our talent is overloaded with information inputs and updates, aimless collaboration and brainstorming sessions, leaving no time to process thought and deliver the enlightened outputs agencies bill by the hour for.
Or at least, that's what I was mulling over when standing at my new ridiculous and awesome 'standing desk' this morning, charged up on espresso and contemplating this industry that has given and taken so much from me. Then, the traditional August rain stopped just long enough for me to step out for a walk along the incredibly beautiful Amsterdam canals. The fresh air and big skies reminded me to stop giving a f*ck about what happens in advertising, and reminded me I instead need to give two f*cks about what happens in the wider world, and how I can create value in it.
We must change the input to transform the output.
Great indie creative agencies are not full of executives with MBAs. At their best, hot-shops are full of people who actually give a damn about a diverse range of human passions: What does philosophy tell us about the trend of 'purpose'; how does art evoke the human spirit; what's up with the rise of Russian empowered youth subcultures; we need to think about architecture, urban development and the gentrification effect on communities; tell me about science-science-science; let's play with some technology (beyond programmatic ad buying); let's not leave it too late before debating the geo-political macro impact of neoliberalism (beyond 45). Our task may be to connect business and consumer needs with insights, but our real job is to unpack consumers and their context as complex, living, breathing humans seeking more than things to buy or content to graze, then translate these insights to make corporations better at relating to real people, by bringing brands to life in the most meaningful, unexpected and magical ways.
Sounds like an empowered role we indie agency types hold, right? Wrong. We have entered an age where corporations are rigged to squeeze every last drop of value out of creative minds. A few silicon valley social media giants own the world's eyeballs, the professional services consultants are pressuring the holding companies, and both are swallowing or crushing us independent agencies. It's tough out here.
But our guilty pleasure might be our saving grace. Indie agencies secretly want to make art and affect culture in a way that amazes real people - more than they want to contribute to traditional, commercial, monetary success. Our happy place just so happens to be the one place that most of the industry's biggest players are afraid to go, and understand the least. It's art - the somewhat magical force that separates clever ideas from truly transformational experimentation and creativity. Indie adland's guilty pleasure is at once our most powerful weapon.
Our job as indie agencies is to bring the spirit of independent thought to the machine of capitalism. Putting ideas first. Putting culture first. Putting people first. Putting staying inspired by non-marketing-y stuff first. This exact thinking led to the founding of WE ARE Pi. For six years, we have been doing our damnedest to bend corporations to see the world through the eyes of weird and wonderful humans, not the other way around. We've been seeking out the thought leading entrepreneurs, dreamers, misfits and risk takers that happen to be working within corporations. It's a harder, longer game, but once in a while, the rewards are truly magical.
So what do I think about the state of independent thinking in the ad industry? It's not dead - yet. As always, it's in the hands of the few indie agencies brave and stupid enough to precariously hang on by the skin of their teeth. It's in the hands of those who never settle on their mission to provoke the marketing world to see things differently - by being everything corporations are scared of and need the most: weird, experimental, artistic humans.
Support HuffPost
The Stakes Have Never Been Higher
Related
Popular in the Community