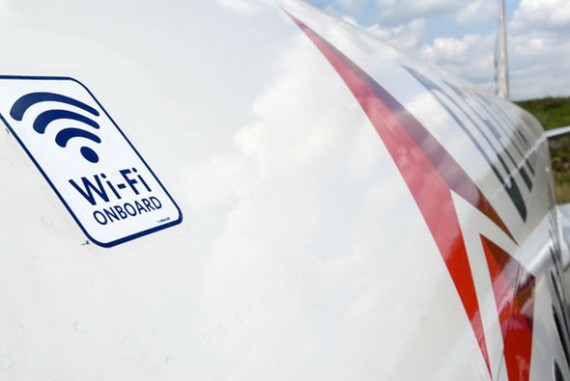 Why is it still so hard to get good Internet on airplanes?

Airlines have been promising improvements for a dozen years and yet it doesn't seem to happen. In 2013, The Wall Street Journal ran a headline: "Airplane Wi-Fi Gets Up to Speed," predicting new technologies and speedier connections.

But three years later not much has changed.

"It's shocking that Gogo doesn't attract many paying customers," wrote Russ Kiekhaefer in a tongue-in-cheek comment. "What's not to like about their slow service?"

"So, Gogo is officially a joke at this point, right?" is the title of popular thread by wrytoast of NYC on Flyertalk, a popular blog for road warriors:

"Has anyone actually found the service usable in the past few months?
It just took 44 seconds to fully load the Google home page.
This is a disgrace."

In-flight connectivity continues to be slow, expensive and unreliable. According to a 2016 report by RouteHappy -- a service that helps travelers compare flights -- Internet is available on only 36 percent of international flights. And only half of those offer broadband that's not a total joke.

The reason is simple: Gogo Inc. has had a virtual monopoly on in-flight Wi-Fi since 2008, when they signed all the major airlines to long-term contracts. Today, Gogo provides service on 2,500 commercial aircraft. Most of Gogo's service tops out at 3 megabits per second, while the average download speed of Verizon's 4G home network clocks in at over 20 mbps.

Recently, American Airlines sued Gogo and said in its complaint, "Alternative service providers are offering faster, more reliable and less expensive satellite-based Wi-Fi services to airlines like United, Southwest, JetBlue, and Virgin Atlantic." In February, American Airlines dropped the lawsuit, but they still want faster Wi-Fi.

High-speed communication technology has improved drastically in recent years, but the Gogo monopoly has not kept pace with dramatically improving technology. And the angry backlash from flyers and airlines is exploding.

Travelers universally agree: Internet stinks on airplanes. It's slow and too expensive. Flyers are a captive audience. In the skies, it's Gogo or no go.

Which accounts for low usage. Bloomberg Business reports that only 7 percent of passengers on an average flight use Gogo.

Only 6 percent of commercial airplanes are currently fitted with the best Wi-Fi service available -- which is satellite.

And if you are lucky enough to be on a plane with Internet, it's costly. A weekday flight from JFK to SFO can set you back as much as $40 because there are a lot of business people who will pay whatever the cost. On a leisure flight to Miami, fares can be as low as $7.

Gogo employs "variable pricing" or "surge pricing" (a la Uber) based on demand for broadband. But the difference with Uber is that flyers have no choice of an alternate service.

Dynamic pricing is not unusual in the travel industry. Airlines and hotels do it all the time. Try getting the last seat on a popular flight from New York to Miami and it will cost you four times what an early buyer paid.

"It's like a hotel charging obscene rates for Wi-Fi in the room," Christine Lu, founder and CEO of Affinity China told the New York Times. Lu recently swallowed the obscene fee to do some work in-flight. "You get this bad feeling," she explained.

The RouteHappy report shows that domestically, Delta has the best service on most of its flights, per unit. Internationally, Emirates is best.

In January 2016, Fortune Magazine also reported that your best bets domestically are with Delta, closely followed by United. These planes are the most likely to be fitted with the equipment to deliver fast and reliable Internet while flying, even over bodies of water.

"Connectivity is indeed getting better on flights, but it's a very slow process, which is frustrating to business travelers who increasingly rely on the service," Chris McGinnis -- founder of TravelSkills, a blog that focuses on the business passenger, and an inveterate user of Wi-Fi while airborne -- told The New York Times.

The problem, according to Mr. McGinnis, is that passengers expect to get a good, strong signal like you do at home or the office. "Airlines are partially to blame for inflating expectations."

And be careful on longer flights. Last November, a man said he was charged $1,171.46 on a Singapore Airlines flight, from London to Singapore, after he signed up for a $30 package and quickly exceeded the 30-megabyte limit, which he said happened mostly while he was napping, TodayMoney reported.

In ancient flying days, time in the air was reserved for sleep or relaxation. The thought of dialing up at 35,000 feet was a curiosity -- fun but frivolous. In those days, business travelers didn't feel the pressure to be connected in the air.

All of that's changed since the iPhone hit the market in 2007. The smartphone has rapidly grown to be an appendage on most airline passengers. The aviation industry has been scrambling to catch up ever since.

GoGo controls 70 percent of the market. Between 2013 and 2014, its average revenue per session increased almost $1.50, to $11.73 per in-flight customer. But while Gogo keeps increasing fees, data speeds aren't improving.

In 2015, Gogo launched its new 2Ku project, a plan to transition to using satellite service, which promises to make in-flight Wi-Fi speeds up to twice as fast. But 1,700 out of 2,500 aircraft still have agonizingly slow Internet. And of the aircraft that need to be re-outfitted with new hardware, only a third have been upgraded to a poor air-to-ground service, called ATG (10 mbps).

Less than 10 percent, 200, have a traditional Ku-band satellite service (not 2Ku), and the rest are still using the original air-to-ground technology (3 mbps), according to Gogo spokesperson Steve Nolan.

"There are a couple of aircraft installed with 2Ku, but we have a backlog of more than 850 aircraft for 2Ku," Nolan says. "The biggest U.S. customer is Delta. Those installations will start ramping up this year and we expect to work through that 850 aircraft backlog in the next two years."

Once installed, the 2Ku technology will offer download speeds of up to 70 mbps. Unhappy folks are rearing to complain that it's too little and too late.

But a few up-and-coming competitors are nipping at the company's heels.

JetBlue, for example, is opting to make basic Wi-Fi free during flights. JetBlue has contracts with newer satellite providers like ViaSat and Global Eagle Entertainment (GEE). These satellite-based providers enable passengers to stream Netflix and Hulu in the air.

JetBlue has the advantage of having a relatively small fleet -- 180 aircraft. They're nearly all rolled out.

United Airlines and Southwest have also both opted for satellite-based service, which works when planes are over water as well as over land.

"Speeds of at least 3 mbps are available... on all United Wi-Fi-equipped planes," explained Karen May, a spokesperson for United Airlines. But 3 mbps is abysmally slow for most travelers in this day and age.

United hopes to speed up its Wi-Fi service sometime later this year. But don't hold your breath.