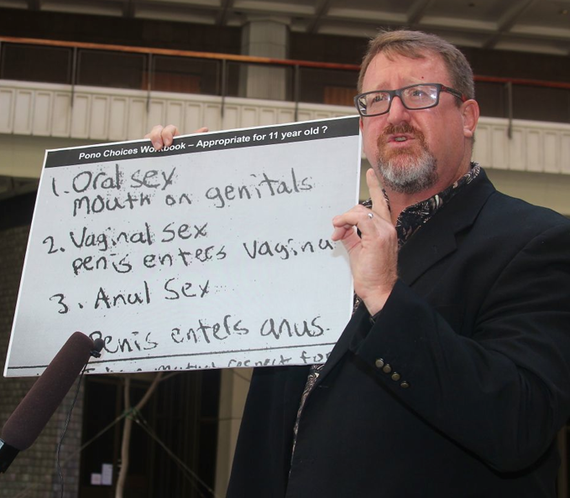 Another legislative session in Hawaii, another season of Bob McDermott exposing himself and his sexual obsessions in the public square.
McDermott is supposed to represent O'ahu's House District 40, but the Pennsylvania transplant seems more focused on bringing the mainland religious right agenda to the islands than addressing his Ewa Beach constituents' actual needs or concerns.
Among the bills he's introduced this session is a Constitutional Amendment to 'reserve marriage to opposite-sex couples,' despite the fact that marriage equality was passed by an overwhelming majority in the Hawaii State Legislature and is now the law of the land as a result of a U.S. Supreme Court ruling. Another would redefine the term 'place of public accommodation' to allow any religiously-affiliated organization - including hotels, restaurants, movie theaters, hospitals, retail stores, even mortuaries - to deny services to LGBT people. Neither bill has a single co-sponsor.
McDermott has also proposed a bill focused on limiting the Department of Education's ability to implement sexual health education programs, aimed primarily at eliminating any mention of LGBT people in public schools, and is leading opposition to a bill to ban public school teachers from promoting 'gay conversion therapy,' a practice discredited by all leading national medical and psychological authorities because it is ineffective, risky, and can be harmful. The bill is modeled on similar legislation that has been passed in several other states and has broad support in Hawaii.
That McDermott is so focused on sex, primarily of the gay kind, while his district's residents are worried about crime, skyrocketing housing costs, inadequate school funding, and other pressing local issues, raises the kind of red flags we've seen so many times before with rabidly anti-gay, moralizing political figures.
While it's uncertain exactly what skeletons in McDermott's closet are pushing him to such extremes, history has shown that they are likely closely-tied to the things about which he screams most often, and most loudly, i.e. sex.
Calling all HuffPost superfans!
Sign up for membership to become a founding member and help shape HuffPost's next chapter