Last week, IMG announced the cancellation of Toronto Fashion Week, due to lack of commercial and local interest.
"As we continue to evolve our portfolio of fashion events around the world, we've made the decision to no longer produce Toronto Fashion Week," Catherine Bennett, senior vice-president and managing director of IMG Fashion Events & Properties, stated to The Canadian Press.

"We really felt that our Canadian fashion footprint was not generating the local commercial funding that we really required in order for us to continue producing the event to the highest standard that, really, the industry deserves and the designers in Toronto deserve," she noted.
For most business readers it's passing news.
But in reality, the end of Toronto Fashion Week is one of many warning signals presenting a larger issue. The economic impacts for Toronto and Canada are much bigger than they appear.
Toronto (like many other cities) tends to undervalue local 'fashion' commerce as a real source of creative, technological and manufacturing growth and innovation.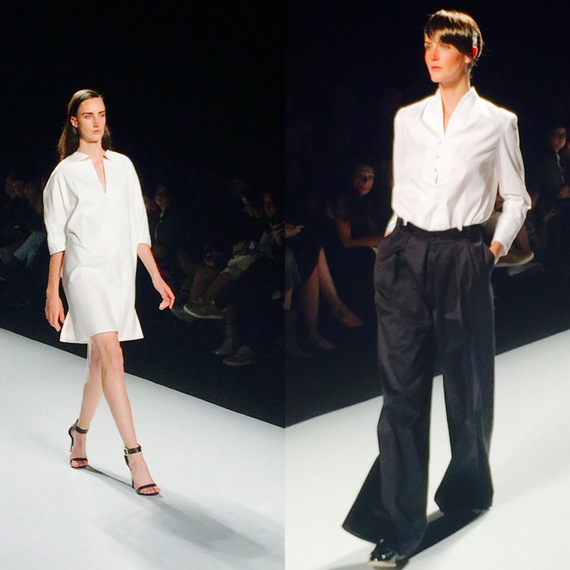 Only recently have world-class cities like New York realized the economic importance of reviving and rebuilding the local fashion industry after the 1990s saw most garment districts in North America shut down and moved offshore to achieve cost savings from labour arbitrage.
In 2014, a Harvard Business Review (HBR) article explored the geographic importance of New York's Garment District in relation to the local fashion economy and industry.
While now much smaller in size and stature than in its glory days, New York's Garment District continues to serve as a creative hub that adds to the industry network and the many local designers who frequent it. HBR concludes that specific location is not as important as the existence of the hub itself, acting as a source of critical mass for designers and the industry they work in. HBR's study attempts to validate the effects of a thriving local fashion district on the success of the designers who frequent it.
Does the critical mass offered by New York Fashion Week act as a hub that fuels the rest of the local fashion industry, as well as the local and global economy?
American designers are also realizing that strategic partnerships, collaboration and innovation is needed for growth, investing in labs to develop new fabrics, new manufacturing processes and new technologies. The last few years have seen an enormous explosion in the field of fashion and beauty technology globally, with disruptive business models born out of experimentation. As a result, new business propositions are fueling the creation of new jobs and skill sets and raising demand for fashion designers, pattern-makers and traditional creative talent. The impact of this phenomenon is woefully limited in Canada and there is much room to catch up.
By contrast, Montreal's fashion industry has suffered devastating losses with the recent dismantling of several Canadian brands including Jacob, Mexx, Parasuco and Bikini Village. To combat this, Montreal's industry leaders are working on new collaborative opportunities for recovery. Jacques Daoust, Quebec's Economy, Innovation and Exports Minister, has announced that the recently established mmode cluster will support the industry's growth and competitiveness. The province and municipality are providing a total of $200,000 in startup funding. Several modern brands like Frank & Oak and Matt & Nat call Montreal home and have embraced digital and innovation in production. But how many have left the area?
It's also no secret that Canadian fashion talent continues to leave its borders to receive sufficient support, validation and fulfilling careers in driving the growth of global commerce. The list of Canadian fashion talent situated abroad seems almost endless and includes the likes of the industry icons like DSquared; Erdem; Alfred Sung; Jason Wu and CFDA award-winning Imran Ahmed.
Part of this Canadian talent drain is due to the inherent size of promise and opportunity present in large fashion hubs established elsewhere but exasperating the lack of infrastructure for design talent in Toronto is not an option during a time the world's eyes are on this city. Toronto's Ryerson University is world-renowned for its curriculum and has been recently recognized by go-to industry publication the Business of Fashion as one of the world's leading schools in this field. The cancellation of Toronto Fashion Week eradicates a significant national opportunity for fledgling creative class to showcase their businesses without having to leave the country for London, Paris or New York. It does nothing to prevent further expatriation of the Canadian design economy.
Clothing is a staple like food and transportation. Torontonian consumers spend a total of $3,816 per household on clothing each year which adds up to $5.8B a year of Canadian money spent on apparel. And yet it's rare to see Canadians citizens celebrate the local fashion economy as a source for GDP growth. Recent press spotlights by public figures like Sophie Trudeau and Jessica Mulroney were a welcomed treat to the local industry players.
So last week announcement should do more than cause sadness.
"There is so much great talent, and we hope that the local industry will ultimately decide to continue to put on an event and to continue to organize shows." Catherine Bennett, senior vice-president and managing director of IMG Fashion Events & Properties.
Should Canadians decidedly allow talent and money to leave its borders as a result of not understanding how innovation through experimentation and creativity really happens?
The dismantling of the industry continues to sound the alarm. The good news is that there's no lack of expressed support for innovation in Canada at the federal government level. There also hasn't been a better time to petition support at the local business level. It's time for specific action planning across key players, more active and visible sponsorship, and an investment in top talent for key roles. It's time to revive the defunct Fashion Design Council of Canada, which once ran Toronto's fashion week and to infuse more power into the Toronto Fashion Incubator.
It's time to understand the drivers of the economic growth and appreciate that:
innovation comes from diversity and cross-pollination;
is not born out of reducing funding in the arts;
requires critical mass to scale.
If the fashion industry isn't recognized as a source of Canadian innovation, it will continue to collapse and drag while other countries leap ahead yet again.
Clothing is ingrained in a society's cultural identity.
Canada has to answer the question: What will our destiny be?
Calling all HuffPost superfans!
Sign up for membership to become a founding member and help shape HuffPost's next chapter