If the Mediterranean Islands were members of a family, Sardinia would be the glamorous one whose personality overshadows all her siblings. Saying, "I'm spending my summer holiday in Sardinia" definitely carries a certain cache of sophistication. Indeed, many tourists are willing to spend over two thousand dollars a night to stay at one of the upscale resorts that line the island. And so at first glance the nearby French island of Corsica can seem to be the quiet, unnoticed half-sister. But upon closer inspection, you begin to suspect that her features, although unadorned and understated, might be even more stunning than those of her famed sister.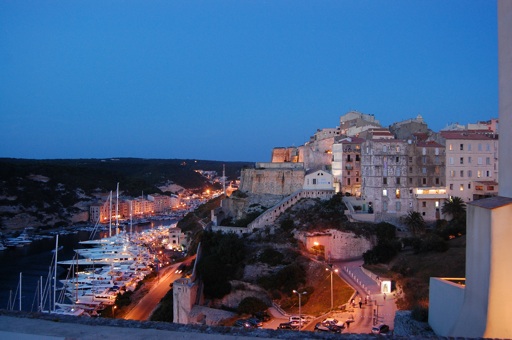 View of Bonifaco's old city and port.
Before making our trip to Corsica this summer, I asked friends who had stayed in Sardinia if they had ever visited Corsica (which, by the way, is a mere 6.8 miles away). They looked puzzled. "Isn't that where Napoleon was born? Where is it, exactly?" they asked.
But for seasoned travelers with a more adventurous streak, I say go for the lesser known step-sister. While Corsica doesn't have 5 star hotel accommodations on par with Sardinia, it more than makes up for it in breathtaking landscapes, beaches, a sense of history. My husband and I recently stayed in Bonifacio, the oldest town in Corsica and the site of a 9th century citadel. Our hotel had a magnificent view of the port full of yachts, and the medieval town beyond, with its many charming stores and winding, cobbled streets. At night, tourists and travelers from their yachts pour into one of the many restaurants by the quay and parade up and down streets lined with shops.
During the day, visiting the white sand beaches that hug the coastline is like stepping into another world altogether. There are so many gorgeous beaches and limestone grottos along Corsica's coast that there's rarely time to see them all. Plage du Petit Sperone, a fifteen minute drive from Bonifacio, is one of the most popular not only for its panoramic views and turquoise waters, but because it offers boat service to the renowned Pecheurs spa and restaurant on the Ile de Cavallo.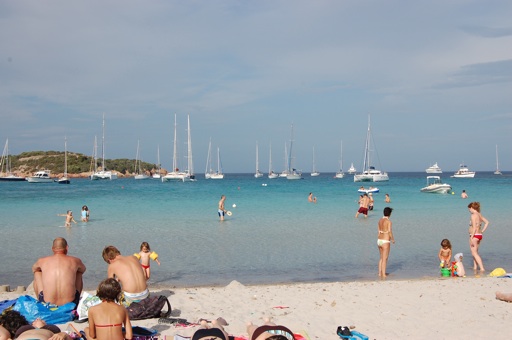 View of Plage du Petit Sperone
But when it comes to natural beauty, there is more to Corsica than breathtaking beaches. Another of her secret charms is that she boasts one of Europe's most notable hiking trails, leading to secluded lakes and glittering waterfalls. One can easily spend a day or two hiking, horseback riding, and visiting some of the charming villages nearby, such as Zonza, Quenza, and Aullene. These picturesque towns are tucked in the nearby mountains with lovely granite homes, small hotels and charming restaurants.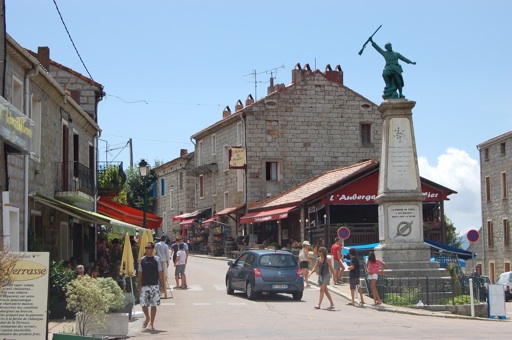 Mountain Town of "Quenza"
As far as food goes, Corsica offers the best of both worlds. A French island 56 miles from Tuscany, its culinary tradition is a fusion of French and Italian cuisine. Now, who could go wrong with pasta and pizza, moules frites, or foie gras ravioli? Especially when the restaurateurs tend to be as dedicated, and homegrown, as the food they serve.
After a morning hike, we stopped to have what we thought would be a light lunch at Hotel/Restaurant L'Aiglon in Zonza. Enormous pink and purple hydrangea lined the terrace of the restaurant and historical, black and white pictures of the townspeople and the port hung on the exterior walls. The owner of the restaurant, a charming middle aged man, greeted us with a warm smile and made recommendations on the specials of the day -- Osso bucco, entrecote, filet of sole, artichoke ravioli, molten chocolate cake and fresh wild berries. He talked about the regional cheese selection and the house wine. (So much for a light lunch, I was so thankful I had hiked beforehand!) He stopped at our table to chat throughout the meal, telling us about the town's history, and how his grandfather had laid the foundation and the granite stones of the restaurant with his very own hands right after the Second World War. "This is a part of the family that has been passed down to me," he added proudly. Being from Los Angeles, we were surprised to then learn that he has a nephew who lives in nearby Santa Monica and brother-in-law who is a professor at UCLA -- it left us feeling even more connected to Corsica, and with a sense of wonder at how small the world really is.
On our way back, we visited the port town and old city of Porto-Vecchio. In the past, the economy of Porto Vecchio was based on salt mining. But the Salt City, as it was aptly called, is now an important tourist center, overflowing with cafes, restaurants, and home to many seaside resorts. In July and August there is late night shopping in the pedestrian only old town until 1 a.m. -- there's something incredibly exotic about shopping so late at night, even if you're just buying trinkets or beach clothes to take home as gifts and souvenirs.
Although everything in Corsica feels leisurely, during our four day stay we managed to pack in a lot of sightseeing, and yes, we even visited Sardinia for the day. For those of you who can't contain your curiosity about that other sister sitting pretty just a few miles away, a one hour ferry ride will take you to the Port of Santa Teresa in Sardinia. But even more enjoyable is to hire a boat and a captain for the day, and make an unhurried tour of Bonifacio's white limestone rock formations and small islands and then slowly, graciously, make your way to greet Corsica's more glamorous sister in style.

Related