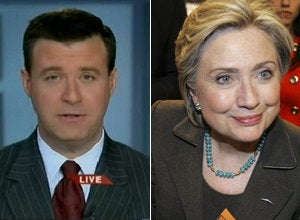 It was a little before midnight on Tuesday, Jan. 27 that MSNBC correspondent David Shuster hit the "Send" button on a curt e-mail to Republican rabble-rouser Roger Stone.
Days earlier, Mr. Stone and others had filed papers with the I.R.S. to form a "527" organization dedicated to educating "the American Public about what Hillary Clinton really is." The organization was called "Citizens United Not Timid," i.e., C.U.N.T.
"Hey Roger Stone," wrote Mr. Shuster in an e-mail to Mr. Stone's personal Web site, the Stone Zone. "Why not put your own name on this?"
Mr. Stone was in no mood to take flack from an uptight reporter unable to take a joke. Mr. Stone felt the suggestion that he was hiding behind the site was ludicrous. After all, he had invited reporter Matt Labash of The Weekly Standard to sit in on the organization's planning meeting.
The next afternoon, he responded. "Hey David Shuster," Mr. Stone wrote back. "I in essence did when I let the entire planning meeting be on the record for a reporter."
Popular in the Community