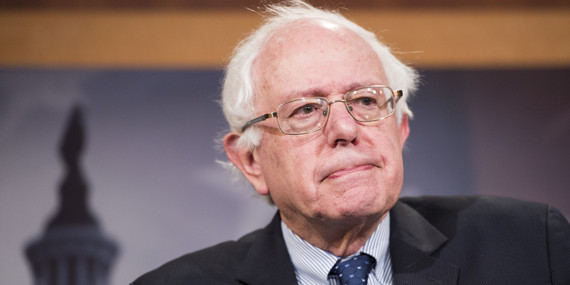 According to Ed Rogers of The Washington Post, DNC Chairwoman Debbie Wasserman Schultz's "desire to hang onto some semblance of power" has resulted in a limited debate format for Democrats in 2016. In a recent piece titled The Insiders: Watching Debbie Wasserman Schultz grovel is painful, Rogers explains why establishment Democrats have decided to protect Hillary Clinton from a prolonged debate format:
This is Washington machine politics at its best -- or maybe its worst. In a year when others are struggling to distance themselves from Washington and politics as usual, Team Clinton is doing what they do best and engaging in blatant, self-serving manipulation...

As I've written before, the Clinton campaign is one that has to avoid crowds and the media, and the latter obviously includes live debates with opponents. Letting Chairwoman Wasserman Schultz prove her loyalty as a fixer is consistent with the predictable Clintonian modus operandi, even if it is misguided.
According to Rogers and many others, the secret is out and Washington D.C., as well as the rest of the nation knows exactly why the DNC wants half as many debates as the GOP. With an ongoing FBI investigation of Hillary Clinton's server and emails (remember, the FBI is only investigating Clinton's server, not Hillary Clinton), as well as U.S. District Judge Emmet Sullivan and other judges all part of the ongoing saga, it's no wonder that Congresswoman Wasserman Schultz wants to limit debate.
If you were the DNC chair, would you want Martin O'Malley asking Hillary Clinton on national television what the political reasons were for using a private server and thumb drive as a government employee?

If you were in Wasserman Schultz's shoes, would you want to validate Quinnipiac University polls that illustrate swing states don't trust Hillary Clinton?
After all, Bernie Sanders can win a general election. As Brent Budowski writes in a Hill article titled Sanders beats Trump by 20-plus points, Vermont's "socialist" Senator has no trouble defeating the GOP in 2016:
A poll recently released by CNN/ORC found Sen. Bernie Sanders (I-Vt.) walloping Donald Trump by about 20 points, beating Gov. Scott Walker (R-Wis.) and running in a statistical tie against former Gov. Jeb Bush (R-Fla.).

The huge margin that Sanders holds over Trump makes it clear that America is in the summer of Sanders, not the summer of Trump, cable news obsessions with Trump notwithstanding.
Since a general election would see Senator Bernie Sanders "walloping" Donald Trump and beating other GOP challengers, more debates would allow for more voters to see the differences between Sanders and Clinton.
Apparently, Congresswoman Debbie Wasserman Schultz doesn't want this scenario to take place, nor does she want to further the notion that Clinton isn't the true frontrunner.
Also, an interesting thing happens when more people hear Bernie Sanders speak about issues pertaining to wealth inequality, healthcare, education, foreign policy, and other mainstream topics. In my recent Cleveland Plain Dealer op-ed, I explain that Bernie Sanders can win, primarily because America is ready for a true progressive who doesn't need to defend against constant scandal. Polling trajectory shows that Bernie Sanders is on pace to overtake Hillary Clinton, and this surge is due primarily to greater name recognition, as well as the fact Sanders embodied for years the same values (voting against Iraq, being for gay marriage when it wasn't popular, etc.) that Democrats like Clinton were supposed to uphold.
When voters hear Bernie Sanders speak, they like what he has to say and often times find Vermont's Senator a better candidate than Hillary Clinton. Similarly, greater name recognition for Martin O'Malley also helps the former Maryland governor. As I illustrated in The Baltimore Sun several months back, O'Malley is better than Clinton in many ways.
Unfortunately, Congresswoman Wasserman Schultz still feels that six debates is more than enough for Democrats in 2016, even though Hillary Clinton is continually defending against an email controversy and Bernie Sanders has energized Democrats across the nation. As stated in a Hill article titled Activists turn up the heat on DNC for more debates, grass roots Democrats are demanding more debates and more dialogue in 2016:
The #AllowDebate movement is hoping recent criticism from White House hopefuls Sen. Bernie Sanders (I-Vt.) and former Maryland Gov. Martin O'Malley will force the DNC to address concerns they have with the events' size, scope and rules...

Sanders echoed O'Malley's complaints after his own address in Minneapolis on Friday.

"I do," the Vermont lawmaker replied when asked whether he agrees that the process is "rigged."

#AllowDebate founder Ben Doernberg told The Hill on Friday that his group is counting on such mounting frustration to force the DNC into changing course.

"The idea that people could get a view of five candidates in six debates is just ridiculous," Doernberg added. "Preventing candidates from debating does not get them more attention. We the people are doing what we can."

Doernberg said he launched #AllowDebate earlier this month after realizing that many Democrats like him are frustrated with the DNC's handling of its presidential debates this election cycle.

It now boasts 30 active organizers, he added, and approximately 500 members.
Will Congresswoman Debbie Wasserman Schultz address the concerns of the #AllowDebate movement and Democratic rivals Bernie Sanders and Martin O'Malley?
Furthermore, Clinton's email controversy is just beginning, regardless of what supporters say, as illustrated by this quote from U.S. District Judge Emmet Sullivan in a POLITICO article titled Judge says Hillary Clinton's private emails violated policy:
A federal judge has added fresh fuel to the incendiary controversy over Hillary Clinton's email, asserting during a hearing Thursday that she violated government policy by storing official messages on a private server when she worked as secretary of state.

"We wouldn't be here today if this employee had followed government policy," said U.S. District Judge Emmet Sullivan, apparently referring to Clinton, during a hearing on one of the many Freedom of Information Act lawsuits seeking access to her records as secretary of state...

"Let's ask Patrick Kennedy. ... Let's get him to discuss under oath what the arrangement was," the Judicial Watch lawyer said.

Sullivan didn't rule out that possibility, but asked Wechsler to hold off on requesting that kind of inquiry until state opens "a dialogue" with the FBI. He ordered state to report back within a month on what records if any it is able to get from the FBI.
Therefore, the Clinton campaign and supporters can claim this is a right wing conspiracy, but a U.S. district judge (there are other judges involved as well) and the FBI can't be accused of being part of a conspiracy; they're all acting under a Democrat in the White House. A former Clinton aide just invoked his 5th Amendment right not to incriminate himself, so the saga will only get more intense. One can't claim a Republican witch hunt when the Justice Department is working under President Obama.
The history of the 2016 presidential election is still being written and it's not too late for Congresswoman Wasserman Schultz to do the right thing and expand the debate format. If Republicans can have twelve debates, why must Democrats be mired in only six? The Sanders campaign has given the Democratic Party life and energy, and Martin O'Malley once eloquently explained that the presidency "is not some crown to be passed between two families." Jim Webb and Lincoln Chafee also deserve to have their voices heard and their policies presented to millions of voters. Whatever Congresswoman Wasserman Schultz decides, she'll be remembered for generations as the DNC Chairwoman during a turning point in the Democratic Party's history.
Popular in the Community