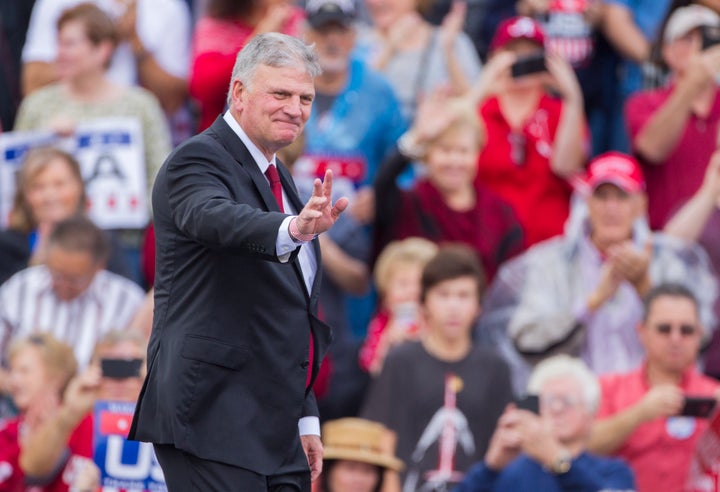 Franklin Graham is triggered.
Is it because President Trump — the leader of the free world — has turned his back on millions of God's children fleeing war and abject poverty, or a profound moral concern for the 20 million Americans who could lose access to affordable health care if the Affordable Care Act is repealed? Heavens, no!
Graham, the controversial president and CEO of the Billy Graham Evangelistic Association, is up in arms against Disney after learning the Beauty and the Beast remake to be released on March 17 will feature an "exclusively gay moment" between character LeFou, played by Josh Gad, and villain Gaston, played by Luke Evans.
In a Facebook post that has been shared more than 150 thousand times as of this writing, Graham writes:
They're trying to push the LGBT agenda into the hearts and minds of your children—watch out! Disney has the right to make their cartoons, it's a free country. But as Christians we also have the right not to support their company. I hope Christians everywhere will say no to Disney.
What baffles, however, is Graham's apparent obsession with LGBTQ people and the extreme theological lens through he views us in particular. He is clearly preoccupied with our damnation, seemingly placing our progress toward achieving equality at the top of the list of America's moral woes over things like self-righteousness and indifference toward the sick and the poor.
Graham hasn't been so sharp-tongued about others the Bible might suggest have lived their lives in ways unbecoming of a Christian. He claimed President Trump — who has married three times and has bragged about sexually assaulting women — won the election by the "hand of God" and broke from other evangelical leaders when he defended Trump's refugee ban, saying it wasn't a "Bible issue."
What is the moral math that has lead to Graham's calculation that the LGBTQ community represents such an outsize threat to society, especially considering the Bible has far more to say about adultery and murder than homosexuality?
A theory: Graham himself is homosexual and remains in a state of denial, self-loathing and shame.
I've been there. Growing up, I vigorously opposed any rumor that I might be gay and vocally opposed LGBTQ equality as a means to distract people from questioning my sexuality, eventually becoming a leader of the young conservatives club at my high school in ultra-liberal Arlington, Va. Quietly, though, I was contemplating the suicide I attempted just a few years later.
A more likely theory: preaching hate pays. The Billy Graham Evangelistic Association took in more than 100 million dollars in 2015. It seems a bit of charisma and the need to have your own prejudices and fears confirmed is all it takes to get the checkbooks out.
While we can speculate endlessly on what fuel's this man's crusade against the LGBTQ community, one thing is clear: Franklin Graham is dangerous. His vitriol has demonized millions of Americans, justifying hatred and violence toward them. Sexual orientation is not a choice, bigotry is.
Another thing is clear: the "gay agenda" — to merely exist as our neighbors free from persecution — will persist.
John Allyn Welch is a public affairs strategist and writer in Washington, D.C. Follow him on Twitter @JohnAWelch
Popular in the Community