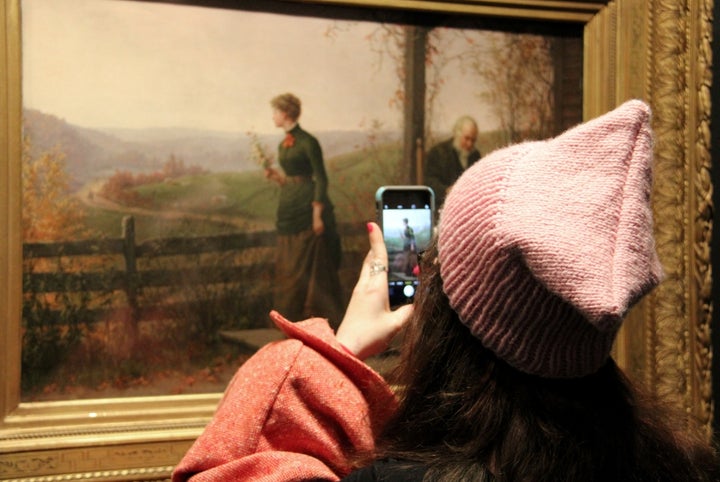 "Do we need a museum specifically for women artists?" That's a question that almost always pops up when I'm representing the National Museum of Women in the Arts (NMWA) on panel discussions. Most recently, it came up while I was on the Art Basel Miami panel "Why is Gender Still an Issue?"
The questions continued: "Is having a museum specifically for women helpful? Are we ghettoizing women artists instead of integrating them?"
As the world's only museum dedicated to showcasing and celebrating the creative contributions of women, we have confronted these two questions since we first opened the museum 30 years ago.
Let's first look at the landscape for women artists today. Even though museums and galleries in New York and Los Angeles have recently presented a number of group and solo exhibitions of women artists that garnered excellent reviews, we can't be lulled into thinking that the problem of fair representation is close to being solved. We are a far cry from gender parity in the art world.
Women artists in the United States and United Kingdom receive approximately 25% of solo exhibitions at major museums.[i]
A 2014 survey of major art galleries in New York and Los Angeles showed that only 32% of the work on view was made by women artists.[ii]
Artnet ranked the top 100 artists by cumulative value between 2011 and 2016. Only five women artists made the list.[iii]
Sadly, I feel that this question keeps surfacing because people want to believe that we are achieving parity more quickly than we actually are. In fact, every ten years or so, women artists come into vogue—usually when there's a big "women's exhibition" or "women's initiative"—but then the issue fades into the background again.
So, when I'm asked "Do we need a museum specifically for women artists?," my answer is a resounding yes. Until we achieve gender parity, we need a museum that exhibits the work of women artists and acts as their champion. It is crucial for us to lead the way in advocating for better representation in museums, galleries and art fairs.
We work for that day, rather than wait for that day. We insert great women and new creative ideas into the world. We invite people to engage with those ideas, and we create conditions for social change.
Here's why it's critical that the National Museum of Women in the Arts exists:
NMWA is the only major museum in the world committed to directly addressing the gender imbalance in the presentation of art by bringing to light remarkable women artists of the past while promoting the best women artists working today.
The museum provides a steady drumbeat of programming in the national's capital, linking women in the arts to social change—a combination not often found. Through its Women, Arts and Social Change programming initiative, innovative Fresh Talks bring together leaders from a range of disciplines, including the visual and performing arts, technology and the sciences—both hard and social sciences.
NMWA is the only United States museum presenting an ongoing platform for women to advance ideas and solutions to society's most pressing issues, especially for women and girls.
The museum organizes exhibitions by emerging artists who may not yet be well known, giving them increased opportunities for exposure.
NMWA has shown exhibitions over the years that other museums have turned down.
The museum consistently presents great art by women—and educates the public about their achievements—no matter what trend is in vogue.
I am looking forward to the day when the ideas we espouse become fully integrated into mainstream museums, galleries and art fairs. But until that day, women artists need support in venues that specifically champion them. My hope is that the arts will continue to be a bellwether of our society and promote parity for all. I believe that the power of art to pull us forward is more important now than ever.
Popular in the Community