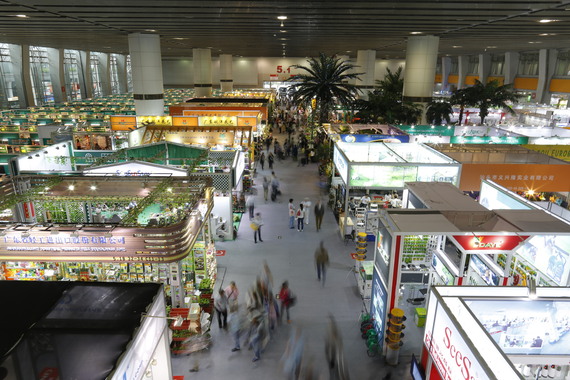 Business is one of the areas that requires constant movement forward, self-improvement, creativity, and innovation. A lot of business companies or foreign trade corporations often rack their brains to exploit the market internationally. According to the market analysts, China has become one of the leaders in the world market, and, thus, play an important and influential role in the world's economy. That's why the top priority of expanding a global business may be having a niche among Chinese markets. Besides, these days more and more Chinese are also interested in foreign products. To understand the market better, expand one's business or just get an idea of what's new in the world's market today, one should consider attending business events, which facilitate communication between the sellers and buyers and act as a way of providing a platform for new opportunities.
There are many business events or exhibitions in China, such as CHTF, China import and export fair, Air Show China, CIIF etc., among which China import and export fair, also known as the Canton Fair, is the comprehensive exhibition with the longest history, highest level, largest scale and largest number of products, as well as the highest business turnover in China. Canton Fair is held biannually in Guangzhou every spring and autumn and has a history of 60 years since its establishment in the spring of 1957. It's important both, for Chinese and international business owners who are involved in trading of different goods and are looking for new opportunities. Recently, 120th Canton Fair is taking place from October 15th-19th and phase three from October 31st- November 4th.

The Canton Fair is an opportunity for international companies to get a closer look at Chinese goods on the one hand, and to offer overseas goods for Chinese buyers and expand one's business in such a way, on the other hand. The International Pavilion, divided into several sections, is a perfect place for business opportunities for global exhibitors in China. With 10-year continuous improvement, the International Pavilion has accumulated almost ten thousand quality resources for global exhibitors and collected a large number of professional audience as well as high-end purchasing channels. It's one of the biggest fairs not only in China, but in the world, and has already established a high-quality reputation becoming a must-attend event for all the people who are serious about their business. Besides, it's a great opportunity to interact with sellers and buyers directly, to negotiate some important business-related issues and, of course, to get to know what's new on the market today and how it's changed within the last year. With the new energy exhibition zone, one could learn more about alternative sources of energy, new energy products and the application of solar energy, which is an important issue today. Viewing all the products, interacting with different people at the fair is also a way of finding out new ideas for one's business development; it's also a good place to attend when one is thinking of starting one's own business, as it's a place, where new ideas are developed and discussed.
Canton Fair is one of the examples of important business events held throughout the year in different parts of the world. The world economy has been in the process of globalization, and so getting connected with Canton Fair, as well as other international exhibitions, like CES, MWC, IFA, etc. is becoming an important method for global business strategy. Visiting such events out of curiosity, even if you have nothing to do with the business directly, is very resourceful as well, as it's a platform for sharing ideas, learning new trends of the market and coming up with innovative concepts that might potentially change our lives for better.