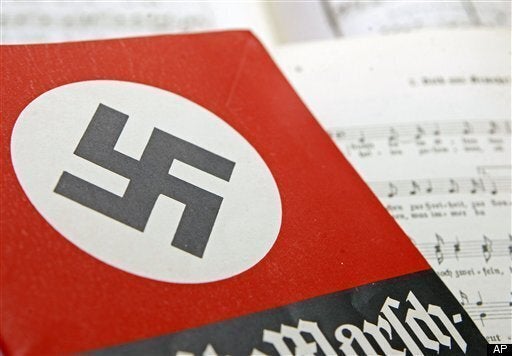 MSNBC conservative commentator and former Republican presidential candidate Pat Buchanan has a history of insensitivity to issues surrounding the Holocaust. Yet again, with the 70th anniversary of the start of World War II, Buchanan posted a telling column on his own website and on Townhall that seems to blame Poland for World War II.
Despite his current position, as a friendly sparring partner with Rachel Maddow and in-house winger on MSNBC, the guy has been a very-thinly veiled fascist sympathizer for decades. And in his column this week, he all but removes that veil.

Available here, the column is titled "Did Hitler Want War?" Buchanan believes the answer to be no. He pins the blame for World War II on Poland, and Britain's guarantee of protection to it. As evidence, Buchanan points to a string of inexplicably dumb decisions made by Hitler-so dumb that, to Buchanan, they negate the myths about the war and the man thought by nearly all sentient beings to be its instigator.
You might think that Buchanan would have stopped using this sort of unrepentant rhetoric as his career moved from a Republican firebrand to a commentator on one of the nation's top cable news channels - but you'd be wrong.
Buchanan also wrote that if the United States went to war, the fighting would be done by "kids with names like McAllister, Murphy, Gonzales, and Leroy Brown." Buckley, in his usual opaque writing style, argues that this amounts to charging Jews with starting a war they wouldn't fight in a genuine slur against them. He adds: "I find it impossible to defend Pat Buchanan against the charge that what he did and said during the period under examination amounted to anti-Semitism, whatever it was that drove him to say and do it: most probably, an iconoclastic temperament."

These are rough words coming from Buckley, who goes to great pains to distinguish between anti-Semitism and simply voicing criticism of Israel.
It is hard to be surprised by a man who has written many columns concerning World War II revisionism, but this may be his worst yet.
However, what may be most surprising is why Buchanan still has a job.
Actually, there is a place on MSNBC where he may belong - you would have to ask Keith Olbermann about that one.
UPDATE: MSNBC is currently promoting Buchanan's column on MSNBC.com. This is beyond ridiculous. The National Jewish Democratic Council just issued a statement that says: "This sort of historical revisionism is deplorable. Buchanan's latest column should be removed immediately from MSNBC.com, and no worthy news organization should employ a commentator who engages in such vile fiction."
UPDATE II: Within an hour of our press release, MSNBC has removed Buchanan's column, "Did Hitler Want War," from their website. Here's a response from David A. Harris, NJDC's President: "MSNBC took the responsible action and removed Pat Buchanan's column defending Adolf Hitler from their website, but no worthy news organization should employ and promote a commentator who engages in such vile fiction."
Related
Popular in the Community