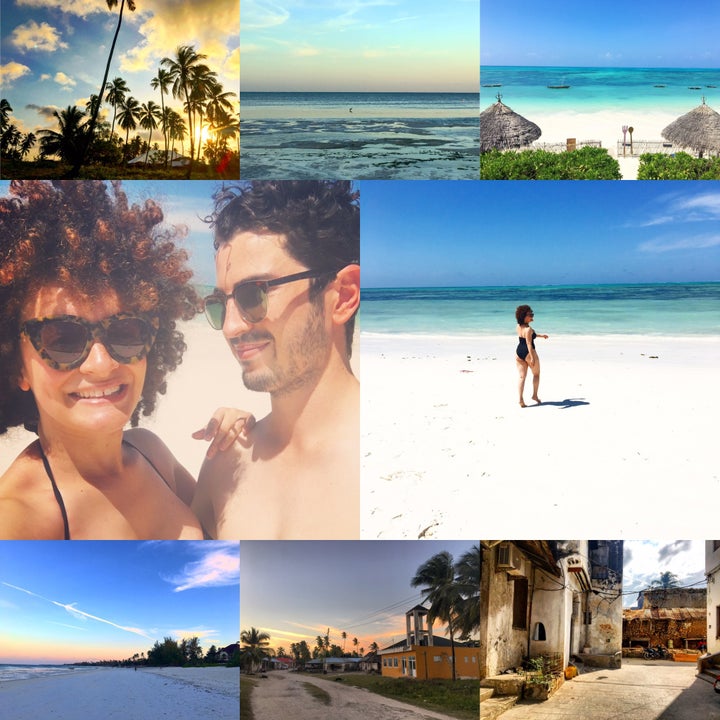 Alas - this is the first week I've not posted on a Wednesday! Given the circumstances though, I think you'll agree that just this once, posting on Thursday morning is acceptable. For the past week, my partner Alex and I have been in Zanzibar. This trip came off the back of my work trip to Dar es Salaam, so it's been a cheap and easy getaway for us. We've been staying in Airbnbs with residents here, and enjoying a taste of local life and a measured dosage of the upscale resort amenities around as well. It's also the first time I've properly taken leave in many months.
I've had friends and family remark that I'm 'always' on holiday, but that couldn't be further from the truth. I travel semi-regularly, yes, and often I use my annual leave to do it. In April I visited my hometown Perth, Western Australia for just 11 days, which wasn't purely a holiday as it involved visits to hardware stores and our house to do maintenance for our tenants, and sorting and packing the possessions we have in storage. In May I spent four days in Paris with my best friend, but I worked remotely over Friday and Monday – so really, I just had a weekend away. The following week I left my office on Wednesday and flew to Kyiv in Ukraine, where I spent four days touring the city, visiting tech initatives and attending meetings, returning Sunday just before midnight and heading back into the office on Monday. Then in the last weekend of May, I flew to Sydney where I attended the EU-Australia Emerging Leaders Forum and helped to develop policy recommendations for the future of the inter-regional relationship.
Indeed - I have a remarkable talent for using all of my 'time off' to just do different kinds of work (that I'm often not paid for, but are labors of love). Last time I really had a break like this, we were on our honeymoon in Mauritius in November 2015. That was a remarkably intense year for me in many ways. I had taken on a number of low-or-no-fee refugee cases, as I was registered to practice migration law in Australia. I was co-leading a non-profit organisation and running monthly events with Alex, and coordinating our Board's activities. I was completing a full-time Honours course load (as an option fourth year of my Bachelor's degree) and writing a thesis, while doing coursework. Alex and I were planning our October 3rd wedding. We were also planning our indefinite move away from Australia, to follow our honeymoon in November, to New York for my UN internship and then onto London where we would live and work for two years. And – the icing on the cake – I decided I was already so busy that doing a full-time Masters degree at the same time couldn't make matters any worse, so I enrolled and completed a semester of postgraduate studies too.
After I handed over our non-profit to a new leadership team, submitted my thesis, completed all of my Honours and Masters coursework and tied up all of the other loose ends including preparing for our move, the honeymoon was the first time I could release my breath and just be. We opted for a Club Med getaway to La Plantation d'Albion in Mauritius. It cost us a chunk of our savings, but it was worth it. I didn't have to make a single decision while we were there - it was a healing tonic for the mind, body and soul. From the airport all of our flights and transfers were handled, our suite had everything we needed, our chef-prepared food, drinks and activities like snorkeling, archery and ball sports were all included. I could just frolic around a warm and summery paradise, stuffing my face with lobster, drinking piña coladas, playing tennis and swimming without thinking about anything else... in theory.
Regrettably it's not that easy for me to let go, and I was still thinking about what my next chapter of life would be like and what other planning, research and preparation I could do for the move. Still, for me, it was relaxation like I had probably never experienced. I've since vowed not to run myself down like that again, and to take regular breaks to recharge. Here in Zanzibar after months of near-constant work, I've been attempting to relax but I haven't entirely let go. I'm still checking work emails and responding to the urgent ones, still planning our December move to the US, still thinking about my 'next' projects (and actually set one in motion, setting up a stream of meetings for the next few weeks). But having a little extra breathing room helps to ground me and remind me what I'm passionate about, so while I'm still working, I know I'm doing it out of love, not exasperation.
With all of this going on, I've realised the commitment to write this blog every single Wednesday is also a form of work I impose on myself. It's a labour of love, but sometimes I do need to relax my grip on myself. So last night, as I was curled up under a fan and mosquito net wincing from the pain of my sunburn and trying to meditate, I decided that I didn't have to deliver on my self-imposed deadline and would allow myself to relax for once. It didn't quite work, as the sunburn and anti-malarial combination hasn't been letting me sleep through the night – but I tried. And that's another step in the right direction.
This is the thirteenth in a series of 52 Memoirs I will be posting weekly until April 2018. Look out for new posts every Wednesday!
Related
Popular in the Community