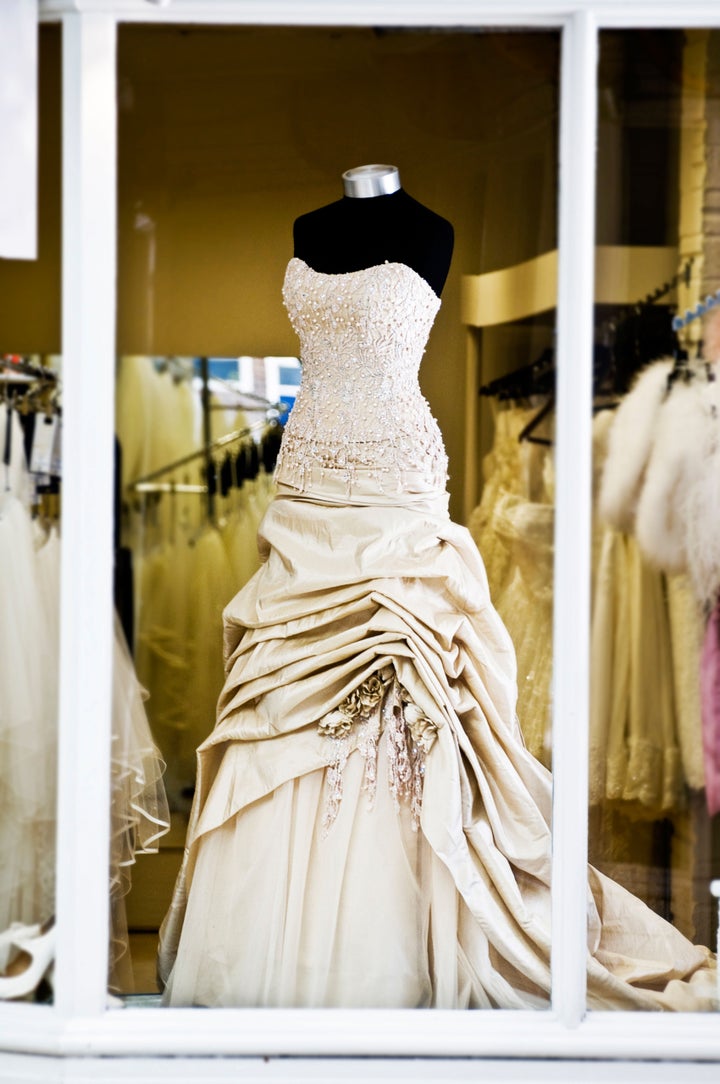 We are coming off of one of the biggest weekends for the wedding industry: Bridal Market a.k.a. Bridal Fashion Week. Taking place in New York bi-annually, it attracts buyers, editors, bloggers, event designers and planners and showcases the most glamorous designs the bridal world has to offer.

What it does not showcase however are any models that actually look like the average American bride. I know, I know, not another article about how models are too skinny. But, here is the difference: the market for plus-size women looking to spend $3,000 or more on a Lanvin jersey dress for the office is only a fraction of the size of plus-size women looking to spend $3,000 or more on a wedding gown. Considering that more than 64 percent of women in the U.S. are overweight, and that wedding gowns range from $300-$30,000, my argument is that it simply makes SENSE to showcase on the runway how these gowns might look on body types that will actually buy them.

As a member of the wedding industry who has been working with brides for the past eight years, I've always been particularly horrified at the persona non-grata status that has been given to "plus size" girls getting married. I used quotations because I'm not just talking about women who are extremely overweight; I'm talking about the numerous women over size 10 who are traumatized by the joyous experience of wedding dress shopping because they can't fit into the very teeny sample sizes that most bridal salons carry. If you are reading this and had the experience of having a sample wedding gown placed on you, pinned in the back and trying to imagine what it would be like when it was made just for you... imagine if you couldn't put on the dress at all, had someone hold it in front of you and ask you to order it on blind faith that once in your size it would look great! To say that it would be the opposite of joyous is an understatement.

Equally horrible is the salon practice of only stocking sample sizes of gowns deemed to be "Plus Size Friendly" a.k.a. "Ball gowns" and "A-lines." Recently, we took a client of ours with a hefty gown budget shopping and we stormed out of a very, very reputable designer's salon because its staff refused to show her anything but a ball gown, insisting that everything else would be "unflattering" to her size 18 frame.

Truly, I'm not trying to beat the dead horse of "why are fashion models so skinny?" That is an issue, but it's a life-workable issue. I don't have a model body and I don't have a super-model clothing budget and I mainly read fashion mags and look at fashion runway for inspiration. My experience of actually shopping is quite different--I take what "concepts" I saw that might work on my body and find the equivalent in my budget and size.

But when it comes to bridal, I've always felt that the experience of being a bride is part inspiration browser (ooh! Awesome escort card idea!) And part catalogue shopper (ooh! I love these earrings and this veil, where can I buy them?). The average girl reading a bridal mag or blog, looking at bridal runway or visiting a bridal salon is looking to actually purchase one of these actual gowns. She isn't looking for "inspiration" she is looking for her dream dress and she is willing to drop between $500 and $10,000 on it.

I've often wondered why we never see more variety of body type or plus size models in these dresses at runway or in editorial. Honestly, even when you look at Real Weddings, you might think that no real brides are actually a bit thick or big or whatever term you might use for a girl who isn't model skinny. Why more designers/publications/advertisers aren't inviting potential buyers to imagine themselves in the dream gown vs. someone else's body is beyond me. It's funny that at a time of life when a woman has found someone else who loves her for who she is, the process of being a bride can make you wish you were someone else.
I know that everyone wants to sell idealized fantasy, but don't we want girls to still be themselves? (Then again, I maybe just don't get it. I also never understood why bridal runway models never smile... real brides do). I think this is the same principal that annoys me (even when we write about it on this very blog) about all these wedding weight loss ideas and diets. I totally appreciate that everyone wants to look their best--before my wedding I was in pilates two times a week and who knows if I ate any bread for months--but sometimes it seems just a hop, skip and a jump from "wedding body makeovers" and fitting into the dream dress to that horrible "Bridalplasty" show that was on E! for a while.

That said, I'm heartened to know that lots of people feel the same way that we do. Mayra, my business partner, texted me the other day to say that she couldn't get enough of "Say Yes to the Dress: Big Bliss." It takes the very awesome "Say Yes to the Dress" formula but showcases plus size brides who are able to see samples and sizes at Kleinfeld. The show was launched largely because Kleinfeld knows that these women have often arrived at the shop having had awful experiences at other salons and have been made to feel that somehow their bridal experience wouldn't be as special because of their size. Kleinfeld is able to turn the frown around because they have always devotedly stocked plus-size samples and buy gowns with many body types in mind. So, yay for "Say Yes to the Dress: Big Bliss." Hip, Hip, Hooray for Randy Fenoli and company for wanting to make all brides feel amazing. I hope that we can all take a bit of a lesson from that and in the process make a little more room for all brides to feel comfortable being themselves.