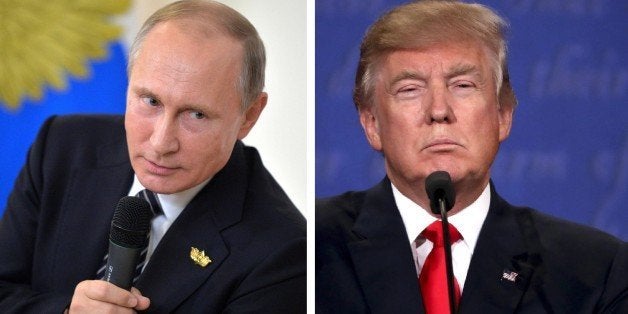 It's becoming clear why Presidential Candidate Trump and Russian President Putin have been so chummy with each other. Trump has become dependent on Russian oligarchs to fund his real estate ventures since U.S. banks no longer will because of his various bankruptcies and history of failure to pay his debts.
One of his sons even admitted so.
"Russians make up a pretty disproportionate cross-section of a lot of our assets," Trump's son, Donald Jr., told a real estate conference in 2008, according to an account posted on the website of eTurboNews, a trade publication. "We see a lot of money pouring in from Russia."
And the FBI has nothing to say about the fact that Donald Trump has become so dependent on those Russian oligarchs funding Trumps real estate ventures. Yet what looks like blatant collusion in illegal activity between Trump and Russian oligarchs has been documented in lawsuits, and much more.
He has had to depend on Russian oligarch monies, many of them either Russian Mafia figures or close associates of Vladimir Putin, to fund his real estate empire. And he has repaid them by adopting their playbook--discredit NATO and U.S. alliances, call for hacking of Hillary's emails, and lauding Putin as a stronger leader than President Obama.
That is why the latest FBI fiasco--Director Comey's refusal to discuss their ongoing investigation into Donald Trump's Russian connections--is so damaging to our national security, even though Comey had no problem discussing their investigation into Hillary Clinton's "extremely careless" use of a private email server. It means the FBI has lost credibility as a transparent and impartial institution.
Trump's Russian connections have been well-documented. Let's ignore the possible link to Vladimir Putin, which he claims to never have met, though he did invite him to a meeting when Trump brought his 2013 Miss Universe pageant to Moscow.
The real connections are with those Russian oligarchs that surround Putin, which number some 120 billionaires that now own most of Russia's assets, according to a former Russian hedge fund manager. Many have invested in Trump properties. The fact that Trump won't disclose his taxes is almost proof in itself that he doesn't want those connections revealed.
Why wouldn't Trump want to reveal the extent of those connections, if legal? Because much of it has to be laundered money that Russia's plutocrats have stolen from Russians, and their own government.
A Times Magazine article detailed this. As major banks in America stopped lending him money, the Trump organization was forced to seek financing from non-traditional institutions. Several had direct ties to Russian financial interests in ways that have raised eyebrows. What's more, several of Trump's senior advisors have business ties to Russia or its satellite politicians, such as former campaign manager Paul Manafort..
It also explains why Russia has been hacking DNC email accounts, including that of Clinton Campaign Chief of Staff John Podesta.
"The Trump-Russia links beneath the surface are even more extensive," Max Boot, a senior fellow at the Council on Foreign Relations, wrote in the Los Angeles Times. "The Russians have every reason to sabotage the Democratic candidate. Her opponent, Donald Trump, is more pro-Russia than any previous presidential candidate. As far back as 2007, Trump was telling CNN that Russian President Vladimir Putin was doing a "great job." In 2013, Trump tweeted: "Do you think Putin will be going to The Miss Universe Pageant in November in Moscow - if so, will he become my new best friend?"
"In 2015, Trump told MSNBC that Putin was a real leader," said Boot, "unlike what we have in this country," and that reports of Putin killing political opponents didn't bother him -- "'Well, I think our country does plenty of killing also," he said.'"
Trump has to have become so popular with Russian oligarchs because he is willing to aid and abet the laundering of their money, much from documented criminal activity.
Bill Browder, CEO of Hermitage Capital Management, has written and testified extensively how President Putin and his cronies have milked the Russian economy in his best-seller, Red Notice, A True Story of High Finance, Murder, and One Man's Fight for Justice.
In Browder's case, Putin, et. al. were able to obtain a refund of Hermitage Capital's last $230 million tax payment to the Russian Government in 2005 by simply raiding their Moscow offices and changing corporate ownership documents, then altering the corporate tax returns for that year so they would show a loss of $230 million, which was then refunded to the new 'owners', who were revealed to be members of the FSB, Russia's FBI and Secret Service, and government officials that aided in the tax fraud.
This was all revealed in testimony before the U.S. Congress and European Parliament, and has resulted in the seizure of foreign assets and travel bans for 38 of those implicated in the scheme.
We therefore have to ask why the FBI won't reveal details of their ongoing investigation of Donald Trump's Russian connections that have already been so damaging to our election process, and could cause even more damage to our national security in the future?
Follow Harlan Green on Twitter: https://twitter.com/HarlanGreen
Related
Popular in the Community