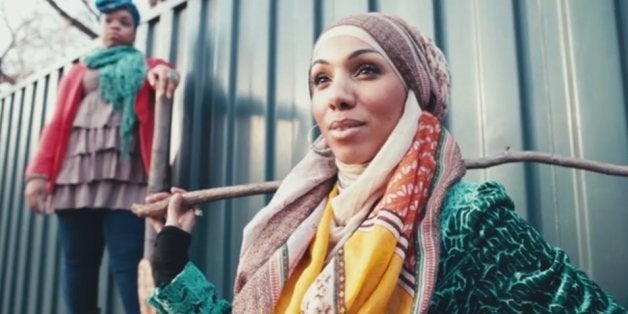 When I saw the "Mipsterz" video, "Somewhere In America," I thought to myself, "This is me."
I may not wear hijab. I may not go to the mosque every Friday. But I am an American Muslim, and this video illustrates just one of the many ways that it's possible to be one.
However, other Muslims are often the very individuals that make it most difficult for members of the community to authentically express themselves, as the Twitter storm over "#mipsterz" has demonstrated.
In short, the 2-and-a-half minute film features strong, fashionably dressed, confident young women wearing hijab as they hang out, pose, laugh, and explore, with the Jay-Z song "Somewhere In America" as their soundtrack.
A predictable wave of op-eds promptly followed the release of "Somewhere In America" that bashed the video, its "message" or lack thereof, its participants, its intent, and everything else about it. Some of the criticisms are valid, but the immediate outrage and the rapid judgement need to stop if the Muslim community hopes to move forward. The lazy backlash against this innovative video just discourages further creativity, generating a chilling effect on progressive dialogue.
Why must Muslims be so quick to tear each other down? A look at the YouTube comments on the video offers a quick snapshot of the criticisms that Muslims like to fire at each other, the most common of which is the simple assertion that something or everything about you is "not Muslim enough."
Female appearance often comes to the forefront of this critique, and the participants in the video have been slammed for not being "modest" enough. To which I say-- why must modesty be the defining characteristic of a Muslim woman? The self-policing and body shaming needs to stop. Furthermore, the emphasis on female modesty as opposed to male just plays into patriarchal notions of ownership.
Though the credits for the video list mainly men, the team behind 'Somewhere In America" was mostly made up of women, though they took their names off the project after facing backlash. How sad-- that women working to celebrate themselves and their religion had to hide from that very same faith community.
Amina Sheikh, who appeared in the video, is just as strong and fearless in real life as she is onscreen. "My problem with all the critiques I am reading is that you are taking away my agency and power," she said. "I made this choice, and the video is in fact a reflection of me and many Muslim women. You may not like it, and that is ok."
I applaud Mipsterz for their initiative and creativity. The Muslim community needs more innovation, more risks, more boundary-pushing, because the response to this video is a wake-up call to what American Islam really needs-- an open mind.
Related
Popular in the Community