Last week, retail behemoth Amazon.com launched Amazon Handmade, a new online products store touting wares from invite-only artisans and makers.
Since the announcement, the only thing anyone seems to care about is how much competition it will bring to Etsy, the reigning king of crafts sites.
In the wake of Etsy's April IPO and the public knowledge that it's bleeding money ($37 million in its first quarter, to be exact), a competitor as big as Amazon is certainly newsworthy.
But it's not the only story.
If you are a maker, artisan or designer selling on Amazon Handmade, there seems to be a lot to benefit from the platform at first glance. Amazon is the world's largest retailer, attracting 244 million active users. It would be next to impossible to try to duplicate that kind of traffic for your own eCommerce store.
But much of the benefit ends there.
To begin unraveling what you could gain and what you could lose by selling on Amazon Handmade, you have to first look at the risks of building your business on a platform that you don't own.
It's nothing new for Amazon to "partner" with small businesses. Since 2012, Amazon Marketplace has invited Third Party Sellers to sell anything from pillows to jewelry to clothing that is mass produced in factories around the world.
Over time, though, these sellers have seen Amazon increasingly use its Marketplace to undercut third-party sellers using their own sales data, as reported by The Guardian and The Wall Street Journal. Many of these seller have been driven out of business in the process.
Joanne Nelson of Nelson Beads has been a seller on Amazon for 15 years. She developed a profitable business selling overstock books until Amazon purchased from the same suppliers and created their own Bargain Book section. They could buy the books for less and offer them at steep discounts, undercutting the prices third-party sellers were asking for and thereby lowering their margins.
"Amazon has made it possible for I-don't-know-how-many people to create businesses or just bring in a little extra cash," said Nelson. "But make no mistake: if you list on Amazon, you are essentially a drop shipper for them. You are selling to THEIR customers, not your own. Bottom line, don't ever build you business on someone else's platform."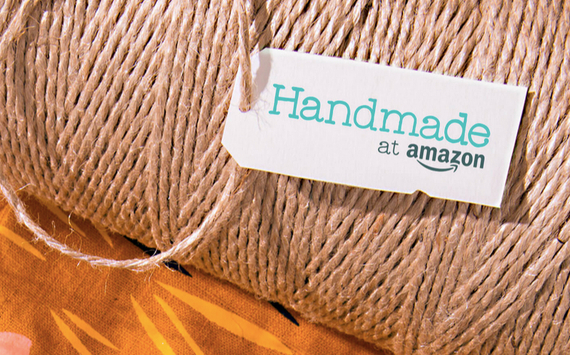 So that begs the question:
Why should we expect anything different from Amazon Handmade?
What's stopping Amazon from using this platform to track the newest trending products by emerging artisans and designers, as they've done to other sellers in the past?
Do we really expect them to sit on that data, instead of using it to immediately offer copies or near-copies of bestselling products at a lower price point?
As someone who works with entrepreneurs and makers, I know firsthand that copies and counterfeits are rampant in this industry -- it's an unfortunate part of doing business.
But combine that with offering Amazon real-time, firsthand access to your sales data, as well as a direct communication with all of your customers, and you're virtually handing over your business on a silver platter.
Sarah Resnick, the artist and maker behind Advah Designs, considered applying to sell on Amazon Handmade and ultimately decided against it.
"As an artist who runs a niche business creating Jewish prayer shawls and wedding canopies, I have little concern that my own work would ever reach Amazon's radar or be worth their effort to copy and sell," said Resnick.
"But as a consumer who thinks a lot about how to support small businesses that nurture my community, I am sad at how much we are willing to give up for the siren call of free shipping, or the convenience of ordering toilet paper, extension cords and a new painting from the same online shopping cart."
We don't need the world's largest retailer to control access to the ideas and designs of some of our most creative people. They already own enough of everything else.
Shannon Whitehead is the founder of Factory45. She works with independent designers to launch clothing companies that are sustainably and ethically-made in the USA.
Related
Popular in the Community