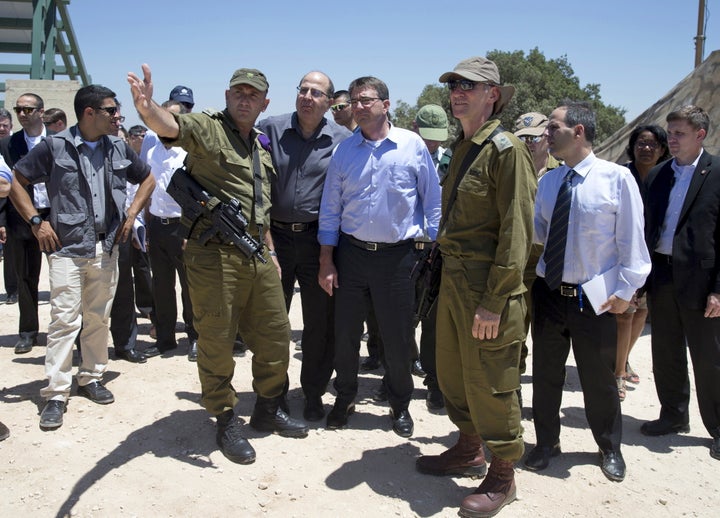 A top Israeli general's comments earlier this month that appeared to compare the Israeli political climate to that of Nazi Germany continue to spark controversial debate in the small Middle Eastern nation.
The uproar over the military leader's remarks is about more than an isolated case of tactless speech, however. The incident reflects Israeli military leaders' increasing willingness to speak out against an uptick in xenophobia and illiberalism that Israeli progressives worry threatens Israel's democracy -- and could, in turn, undermine the country's critical bond with the United States.
The controversy began with a speech that Israel's second-highest military official, Deputy Chief of Staff Maj. Gen. Yair Golan, gave on the eve of the annual Holocaust Remembrance Day, which fell on May 5 this year. (The day of commemoration and mourning observed by Jews around the world has a set date on the Hebrew calendar that varies on the secular calendar from year to year.)
"The Holocaust should bring us to ponder our public lives and, furthermore, it must lead anyone who is capable of taking public responsibility to do so," Golan went on. "Because if there is one thing that is scary in remembering the Holocaust, it is noticing horrific processes which developed in Europe -- particularly in Germany -- 70, 80, and 90 years ago, and finding remnants of that here among us in the year 2016."
The general said the obligation for introspection extended to the military. He invoked the case of Sgt. Elor Azaria, an Israeli soldier who was captured on video in March shooting a wounded and apparently disarmed Palestinian assailant. Although Azaria is set to face a military tribunal for manslaughter, his arrest prompted protest in Israel from people who believe his actions were justified.
Golan concluded by calling on the country to use Holocaust Remembrance Day as an opportunity to "uproot the first signs of intolerance" of foreigners.
The comments immediately drew withering criticism from Israeli Prime Minister Benjamin Netanyahu and several cabinet ministers for likening Israeli society to Nazi Germany in any way.
"They do injustice to Israeli society and cause a belittling of the Holocaust," Netanyahu said.
By contrast, the center-left Israeli opposition leader Isaac Herzog praised Golan, saying "this is what morality and responsibility sound like."
Golan clarified his initial comments the following day.
"It is an absurd and baseless comparison and I had no intention whatsoever to draw any sort of parallel or to criticize the national leadership," Golan said in a statement.
"I don't think there is any propaganda phrase that has done more damage to the state of Israel."
Jeffrey Herf, a historian at the University of Maryland, has studied anti-Zionist movements' attempts to depict Israel as Nazis, particularly on the radical left. Golan's remarks struck a raw nerve because of the sordid history of analogizing the Jewish state to history's most infamous perpetrators of genocide, according to Herf.
"I don't think there is any propaganda phrase that has done more damage to the state of Israel," Herf said. "Netanyahu knows all that -- he grew up with it. For a general, it was a stupid thing to say."
But Golan's inflammatory framing may be less significant than the fact that he chose to admonish his fellow citizens so passionately on one of the country's most solemn holidays. He is part of a growing trend of Israeli military leaders leveraging the considerable prestige they enjoy in Israeli society to condemn what they see as the reactionary excesses of the Israeli public and political class.
Dan Arbell, a former senior Israeli diplomat and a scholar-in-residence at American University's center for Israeli studies, called Golan's speech part of "a battle for the soul of Israeli society."
It is a fight, he said, between "those who support settlements, continued occupation, a continued tough approach on Palestinian issue, very strong nationalism, and the other camp, which is for the two-state solution." That second camp is "more willing to make compromises, for a less nationalistic approach, for international values and acceptance of others, rather than stark Jewish dominance."
The military has not become more liberal, according to Arbell -- its leaders have just become more vocal about their views in response to Israel's rightward drift.
"The Army is joining, or adding to the Supreme Court in playing this role of protector of Israel's vibrant democracy."
After all, in a country where almost all citizens must serve in the military, top generals have a stake in the political climate. They hope to avoid a situation in which they can no longer control their troops, Arbell ventured.
Although the Israeli military is often the target of international criticism for its practices in wars against Palestinian militants as well as its day-to-day operations in the occupied West Bank and blockaded Gaza strip, Arbell said it now functions as a de facto check on the country's worst impulses.
"The Army is joining, or adding to the Supreme Court, in playing this role of protector of Israel's vibrant democracy," he said.
Since October, Palestinians have killed 30 Israelis and two Americans in a wave of stabbings and other crude attacks that were initially prompted by a belief that Israel was asserting sole control over the Temple Mount compound in Jerusalem. Israeli security forces have killed over 200 Palestinians over that period, either during alleged assaults or in other clashes.
The Israeli human rights group B'Tselem has called Israel's approach to the alleged Palestinian attackers, many of them minors, "trigger happy," arguing that the knife-wielding individuals can often be neutralized without shooting them to death.
Perhaps more surprisingly, Israel's senior-most military figure, chief of staff Lt. Gen. Gadi Eizenkot, drew right-wing condemnation after a February speech to high schoolers in which he emphasized the importance of avoiding shooting Palestinian assailants whenever possible.
And Israel's chief of military intelligence, Maj. General Herzl Halevi, told Israel's governing cabinet in March that the Palestinian youth trying to harm Israelis are motivated, at least in part, by despair over their poor prospects in life. The assertion contradicted Netanyahu's position that incitement in Palestinian media, and its tolerance by Palestinian leaders, are the sole drivers of the attacks. A cabinet minister reportedly criticized Halevi during the meeting for not emphasizing incitement enough.
The incidents suggest that Israel's democratically elected political leaders -- and the voters who elect them -- have moved so far to the right that even military leaders, who have historically enjoyed revered status, are not immune to the scorn once reserved for the country's activist left wing.
"It is one thing when people ignore B'Tselem, it is another thing when you have IDF generals being dismissed as bleeding heart liberals," said Dov Waxman, a specialist in Israeli politics at Boston's Northeastern University and author of Trouble in the Tribe: The American Jewish Conflict over Israel.
"The belief in the shared values of democracy has been the glue that has held the Israeli-U.S. relationship together."
At times, however, the military leaders have prevailed over the more hardline political leaders. The objections of Israeli security officials reportedly played a role in the Israeli government's decision to reverse a new policy of refusing to return the bodies of Palestinian assailants killed during attacks.
In addition, Netanyahu likely decided against a potential military strike on Iran due to the the vocal opposition -- and active resistance -- of top Israeli military and intelligence leaders, including then-Mossad chief Meir Dagan.
Looming in the background of all these events is the effect of the Israeli military occupation of the Palestinian territories on the country's democratic character. Jewish critics of the occupation have argued virtually since 1967, when Israel captured the territories in the Six-Day War, that ruling over an entire group of non-Jewish people without granting them citizenship would corrupt Israel from within.
Those warnings have grown increasingly dire in recent years as the growth of Jewish settlements in the West Bank and historically Palestinian areas of Jerusalem have made it harder to imagine a two-state solution or other separation-based remedy to the conflict.
Whether Israeli military leaders succeed in preserving some of Israel's liberal norms may ultimately matter less for Israel's future than whether the country is able to provide political rights to the roughly 3.5 million Palestinians who live under its effective rule.
That is especially true since Israel relies so heavily on the financial and diplomatic backing of the United States.
"The belief in the shared values of democracy has been the glue that has held the Israeli-U.S. relationship together," Waxman said.
Polls show that while Israel continues to enjoy the support of Americans, the rate of sympathy declines the younger Americans are.
"If Israeli society is becoming increasingly illiberal, then that can jeopardize the relationship between the United States," he concluded. "And that includes American Jews."
Related
Before You Go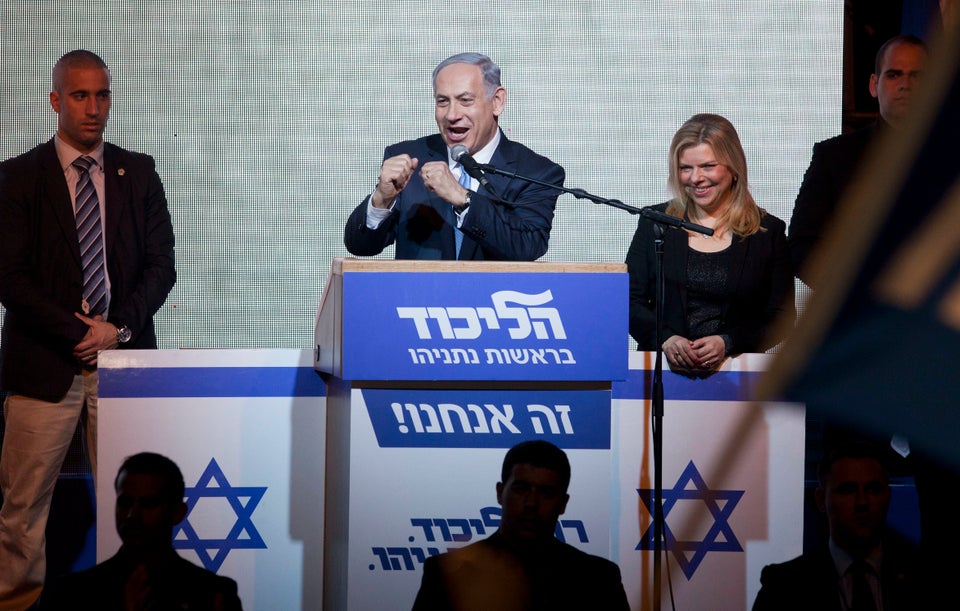 Israeli Election 2015
Popular in the Community