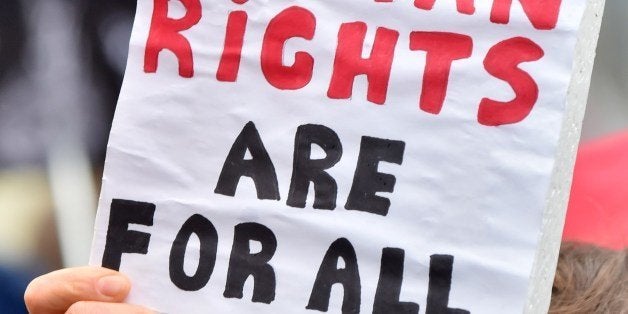 While a pro-LGBT amendment was adopted, two discriminatory amendments were, too, poisoning the appropriations bill.
If you haven't been paying attention, the past few weeks have seen several high-profile legislative fights on LGBT rights break out on the floor of the U.S. House of Representatives.
Rep. Sean Patrick Maloney (D-N.Y.) offered a worthy amendment to a military construction and veterans' affairs appropriations bill on May 19 that would have simply reaffirmed President Obama's 2014 executive order, which prohibits federal contractors from discriminating on the basis of sexual orientation and gender identity. After initially having the votes to win, House Republican leaders cajoled and twisted enough arms on the floor to flip the vote with the amendment losing by a single vote. Chants of "Shame! Shame!" quickly broke out on the House floor.
While Rep. Maloney was outraged by what happened, he did not give up. He offered the same amendment on an energy and water appropriations bill. Given the blowback that followed the prior week's vote, the result this time was very different. His amendment was adopted on a vote of 223-195, with strong bipartisan support. Forty-three GOP members voted in support.
So what's the problem? Isn't this a great result since LGBT protections were added to the bill? The problem lies in two other, very bad amendments that were added to the appropriations bill on the House floor.
Rep. Robert Pittenger (R-N.C.) offered an amendment that would have prevented the federal government from withholding or revoking federal funding to North Carolina, in response to the Justice Department's lawsuit against the state for its sweeping, discriminatory H.B.2. This law bans trans people from accessing restrooms and other facilities consistent with their gender identity and blocks local governments from protecting LGBT people against discrimination in a wide variety of settings. (It also rolls back nondiscrimination protections for all people under North Carolina law.)
For the past half century, one of the most important tools the federal government has had to enforce compliance with civil rights laws is the risk that violations could result in a loss of federal funds. His amendment was designed to provide North Carolina with a get-out-of-jail-free card to violate federal civil rights laws that protect transgender people, facing no financial consequence for doing so. This proposal was adopted on a vote of 227-192.
Complicating matters further, Rep. Bradley Byrne (R-Ala.) offered an amendment to require federal agencies to allow religiously affiliated contractors to discriminate in hiring with taxpayer funds. The Byrne amendment posed particular dangers to LGBT and women workers, sanctioning taxpayer-funded discrimination under the guise of religious liberty. The amendment was adopted on a vote of 233-186.
Even after the inclusion of two extremely anti-LGBT amendments in the appropriations bill, the inclusion of Rep. Maloney's amendment, simply reaffirming nondiscrimination protections that are already in place, was, apparently, a bridge too far for many of the House's most conservative members. Last Thursday morning, the entire bill went down to defeat on the House floor.
While it is certainly beyond absurd that so many members of Congress, in the year 2016, could be so strongly opposed to the most basic nondiscrimination protections for LGBT people, it is a good thing that this particular appropriations bill went down to defeat. The inclusion of the amendments from Reps. Pittenger and Byrne would have significantly rolled back the clock and tied the hands of the administration to enforce our nation's civil rights laws.
Taxpayer dollars should never be used to discriminate.
Popular in the Community