Maybe it's because I've lived with health issues my whole life. Maybe it's because I'm a new mom. Maybe it's just me... or maybe it's not. But I've long felt the necessity to stay strong and never complain. Perhaps I felt as if I were betraying all the strong, fierce feminists that came before me. I've always thought that if I complained, asked for help, or took a break that it somehow meant I was giving in and letting my struggles get the best of me. Thankfully, I'm here to tell you that that's just not true. It really is OK to complain sometimes.
It wasn't easy to allow myself the freedom to complain. Honestly, it still isn't easy even now. I still hesitate sometimes when asking for help. And when I do ask for help, I'm convinced that the other person is secretly mad that I bothered them. Again, this could just be me dealing with my own issues, but from the other moms and women with chronic illnesses I've talked to, it doesn't seem like I'm the only one. So, here are five reasons why it's not only OK to complain, but it may just be the best thing you could do for yourself.
5. It Puts Your Pain into Words
So often, when I'm having a health issue or beyond exhausted, pain just becomes a part of this unspoken routine. Even before I had a child, I still couldn't just take a day off whenever I was in pain or sick. If that was the case, I would have been home more days than I worked. So, you learn to just "deal." But I did eventually get to my breaking point, as we all do. So I complained. And it was awesome! I got to put into words exactly what I was feeling which did two things: 1) it helped me articulate just how debilitating my health issues can be, emotionally and physically; and 2) it gave everyone around me a better picture of what I was going through and how to help. Contrary to popular belief, glaring at someone does not actually tell them what's wrong.
That saying has stuck around for a reason. It really is better to let it out than to keep it all in. When you keep things in -- health issues, relationship problems, anger, sadness, etc. -- it can become toxic. And what's even scarier is, if you hold on to the problem long enough, it becomes a part of you. One day, I caught myself in the mirror and realized I looked miserable. Not sad, not unhappy, not even angry, just plain miserable. I was holding in all this frustration that it was physically manifesting on my face, and it wasn't cute. So I wrote down a list of all the things that were causing me stress or pain. Then I showed it to my husband when he got home. The conversation that followed wasn't exactly cute, either, but I caught myself smiling for no reason the next day :)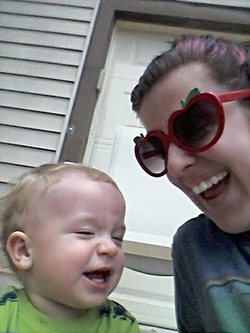 Not all the things I put on that list were really stress-worthy. Sure, some issues on the list were serious (like finances and health), but some were downright silly. I wrote "all out of Baked Lays." It's funny now, but at the time I'm sure it was a very legitimate thing to be stressed out about in my life. But reading it on that list not only let me see how small and easily fixable some of my problems were, but it also showed me (and my partner) that if you let things build up, it only takes one little thing to push it over the tipping point. That saying "the straw that broke the camel's back" definitely fits here. And not to worry, I finally got my Baked Lays and all was right in the world again.
I'm not suggesting everyone who bottles up their issues immediately becomes destructive, but I have seen firsthand the negative consequences that can come of it. One of the most important things I should point out first, is that this can happen to women and men. I've seen both mothers and fathers who never complain, yet they are visibly unhappy and some are even resentful or bitter. I've also seen pain eat away at someone until they're just a shell of who they used to be. Partly because of what I had seen, I knew it was important to me, my partner, and my son that I never let myself become overwhelmed under the weight of chronic illness and motherhood. So if a little venting from time to time prevents you from a life of resentment or unhappiness, then I say it's worth it.
1. Forming Bonds Stronger than Denture Cream
Believe it or not, giving myself permission to complain didn't help just me. It was like a magic wand had been waved! Out of nowhere, all these friends and mothers were released from their guilt-ridden spell of silence. Suddenly I was getting texts and calls and Facebook comments and messages from both friends I'd known forever and people I'd just met saying things like, "Oh my God! I thought I was the only one!" or "Finally, someone is talking about it!" I began to forge new friendships and strengthen existing ones by simply "complaining" on social media about how real the struggle of balancing motherhood with chronic illness can be. So if you haven't already, be the first person to break the "Guilt and Silence Spell" and enjoy the deep sense of camaraderie that you will find among friends new and old.
Related