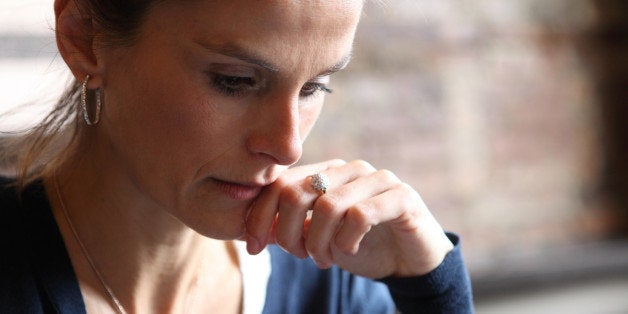 More Americans than not woke up on November 9, 2016, hoping it was all a bad dream. A nightmare. We had been shaken to our core. We woke with nausea, pits in our stomachs and tears in our eyes. We cried, we screamed, and we felt disgusted at the outcome of this election.
We tried to eat our breakfast but we felt sick. As women and mothers, we tried to talk to our children about the election without crying and showing fear for the future. It was difficult and most of us retreated after putting on the brave face and cried in the bathroom. It was a devastating morning in America.
That's OK America. It's OK to cry when the country challenges your core values and beliefs. You are not alone, in fact, more Americans feel this way than not.
However, we need to remember what we told our children. We need to live our lives positive, we need to treat others equally. We will be kind to others. But it's still OK to feel that loss. The overwhelming feelings of loss for our country and as women.
Those who came before us fought for equal rights (for women and all people). We have lived our lives fighting sexism, discrimination, and seeking worthy treatment in society. So it's OK to cry when the country around you decided those values aren't as important as you thought. We have been rocked to the core America. There are so many rights at risk, we should cry.
After you have finished with the tears it's time to dust yourself off. It's a calling. It's time to move ahead and make this right. After all, remember (as Hillary said), "You represent the best America." "This is painful." However, let's not forget the most important part of this message, "...please never stop believing that fighting for what's right is worth it. It is, it is worth it."
As a woman who never stopped fighting and stood for so many people who didn't have rights, we need to make change and honor the person most of us voted for. Stop pulling the covers over your head - get out there. It's time we - as a younger generation - stand and get involved. Start in your home. Teach your child to live with compassion. Teach them to treat others equally. Get out into your community and stand for what you believe in. Don't be taken advantage of and don't let old cultures of assault and suppression control you now.
We are in America. We are still free and we still have rights. We have the right to speak up, and out. We have the right to fight for what we believe in and we have the right to make change. Use it. We can be the change in the world. And if this isn't a time to step up, then when is?
It's OK we cried. Most of us cried together, but now it's time to brush ourselves off and make it better and make it right. We are amazing and we can make it happen. This is America and we are already great.