Tomorrow, a glitzy 6 page public service campaign goes public in GQ magazine, featuring a band of 19 leading biomedical research scientists paired up with 8 famous rock stars. Dubbed the Rock Stars of Science™ campaign, it's a dramatic spread designed to make the public inquire, "Who are those guys anyway?" - much more of a reaction than most scientists get on a good day. (A picture from last year's version of the campaign, pairing up will.i.am of the Black Eyed Peas with Alzheimer's researchers, is included below.)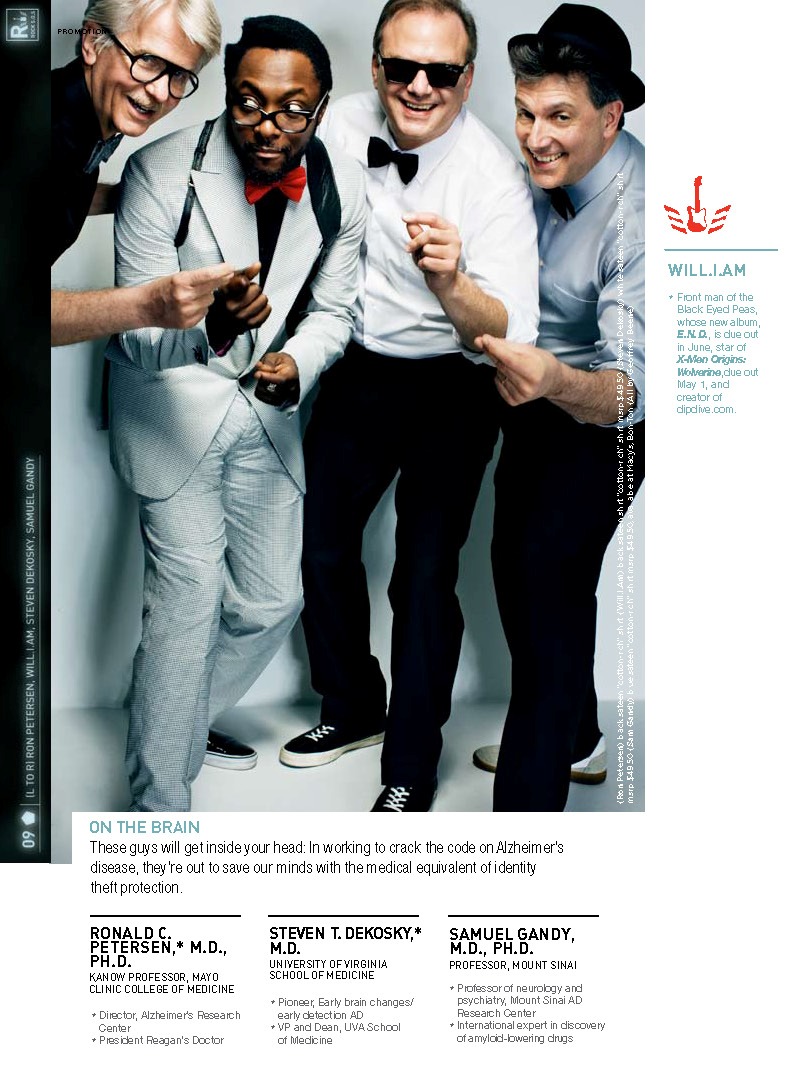 While trying to alert the next generation to the "cool quotient" in science, the RSOS™ campaign also makes a serious plea for better support of research funding as a national priority. In other words, all the glitz and glam is a foil for substantive discussion around the leading research issues of today. Because across a number of diseases, especially around later life, we seem to be running out of time.
Take Alzheimer's, whose associated costs are projected to soar as our population steadily ages over the coming decades. The current cost for Alzheimer's care annually in this country is $ 172 billion; by 2020 it will be $ 2 trillion--barring a major breakthrough.
In this context, we're not throwing nearly enough resources at the problem. In a recent New York Times op-ed, retired Supreme Court Justice Sandra Day O'Connor, Nobel Laureate researcher Stanley Prusiner, and gerontologist Ken Dychtwald drew a telling analogy, noting that we're currently spending just a penny on studying Alzheimer's for every $ 3.50 we spend on caring for those who have the disease.
The recent election seems unlikely to change matters; it may make them worse. Several leading congressional supporters of medical research, including Republican Mike Castle of Delaware, were picked off. Meanwhile, the incoming Republican "Pledge to America" calls for cutting non-military discretionary spending back down to 2008 levels. Assuming the plan is implemented and applied to the National Institutes of Health, it could choke off research prospects at a time when, by any logic, they should be increasing.
One branch of the agency is already struggling mightily--the National Institute on Aging (NIA). It's the institute that funds the bulk of federal research on Alzheimer's--and it's becoming borderline impossible to receive a grant from it. The NIA "payline" is now just 8 percent, meaning that even if you file a research proposal deemed scientifically meritorious and worthy of support, you only have a slim probability of receiving funding.
Such restrictions will make the funding chase the toughest for the youngest researchers--those who don't have established track records yet, but who may have some of the freshest and newest ideas. Too bad for them that they're trying to get started at a time when the economics tilt so heavily against it.
"Aging as a place where you can build a scientific career is, right at this moment, really kind of a wasteland," says Dan Perry, director of the Washington, D.C.-based Alliance for Aging Research. "And that's a particularly ironic situation given that we are a few weeks away from crossing the threshold of January 1, 2011, when 78 million baby boomers start turning age 65 and going on the Medicare rolls, at great expense."
This plea for research funding on age-related diseases, incidentally, isn't a partisan or liberal one. Some conservatives are worried too--arguing that the coming fight over "Obamacare" may be rendered irrelevant in the long term by rising health costs from conditions like Alzheimer's.
"There's a decline in investment in research in the aging demographic at the same time that it may become the criteria on which sovereign debt is rated," says Vradenburg, citing the report. If countries aren't able to afford caring for their ever-older populations in the future, their entire financial picture could be clouded or undermined.
In this context, it's vitally important to make science more glamorous, admired, respected. But the investments must follow the fame. It's about much more than ensuring that our researchers have successful careers--it's about whether their successes will be enough to save us from an aging-related boom in healthcare costs that could make our current, bitter debates seem mild in comparison.
Calling all HuffPost superfans!
Sign up for membership to become a founding member and help shape HuffPost's next chapter