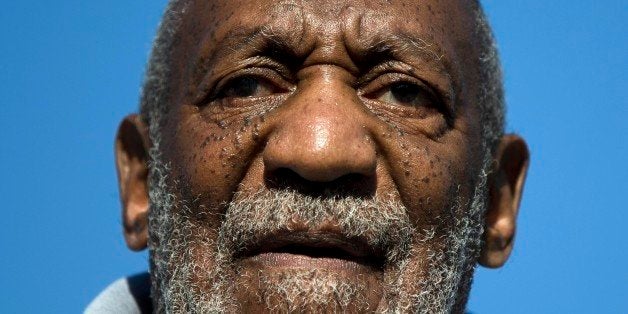 This week, a judge unsealed a deposition from 2005 in which Bill Cosby admits to using drugs in order to rape women. What was once speculation in an ugly battle of he-said, she-said has now become tangible. Now, as a black man who had admired Cosby, I am dealing with complex and conflicted feelings of what Cosby once was and who he really is.
I, like many Cosby fans, reacted to the news of the sexual assault scandals with disbelief. How could a man who has had a tremendous influence on my childhood -- from The Cosby Show to Ghost Dad -- be the criminal that his alleged victims portrayed him to be?
The initial skepticism of the Cosby allegations was a combination of personal nostalgia and a cultural mistrust of white women who falsely accuse black men of sexual assault based on racial prejudice, which is a topic explored in Lisa Linquist Dorr's book White Women, Rape, and the Power of Race In Virgina, 1900-1960.
At first, it was comfortable to assume that Cosby's case was part of the history of black men being perceived as sexual predators, which has been a trope used to discriminate, penalize and perform acts of violence against black men.
The timing was also fraught; the rape allegations resurfaced following the verdict of the Michael Brown and Eric Garner case last year, at the height of racial tension between the black community and the police. It felt like salt in a wound of racial oppression to target perhaps the ideal father figure of the black community.
The first public allegation against Cosby came in 2000 and in the last 15 years, particularly the last two, over 40 women have come forward to state that Cosby had assaulted them. Worse, the list may keep growing. Some are famous, like supermodel Beverly Johnson, and some are not.
Despite this, several people continued to defend Cosby, insisting that these women were lying. Although Jill Scott has recently rescinded her support of Cosby's innocence following the released documents of the 2005 deposition, she initially defended him.
Every case of sexual assault is different, and perpetuating rape culture on the basis of past racial oppression is wrong. A 2011 Ms. Magazine blog quoted Joanne Archambault, a former sex crimes unit supervisor, saying that women make false accusations about rape only 2-8 percent of the time.
Cosmopolitan Magazine debunks several myths about rape, including the fallacy of false sexual assault claims, such as "If an alleged victim is inconsistent about what happened, she's lying." This myth was used by Cosby's litigators to poke holes in the testimony of Janice Dickinson.
There is no way to reconcile Cliff Huxtable with Bill Cosby. It should have taken the testimony of just one survivor to have convinced me of his crime, but the fact that it wasn't enough is proof of rape culture. I wanted so badly to believe in Cosby's innocence that I became a mansplaining fan masquerading behind a facade of social justice based on race.
PHOTO GALLERY
Bill Cosby Over The Years
REAL LIFE. REAL NEWS. REAL VOICES.
Help us tell more of the stories that matter from voices that too often remain unheard.