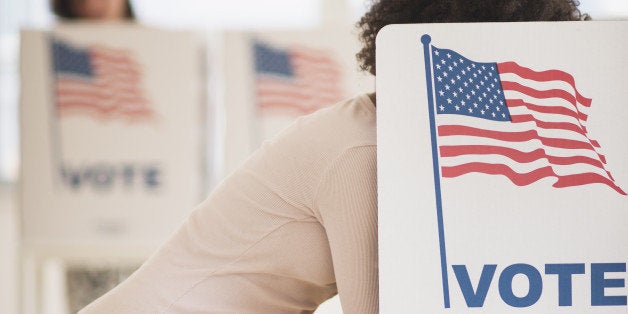 This Election Day, Tuesday, November 5th, millions of voters will head to the polls and stand up for what matters most in our communities and our lives. Nationwide, more than 5,500 races and ballot initiatives will be decided this election season. These races are about jobs, economic security, the environment, health care and more. It's likely that your community is holding a number of elections that directly impact your friends and family. It's vital that we all weigh in.
There's a reason why Lyndon B. Johnson called the vote "the most powerful instrument ever devised by man" and why Carrie Chapman Catt, founder of the League of Women Voters, called it "the emblem of our equality." Voting is the very foundation of our great democracy. Thomas Jefferson wrote, "Should things go wrong at any time, the people will set them to rights by the peaceable exercise of their elective rights." Voters who stay home on Election Day are missing the opportunity to take part in building stronger communities and to have a say in the issues that matter most to them.
Although it's not a presidential election year, hitting the polls and participating in our democracy remains as crucial as ever. In fact, the decisions made by the officials that we elect at the local level often have the greatest impact on our daily lives. With Election Day just days away, now is the time for all eligible voters to familiarize ourselves with the issues and candidates on our ballots.
It is important to have a plan for Election Day, and make sure your loved ones are ready, too: Ask them, "Are you ready for Election Day?" This election season, many states have implemented new elections laws, and there's been some confusion over new requirements for voters. Wherever you live, if you're unsure of what you need to in order to vote, VOTE411.org, has the answers!
VOTE411.org, the League of Women Voters' nationwide voter education resource, provides voters with all the information they need to cast a vote. Enter your address to find your local voting hours, what's on your ballot and what types of identification, if any, you need to bring to the polls.
These last days before Election Day are an important time for all voters to take advantage of every available opportunity they have to research the issues and get their questions answered. VOTE411.org has all the information you need to make sure that you are ready for Election Day.
On November 5th, it is up to each of us to take a stand for our community and to head to the polls. Whether you're a college student or senior citizen, a secretary or a CEO, Election Day is your opportunity to use your voice to impact your life, your family and your future. That's why it's critical that each of us vote -- and that we help the people in our lives prepare to do so, as well. You can do your part by sharing VOTE411.org with your friends and family. You can also stay up-to-date on your election needs by following VOTE411.org on Twitter and Facebook.
Our democracy is powered by a diversity of voices. We hope you're planning to participate if there are elections in your area, and we hope you'll encourage your loved ones to do the same. Our jobs, health, education, families and futures depend on it.