On the heels of Small Business Saturday, I am reminded of my last post and a promise to talk to my wife about increasing our efforts to shop locally. While we started the conversation, it never seemed to get past the topic of convenience. We have a two-year-old daughter and between managing her, work and everything that comes with our hectic lives, convenience seems to be our major motivator. When we talked about only purchasing goods from local purveyors, there was one question that was clear: "Where are we supposed to buy diapers?"
The conversation led to a larger discussion about how local businesses reflect the local culture. What is clear is this: consumers are a driving force that helps shape our local economies. Keep in mind, consumers shopped online this year to tune of $6.59 billion on Cyber Monday. As the ease of internet shopping entices more and more customers to stay home and make purchases with the click of a button and big-box stores continue to dominate, it's more clear than ever that making a concerted effort to shop small is paramount to building stronger communities.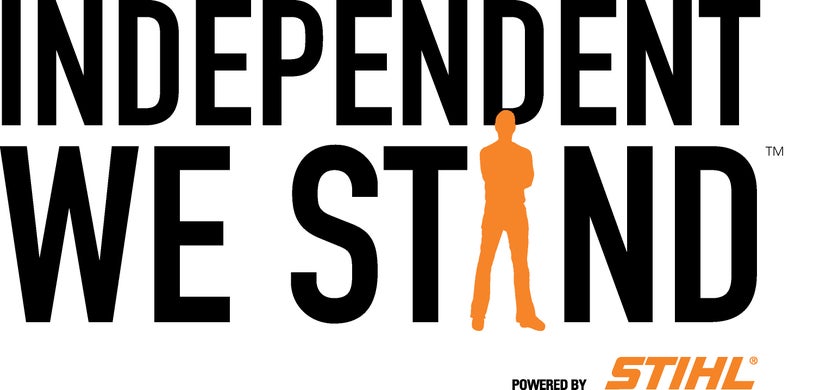 Indie Award Helps Small Businesses
I work for STIHL Inc., a company with roots in small business and a commitment to the little guy. STIHL Inc. only sells its products through independent servicing dealers and never online. They are more than 9,000 strong and impact their communities from coast to coast. To honor businesses like these and help them thrive, STIHL Inc. is the founding sponsor of Independent We Stand. Through the organization, small businesses — from places like STIHL dealers to hair salons, flower shops, breweries, hardware stores, book stores and everything in between — can get a leg up on mass merchants. Free marketing materials provided to members help them spread the word about their independent status and share the strong economic benefits of buying local.
Independent We Stand also sponsors contests to reward independent businesses. Right now, America has the opportunity to vote in the semifinalist round of the Indie Award. It's an annual competition that recognizes the Independent Retailer of the Year with cash and other prizes. This year, the prize package was boosted to a value of $50,000 and includes a $5,000 cash reward for the winner, $1,000 for the winner's favorite small business group, many sponsor prizes and a large marketing makeover. It is often the power of big companies and marketing that put the big boxes and chains in the mainstream, but for small businesses, it is support from groups like Independent We Stand through free resources and opportunities like the Indie Award that can help put your favorite local spot on the map. It can also educate consumers about the value of shopping small.
Local Spending Helps Communities Thrive
But, how do big box stores and cyber shopping negatively affect communities? The simple answer is that they take revenue away from local economies, meaning less money for local services. I wonder how many of us average consumers consider the local police and fire department, parks and schools when spending money at chains or big box stores? Or do we all just live this hyper-paced existence that doesn't lend itself to putting in just a bit more effort when we shop? If I am considered the average consumer who shops at both local and nationally owned establishments, I'd say it is quite a challenge for local retailers to stay afloat.

Shop Small, It 'Feels Good'
I have a friend who recently opened a clothing boutique. She hopes to make the bulk of her yearly revenue in November and December. That's just two months to make enough money to keep the doors open for the rest of the year! Somehow businesses like hers must find a way to generate traffic and sales without the million-dollar marketing budgets of national chains that strategically probe a demographic to gain market advantage. They are fighting for a presence in a market that increasingly prefers the click of a mouse to walking through the door. When small business owners find a way to transcend this trend, take their piece of the market and thrive in it, it is a notable achievement.
So, while our family, like many Americans who juggle hectic work schedules and tight budgets, can't jump feet first into the sea of locals-only shopping, we can find ways to contribute to the movement.
We did it this Thanksgiving holiday during an annual trip to Sumter, S.C. We go there to partake in a large gathering of both our families. For my wife, part of this tradition is a trip to her cousin's store, Silver Paper. She always buys clothing or jewelry and some Christmas gifts. This year was especially important for her cousin because she had some serious health issues. Every year I am glad that we spend money here. I take satisfaction in knowing we are supporting our family and the local Sumter economy. My hat is off to all the local businesses that fight every year to stay in the game and carve out their niche and good luck to those who've made it into the quarterfinals of this years' Indie Award, we've got your back. Vote for your favorite business here: www.indiebizaward.com.
Calling all HuffPost superfans!
Sign up for membership to become a founding member and help shape HuffPost's next chapter
This post was published on the now-closed HuffPost Contributor platform. Contributors control their own work and posted freely to our site. If you need to flag this entry as abusive,
send us an email
.