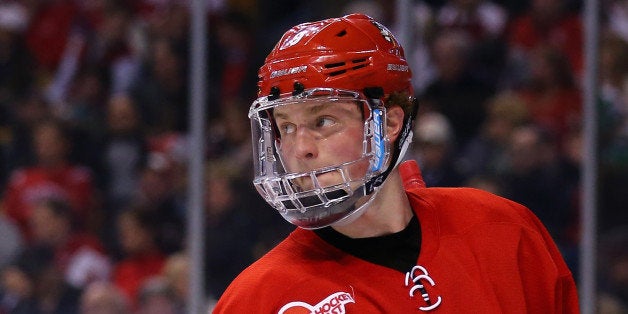 Sabres Will Likely Take Eichel 2nd Overall

With the 2nd pick in this year's NHL Entry Draft, the Buffalo Sabres will likely select Jack Eichel, the Hobey Baker Award winning freshman from Boston University. By finishing last in the standings and landing the No. 2 overall pick in the 2015 Draft Lottery, the Sabres assured themselves of drafting either Eichel or Canadian prodigy Conner McDavid. Many scouts have suggested that Eichel may not be the consolation prize as others say, but rather a close second to McDavid, if not potentially even better.
Eichel Hasn't Said He Will Turn Professional
But, at this time, it is not known whether Eichel will turn professional, or return to Boston for his sophomore season with the Terriers. B.U. lost the National Championship game to Providence this past April, and some have predicted that with Eichel centering their top line, they would be favored to return to the finals.
Turning Professional for a Player With Eichel's Talent is a No-brainer
Being the top American player in this year's draft, one would think that Eichel has already consulted with a sports agent, or will do so before he makes his decision to turn professional. If this is the case, no agent in his or her right mind would suggest to Eichel that he return to college, unless the Sabres couldn't guarantee him a position on their NHL roster. Playing with his teammates in Boston would seem to be more fulfilling than spending a season in Rochester, Buffalo's American Hockey League farm club.
Sabres and Buffalo Hockey Fans Have Been Anxiously Waiting

But clearly, this is not going to be an issue for Eichel, since the Sabres and savvy western New York hockey fans have been waiting for his arrival since it first became obvious to all that this was Buffalo's strategy in finishing at the bottom of the standings. With only a 20 percent chance of winning the Lottery, everyone knew that Buffalo would draft Eichel with the second pick, and be thrilled to do so. Why would he want to return to college and chance a severe injury? Turning pro, he could gain valuable NHL experience and a top entry level salary close to $1 million, not including bonuses and endorsements both local and national, which you can be sure he will as the first American player taken overall.
College Freshmen Turning Professional Have Become Commonplace
With freshman college athletes turning professional every year, Eichel doesn't have to feel like he deserted his teammates for the NHL, but rather made the most of a once in a lifetime opportunity. No one could blame him for that. Yes, it might be great to get back to the NCAA Frozen Four and win a championship, but ask any NHL player how it feels to play for the Stanley Cup, North America's oldest trophy in pro sports, and the answer will always be the same. There's nothing like it, at any level.
A Great Hockey Town Deserves a Great Player
Buffalo has long been regarded as a great hockey town, and this is why the Sabres and their fans were willing to gamble on the draft and why Eichel needs to turn professional and begin that journey. Buffalo and its fans have long awaited a generational player like Eichel and he needs to embrace what should be a long and exciting future in professional hockey. A classic "win-win" for Jack Eichel, the Buffalo Sabres and Buffalo hockey fans everywhere.
REAL LIFE. REAL NEWS. REAL VOICES.
Help us tell more of the stories that matter from voices that too often remain unheard.