And Food Revolution Day 2015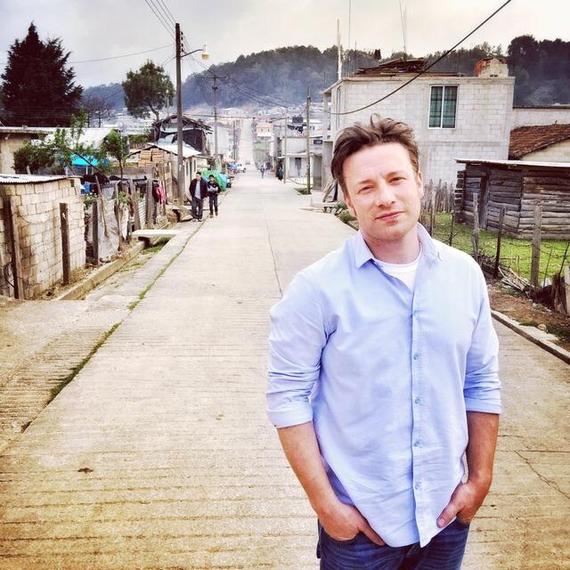 Today is Food Revolution Day, and I was thrilled to have the opportunity to interview celebrity chef Jamie Oliver. His passion, dedication and his approach to food truth and global changes in nutrition education are impacting the world. Oliver's use of social media to educate a growing community is inspiring. It dawned on me recently that we are both working towards the same goal of helping people, just from different ends of the issue.
As Oliver and his team rev up for their annual Food Revolution Day on May 15, human beings are in the midst of two connected crises--food education and wound care.
According to FoodRevolutionDay.com there are currently 42 million children worldwide under the age of five who are overweight or obese. According to the American College of Wound Healing and Tissue Repair it is estimated that there are 5 to 7 million cases of non-healing wounds in the U.S. alone. There is no doubt that these two problems are connected and wrapped up in one big mess like an old strand of Christmas lights. When patients are not making proper nutrition choices they are at higher risk for developing diabetes and obesity, which can make wound healing a challenge. If that isn't sobering enough, according to DiabeticFootOnline.com every 20 seconds someone in the world loses a limb due to complications of diabetes.
The outlook is very grim and advocates like Oliver can make a huge impact by cutting through the noise and changing the way people think about these issues, how they shop in the supermarket and what their family consumes.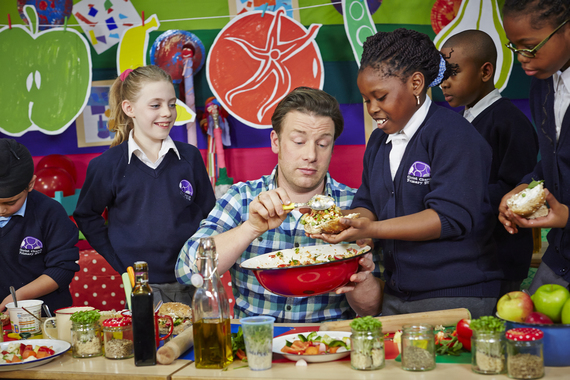 Jamie Oliver's Interest In Wound Care
I recently caught Oliver on an episode of Kevin Rose's show Foundations and was thrilled to hear him bring some awareness to the devastating numbers of diabetic amputations in California and the US. In wound care management we spend a lot of time gather statistics to inform physicians, clinicians, patients, families and caregivers in order to properly tell the story of wound healing.
We have a lot of Jamie Oliver fans at our office at Wound Care Advantage, and this includes Mike Comer our CEO and Founder.
"Jamie captured my attention when I first saw his dynamic Ted talk in 2010. I identified immediately with his passion for prevention," Comer said. "One thing we know about the diabetes epidemic is that much of the cause is rooted in lifestyle habits."
Comer said that Jamie did one of the best jobs he has ever seen of identifying and illustrating that a lack of a proper nutritional diet is at the core of our diabetic epidemic.

"Over 50% of all amputees will die within five years," Comer said. "Preventing that catastrophic outcome doesn't start with wound care, it begins long before that with the type of diet changes Jamie has been committed to creating in our communities. I am excited to have Jamie in the fight to prevent diabetic amputations with us, and hope together we can help raise the awareness and prevent this horrible and life-altering outcome that so many diabetics endure."
In this interview, Oliver discusses a range of topics including the power of statistics, his role as a spokesperson and thought leader, thoughts on wound care, improving world health, and how the technology companies need to be more involved with spreading the word about food truth.

James Calder (JC): You recently mentioned a powerful quote about type 2 diabetic amputations "Since the Afghan and Iraqi wars, 1500 American servicemen have had to have amputations. In that same period of time in the state of California alone, 77,000 limbs have been amputated from type 2 diabetes. And in the that same time there have been 1.5 million diabetic amputations in all of the US." Where did you first hear these statistics and what impact did they have on you?

Jamie Oliver (JO): I first heard these statistics back in January. They blew my mind because it put into context the sheer scale of the fight against obesity and diet-related disease that we have. I was in Sacramento for The Bigger Picture Project, which is a collaboration between Youth Speaks and the University of California San Francisco Center For Vulnerable Populations. It's a brilliant organization because it works to empower young people to talk about important issues. This statistic stuck in my mind - it was just so powerful because things like war and murder are always reported by news organizations, but everyday catastrophes like type-2 diabetes don't get any attention at all. It's important to note that I'm absolutely not taking anything away from the incredible bravery and sacrifice of our service personnel but it's always incredibly powerful to refocus on where public health is at risk.

JC: Have you ever identified why it is so important for you personally to play the role of health educator on a global level and why you have made it your life's work?

JO: Put simply, someone has to do it. Put in a more complicated way, I know that there are campaigners, educators and specialists all over the world who work tirelessly everyday to try to improve the food knowledge and health in their communities. I feel very fortunate to be in a position where I can reach many millions of people through my books, TV shows and social media, but I can also create a community of my own with these incredible people and I can allow them to celebrate their work as one group through Food Revolution Day. I know that I'll be doing this for as long as I live, and if I can look back and see that the world's health has improved as a result of what we've done collectively, that will be some achievement.

JC: It is a constant challenge to convince diabetic and obese populations to make dietary changes to improve their diseases and living conditions. What suggestions do you have for wound care clinicians who feel the burnout seeing the same harmful patterns over and over in their patients?

JO: It's a real struggle, I know. And it must be so discouraging having to give the same advice over and over again. I think the only way to come at this problem is through education--it's no use simply telling someone they have to eat better, when in fact they don't have the knowledge to make that a reality. This is why I believe it's so important to have quality food education in every school in the world, so that you're teaching kids as young as 4 or 5 all about how to look after themselves. Then, when they're teenagers, they will be less likely to be filling up on fast food and fizzy drinks every day because they'll be armed with that essential knowledge and the life skills to make better choices.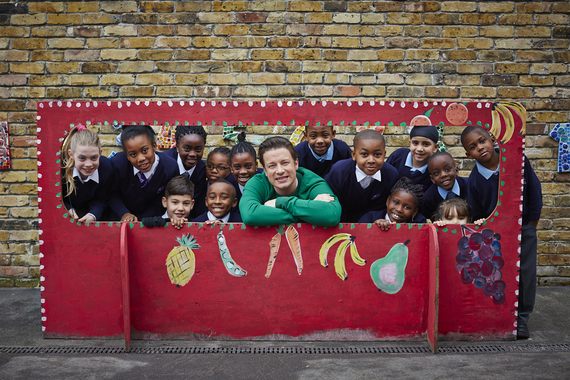 JC: You often talk about how the main excuses about why people don't eat healthy (time and money) are complete rubbish. Can you address why that is so?

JO: Money is easy. Anyone who knows about food history will tell you that some of the tastiest most nutritious dishes have come from poorer communities because they've known how to get the best out of the cheapest cuts of meat or whatever leftovers are available. Cucina Povera is a concept that's familiar to many societies in the world and they all have their specialist dishes. As for time, I addressed this in my 30-Minute Meals and 15-Minute Meals cookbooks. Both of these were written because the public through my social media platforms asked for them. I was getting loads of people saying they didn't have time to cook well and could I write a book of really speedy family recipes. That was how 30-Minute Meals came about. Then, that wasn't fast enough so I did 15-Minute Meals too. If you want something fresh and delicious that's also nutritious, in 15 minutes you can have it.

JC: On your Foundations episode, you spoke about urging tech giants like Facebook, YouTube and Google to pick up the Food Truth torch to help educate people globally. How do you believe these companies can help with education efforts and why is this so crucial?
JO: We need to keep pushing and driving for legislative change. But with most governments having only a few years in power before a change, I believe that we also need global organizations and businesses like these to step up and lead in being the change-makers of public health and wellbeing. The workplace is great for food education. Just building better food and nutrition into the working day and creating a better food community amongst staff, you will start to see employees take this food information back home, influencing partners and kids. Over time, this can become hugely powerful.

JC: Describe how the food problem that you are so passionate about is directly connected with the wound care crisis?
JO: Ok, you work in wound care specializing in non-healing wounds suffered by people suffering from type-2 diabetes, and I work to try to reach a point where food education means fewer people will suffer from preventable diet-related disease. So we're connected, but just at different ends of the process. I'm more interested in prevention through food education, which in the long-term will help in the wound care crisis.

JC: Are you hopeful that we can fix the food problem and why?
JO: I have to be hopeful because we can't just give up. You have to believe that if enough people work together, sign the petition at Change.org/JamieOliver, hold events on Food Revolution Day, start better food policies at work, then ultimately politicians will have to listen. It's a gigantic problem and it doesn't simply come down to food education. We need to look at how food is marketed to children and adults; how accessible it is; whether everyone can get access to affordable fresh veg and fruit; whether everyone has access to fresh water; whether we're using land for growing crops as well as possible; whether we need to look at soda taxes, etc. There are so many areas that need to be brought together if we're to get close to a solution, but we have to try because the alternative makes the future look very gloomy.
REAL LIFE. REAL NEWS. REAL VOICES.
Help us tell more of the stories that matter from voices that too often remain unheard.