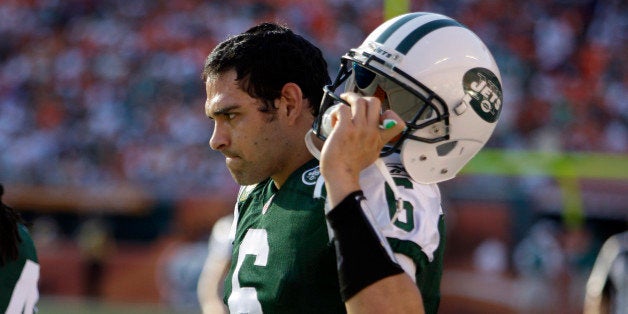 Imagine if your entire career was summed up in these two words: "butt fumble." Well, that's Mark Sanchez's reality. After a four-year career in the Big Apple playing for the New York Jets, Sanchez's entire career in green is often times summed up with an image of his helmet snugly on the toosh of offensive lineman Brandon Moore. Sadness and anger from Jets fans, coupled with laughter from the rest of the league/planet led to Sanchez's departure from the brutal New York media. The "City That Never Sleeps" never welcomed him with open arms.
But, it's that city that should be desperately missing him right now.
Let's fast forward to the present day and then make some comparisons. Warning: diehard Jets fans, you might want to stop reading right now. These numbers are brutal.
The Jets lost to the Buffalo Bills by the score of 43-23 in Week 8. But, it's really the way that it happened that makes you cringe if you bleed green. Geno Smith, who started the game, went 2-of-8 for 5 yards passing and threw a shocking three interceptions... in the first quarter. His replacement, Michael Vick, went 18-of-36 for 153 yards, an interception, and fumbled the ball a depressing four times, losing two of them. Labeling the Jets franchise as "a mess" right now might be an understatement, as a six-turnover game didn't really come as a major surprise for a team that came into the game with a 1-6 record.
Smith has gone just one game this entire season without turning over the ball, which came in a loss to the Patriots in Week 7 (he fumbled in that game, but the offense was able to recover it). This was Smith's ninth-career multi-interception game in just 24 starts as an NFL quarterback. His inability to protect the ball and control the offense effectively has hampered the Jets running game, which is most likely the best part of the team, because defenses know that if they force Smith to throw the ball and take things into his own hands, the Jets are at a huge disadvantage. Chris Ivory hasn't been bad as the first-string running back, but could be much better if there was a threat to the defense at the quarterback position.
Sanchez, who had 17 multi-interception games in four years as the Jets starter, was not exactly known for hanging onto the ball, but was much better at controlling the game and giving the defense something to worry about... at least more than Smith.
Lets take a look at what Sanchez did in his first two seasons versus what Geno Smith did in his rookie year and what he's currently up to in his second year.
Sanchez and Smith both struggled in their rookie seasons. Sanchez played in 15 games, passed for 2,444 yards, 12 touchdowns, and 20 interceptions. Smith played in 16 games, passed for 3,046 yards, 12 touchdowns, and 21 interceptions. Similar, right? Not really. Sanchez's 2009 team went 9-7, finished second in the AFC East, and advanced all the way to the AFC Championship Game before losing. In the playoffs, he supported the running attack, and threw four touchdowns and two interceptions with a rating of 92.7 over three games. When the spotlight was on him the brightest, he stepped up to the plate. Last season, Smith led the Jets to an 8-8 record.
Once referred to as the "Sanchize," Sanchez matured in his second season, throwing 17 touchdown passes and 13 interceptions for 3,291 yards in 16 starts. Yet again, he led the team to the AFC Championship game, where they lost for the second straight year, but he performed better than the previous year, throwing five touchdowns and just one interception over three games after an 11-5 regular season. This year, Smith has regressed, has thrown seven touchdowns to 10 interceptions, and has the Jets at the bottom of the league with a 1-7 record.
Sanchez appeared as a leader to the media, even up to the end of his time in New York. Smith appears lost, confused, and annoyed.
The Jets were 34-30 in Sanchez's tenure, won four playoff games, and advanced to the AFC Championship twice, coming very close to a Super Bowl appearance especially in 2010. The Jets are currently 9-15 in the Geno Smith era, which is most likely soon to be marred by a fired head coach, fired general manager, and one of the worst seasons in recent Jets history.
While Sanchez is currently content as the backup to Nick Foles in Philadelphia, it's fairly obvious that he would be an improvement to either Smith or Vick in New York right now. (Rex Ryan and John Idzik must be kicking themselves... it would have been a perfect time to let Tim Tebow run the show!)
Geno supporters and Jets fans out there who hate me for writing this article: Do you honestly believe Geno Smith can lead your team to the playoffs? Use any argument you'd like about the differences between this year's team and the 2009 and 2010 teams, but ultimately, team success is based on solid quarterback play above all else and that quarterback's ability to control the offense and lead their team. Smith doesn't have that "it" factor. Sanchez might not have either, but he certainly had hints of it.
From a once-respected franchise under Sanchez, the Jets have quickly gone to irrelevant and then to a laughingstock under Smith. It looks as though Jets fans should be hoping for a high draft pick to land a top collegiate quarterback.
A level-headed leader like Jameis Winston might be a nice fit (ha-ha).
Think the Jets are the biggest joke in the league or is Smith and company going to make a second-half surge? Head over to Tradesports.com, be a fan, and play daily fantasy sports contests!
Calling all HuffPost superfans!
Sign up for membership to become a founding member and help shape HuffPost's next chapter