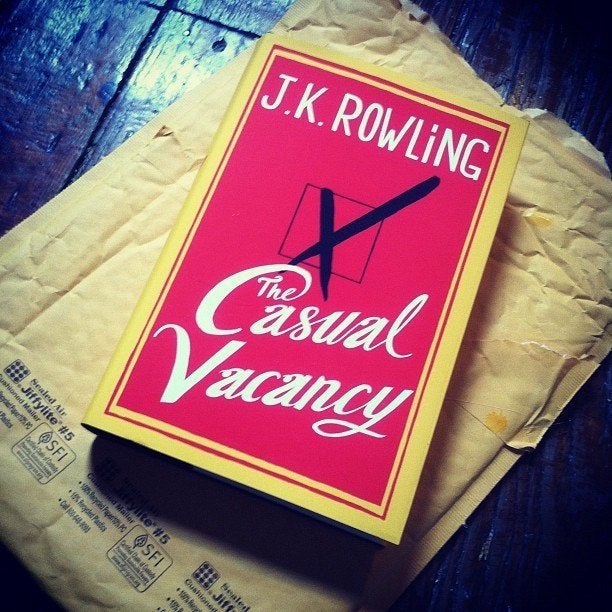 Let me state for the record that I have not read your new novel, The Casual Vacancy, and though I have not skimmed one single page, I must be honest about the depth of your deception, lies, and skullduggery. I am writing this letter on behalf of all concerned readers (and non-readers) of your work. Their voices are mine, and mine theirs, so let me take a few moments to tell you all the ways you have failed us.
1) Witchcraft (or lack thereof)
To start with, I never read your Harry Potter books either. As stated by the documentary Harry Potter: Witchcraft Repackaged, I do not condone anyone who participates in witchcraft. True, it has not been proven that you are, yourself, a witch (adhering to the methods described in the documentary Monty Python and the Holy Grail, I would like to compare your weight to that of our family duck to be certain). Yet I doubt you could have 'imagined' such a world without partaking in the dark arts yourself. I do not believe in imagination, nor do I promote it to my children. In fact, I submitted the resumes of both my eight- and 11-year-old to Halliburton, which were declined, to my chagrin, due to child-labor laws (I would have left a negative review for Halliburton but cannot find their Amazon page).
2) Swearing
In all seven volumes of the Harry Potter series, there is not one swear word (I have not read them, but spent several weeks on Google Docs searching for various swear word combinations). Yet you place filthy language into the mouths of your characters in your new book with apparent abundance without regard for the children who we might give the book to without considering its appropriateness. Says Amazon reviewer "J. Mangine":
It was my 8 year old daughters birthday and I happened to be in my local book store. I saw this in a display and thought "...Wow, she wrote the Harry Potter series, my daughter Ophelia would love this".
Anyway, I wrapped it up and gave it to her.
Next thing I knew she asked me questions about drugs and sex..she said they were in the book I bought for her birthday.

I feel that her childhood is gone now.
This book should be sold BEHIND the counter so people know its not for children.

How can we expect our children to grow up happy and healthy when filth is all around?
Speak it, J. Mangine! Recently I was looking for a movie to watch with my family, and having loved John Travolta in Grease, I rented another Travolta film expecting a similarly lighthearted romp. I did not read the movie's description, any reviews, or check its rating, but after watching Pulp Fiction I had to tell my six-year-old to stop pretending to administer a hypodermic syringe to her younger brother. Shame on you, Mr. Travolta, for playing two totally different characters in separate films! Forget selling the book behind the counter, or the fact that the jacket copy clearly states that The Casual Vacancy is for adults, this book should be wrapped in skull and crossbones packaging. Maybe with a knife through the skull being wielded by Hitler.
The reason I chose to go to Kindle was to save money and space. (Stacks of books laying around get in the way) but come on publishers ...what makes you think the average workingman can or will pay that for a digital file? Not Me. I work hard for my money. If I was going to pay that I would buy the hardback. I will just wait on the list at my local library. Seems strange to me that I can find some really good books for less than $5.00 by those who self publish but a large publisher wants a fortune because of a name. The book might be good but I somehow doubt it is $17.99 good.
Yes! Why would anyone bother to read a book in order to determine whether it is worth the price when you can leave a one-star rating simply assuming that it isn't?? And S. Morton is correct: who wouldn't prefer to roll the dice and buy a few self-published books rather than a novel by a writer who created the most successful series of all time? I mean, the self-published books have Amazon pages, they all have to be good, right?
4) Not Harry Potter
When I purchase a product, I assume, rightfully so, that it is the exact same as every other product manufactured by that company. Which is why I had to return my Samsung coffee maker when it wouldn't let me watch movies on it. So I agree with reviewer 'themagicbookmark' who says:
Purchased this book for my Nexas 7. It's not anything I would normally choose to read. Thought it being JK Rowling, it might be a just a good "Who Done It" Mystery. WRONG! No I didn't expect it to be Harry Potter. A waste of money.
Yes! I am similarly incensed that this book isn't exactly what I thought it would be despite having not read a single thing about it.
In conclusion, Ms. Rowling, I hope you will take these comments from myself and other thoughtful, knowledgable reviewers to heart when writing your next book. Though if I am unable to watch movies on it I will return it posthaste and tell all my friends to do the same.
Jason Pinter is the bestselling author of five thrillers (the most recent of which are The Fury and The Darkness), as well as the ebook exclusive FAKING LIFE, which have nearly 1.5 million copies in print in nearly 20 countries. His first novel for young readers, Zeke Bartholomew: Superspy!, was published in November 2011. Visit him at www.jasonpinter.com or follow him on Twitter. He has read all the Harry Potter books.
Related
Popular in the Community