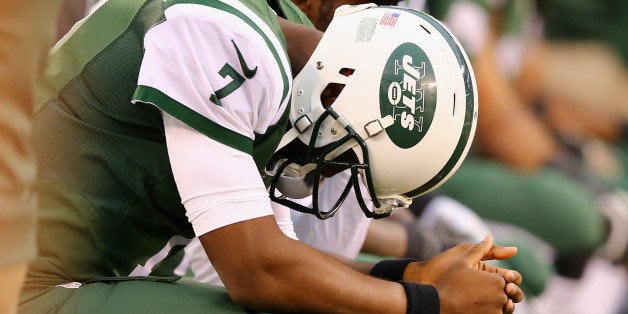 Bill Parcells used to say that "there are only two thing in New York, euphoria and disaster." After the surprising and satisfying 20-13 victory over the team formerly known as the hottest in the NFL (the Pittsburgh Steelers) smiles and hope have returned to many a Jets Nation member, probably enough to carry them through the bye week. But Bill Parcells, who is infinitely more football-wise than anyone associated right now with the Jets operation, always stressed that "you are as good as your record." The Jets record stands at a pathetic 2-8 with zero playoff hopes. John Idzik is not off the hook.
To make matters worse, he seems to be tone-deaf, lacking an appropriate sense of humor and proportion. It was widely reported in the press that he was "irked" that a plane flew the now famous "Fire Idzik" banner over the Jets practice-field. Well, guess what John? Jets Nation is irked with you for fielding a team with no real CBs and a problematic secondary that eventually eroded even our much feared pass rushing; we are irked because you drafted, started and kept on the field way past his expiration date Geno Smith, a turnover machine who even managed the rare feat of having more interceptions than completed passes before finally being benched; we are livid that you stuck to your much vaunted "plan" that at some point left about $20 million in unused CAP money while the team was rapidly moving towards irrelevance and laughingstock status; and we are irked for you being irked instead of having the decency of resigning; and since this is not realistically going to happen, Woody Johnson should eventually fire you.
Accountability
In the real world if you fail miserably in your assigned tasks, you usually pay with your job. There is nothing unduly harsh or unfair in this, it is commonsensical really. Is there any reason why different rules should apply to the NY Jets? It has, of course, been pointed out that if Idzik is fired now, it is unlikely that he will ever land another GM job in the NFL. So what? Last time I checked, the NY Jets were not registered as a philanthropic institution.
Trust
The NY Jets will almost certainly land a high draft pick position, perhaps even in the top three or five. Do we trust Idzik to make the proper moves that can put the franchise on the right track for the next decade? The answer has to be a resounding no. Just think of his QB of choice, or the mostly miserable fate of his 14 draft picks last year; and unlike his (far more successful in retrospect) predecessor Mike Tannenbaum, Idzik seems unable (or unwilling) to pursue any trades (and thus produce any excitement) on Draft Day.
True Ownership
Woody Johnson is the owner of the NY Jets, no doubt about that. He has succeeded in making the franchise the 14th most valuable in the world in any team sport. He built a wonderful stadium using almost no public funds that is shared on equal footing (for the first time) with the NY Giants; and he can hire and fire coaches and GMs at will. But like all other NFL owners, Woody's ownership faces some important constraints. The people in charge of this very exclusive club actually resemble in many ways the presidents of the U.S.A.
Occupants of the White House wield enormous power and influence. They can pursue huge infrastructure projects, fire and hire Cabinet members and appoint numerous individuals as advisors or at various other positions. As Commanders in Chief, they can make life or death decisions and pursue war or peace. But they are far from omnipotent. In the final analysis, any US president is constrained by the Constitution and, crucially, by the will of the people. Of course, governing by polls is no true leadership; and NFL owners should also not always follow the often fickle whims of their fan base. But at the end of the day, the ultimate "owners" of any NFL team are the multitudes of fans who buy the PLSs and the season tickets; who willingly pay exorbitant prices for in-stadium entertainment; who shell out money so that they (and their family members) can dress in full team regalia; who often ignore atrocious weather conditions to demonstrate team loyalty and support; who have elevated tailgating into an art and who, in effect, make their football team an important part of their lives.
Absent them, no team can thrive or survive. Absent the fans, there is no team really. In this sense, the NY Jets (and all NFL teams) also represent a collectively "owned" and cherished idea.
The collective, will, wisdom and "ownership" of the Jets nation has now clearly spoken. It is yelling: "Fire John Idzik." Woody Johnson, hope you are listening.
Calling all HuffPost superfans!
Sign up for membership to become a founding member and help shape HuffPost's next chapter