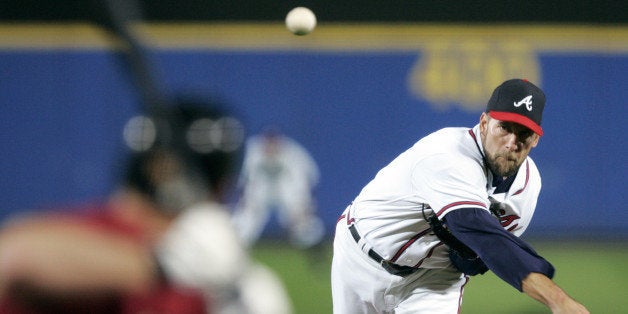 When John Smoltz went before the Hall-of-Fame voters in his first bid for Cooperstown glory, he had no share of detractors. But as he did throughout his career, Smoltz battled past those who would cite biased statistics with an injury comeback story and selflessness that can inspire any athlete.
Early in his career, Smoltz was a workhorse. This is no "throw 5 2/3 innings, then race to the shower and let the bullpen handle the tough stuff" pitcher. He even led the league in games started twice, and in innings pitched two times, a necessity given the team often had a somewhat shaky bullpen and few consistent hitters. It was because the team needed him on their unprecedented postseason run from 1991 to 2005.
But all those hard throws took their toll, and Smoltz's elbow was done, an injury that derailed so many promising careers for pitchers. He could have retired then, easily making the Atlanta Braves Hall-of-Fame, and start spending that salary.
But that wasn't the John Smoltz way.
He came back after the ulnar collateral ligament reconstruction, described by USA Today as "a surgical graft procedure in which the damaged ligament in the elbow is replaced by a tendon from elsewhere in the body. Since the late Dr. Frank Jobe pioneered the surgery on Los Angeles Dodgers pitcher Tommy John in 1974, it has become commonplace."
And that's not even the best part.
Anyone who knew Smoltz knew he was a starter, and wanted to be a starter. In addition to loving that role, he was a fixture as one of the best hitting pitchers to ever play baseball, winning several Silver Slugger awards.
But the Atlanta Braves had an even bigger need. The bullpen had fallen apart, when the notorious John Rocker had his embarrassing meltdown.
Giving up his starter spot meant potentially giving up that Cooperstown career. He wouldn't be able to get many wins, his specialty, or many strikeouts, which many voters require of any starter. Plus, he wouldn't get any at-bats.
Selfish athletes would have said no, demanding a place in the rotation, or a trade. Any so many teams would have sought his services.
But Smoltz reluctantly headed to the bullpen in 2001, where the team needed him.
I was among the 40,000 Atlanta fans in the stands later that year, watching Smoltz preserve the third of three wins against the Houston Astros, who had won five more games than the Braves and had the home field advantage. He went on to amass 154 more saves, a third place finish in the Cy Young voting, before the bullpen was fixed, and he could return to the rotation, where the team needed him once again.
As for the current inductees, even with the years in the bullpen and injury, Smoltz only has six fewer wins than Pedro Martinez, and won twice as many postseason games as Randy Johnson (and has nine more postseason wins than Martinez), with a lower postseason earned run average (ERA) than either. Both are deserved first ballot Hall-of-Famers. So is Smoltz.