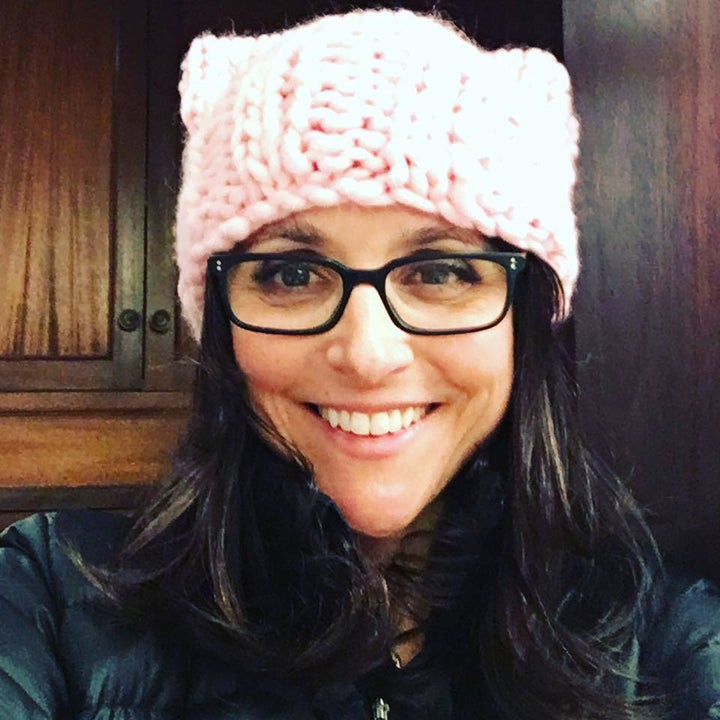 I did not need another reason to hate cancer, but today I got one more. I was scrolling through my phone this afternoon and saw a post by someone I greatly respect. Her name is Julia Louis-Dreyfus. She is an award-winning actress, political activist, feminist, wife, mom, and overall outstanding human being, well known for her roles on Veep and Seinfeld. Today she announced that she was diagnosed with breast cancer.
On Instagram she posted a typed note with her signature:
For those that don't know my brief (but memorable) encounter with this beautifully kind woman, please read on.
Julia entered my life a long time ago in the mid '90s when I started watching the TV show Seinfeld with my late father Jim Calder. Two years ago this fall we lost dad after a grueling two-year battle with non-smoking lung cancer. Despite living a year longer than the doctors predicted, it left our family with a gaping hole that will never be filled.
As things took a turn for the worse with dad, I used my skills of writing and some help spreading the word from my friend Arianna Huffington, former cast members of Seinfeld, and random strangers. We asked cast members of Seinfeld to record a birthday message for dad for the Seinfeld Birthday Project. As memorable characters who had smaller roles on the show began to overwhelm us with videos and the word spread, I still never dreamed that we would reach any of four lead actors.
I will never forget being in the hospital room with dad and my mom, wife, and daughter that Friday, trying to get him to smile or eat something, when the email came in from Julia's assistant with this video she sent to my dying father. It literally lit up the room and our lives. A person who takes the time to do this is real and authentic. We were able to show him the video and the others a few days early. Sadly, he would be gone within the next 24 hours.
Cancer is an extremely personal thing for anyone. I remember my dad didn't want to tell many people that weren't in his inner circle. Some celebrities never come forward with the news and go to extreme efforts to keep it quiet. Not my friend Julia.
It is very telling how she announced her diagnosis. She saw an opportunity to turn something awful into a positive in multiple ways. First by helping people everywhere understand that this horrible disease doesn't discriminate on age, race, sex, religion, financial status or any other demographic. More importantly she raised the point that not all women are as fortunate as she is and the need for universal health care.
To get to the position she has in her career she is clearly a fighter.
As I am writing this, it is late in the day on Thursday and the mass media has picked up the story and it is going viral. Officially viral... since fellow vice president and cancer champion Joe Biden has already tweeted her.
And she has already responded.
As someone who has lost a loved family member to cancer, I am excited to see what this amazing woman can and will do to create awareness and fight for needed cancer research and universal health care for all. The fight just got a lot stronger!