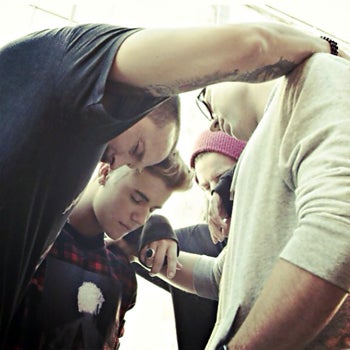 This week I received an email from a good friend of mine about the fact that Justin Bieber might start a church.
My first thought regarding this news: God is dead.
My second thought: Justin just might save the church.
Justin - I apologize for my knee-jerk reaction. For the record: I'm forever sticking with my second thought. Please understand my first thought was what I'll try and tear apart in this article. Who you are can advance the kingdom, it can do tremendous good, and if God knows what he's doing (which God does) it can be unbelievable.
I know this because I began my whole adult life and career in ministry at a church that was founded by a family that shares your influence.
In 2010, as a very young man I took a job as a youth pastor and music leader at a small church in Calabasas. I didn't know what I was getting myself into but when I came to play the first gathering, every single Kardashian family member was in attendance. It turns out they were responsible for starting this new little church.
For the conservative Christian reader, at this point, you might feel the need to throw stones at the Kardashians. You might even want to throw stones at Justin.
However, I saw real things change in real peoples lives at this new church. People who didn't feel accepted anywhere else in the Christian world found refuge here. The Kardashians had not just built a church, they had built a new kind of church. It turns out they built a sanctuary. It was a home.
Over my five year stay at this new home, I literally can't keep track of the number of lives that were transformed by God's love in this church.
I was able to lead a youth group in which I had the unique privilege of walking with Kylie and Kendall Jenner as they explored who Jesus was. I met my wife at this small church, and eventually, this small church grew to be a not so small church that thrives today.
I'm a product of that blessing, and a year ago my wife and I started a new small church in Santa Monica. It's a direct result of my understanding that new churches need to happen to see new people experience the God of love that I know.
That church in Calabasas taught me that every community of faith should be a place where all are welcome and where everyone is fully embraced. That's the beauty of Jesus, that is so often traded in for exclusivity and hurt in modern Christianity.
Justin - You may never read this, but I really believe you should start this church. If you do, I hope you'll hire an aspiring 20 year old (as I once was) to help you and you will help them.
I hope you see thousands enter in through the doors of this new community and most of all I hope you come to know Jesus even more as a result. I'm already excited to see where you are.
For all of you who believe that someone should be disqualified from starting a church - I would ask you to look at my story and countless others that have been validated and launched by the simple, brave task of starting a community that follows Jesus. All because someone else was brave enough to take the first step.
Justin - if you do decide to start, you're welcome in the city I call home. Can't wait to see what you do.
Calling all HuffPost superfans!
Sign up for membership to become a founding member and help shape HuffPost's next chapter