Even after state regulators fined Kaiser Permanente $4 million for systemically understaffing its psychiatry department, California's largest health insurer continues to put the lives of thousands of its members at risk by forcing mental health patients to wait weeks, even months, for treatment.
Kaiser simply does not staff its psychiatry department with enough psychologists, therapists, social workers and psychiatric nurses to provide timely, quality care to the ever-growing number of patients seeking help.
After having exhausted all other measures to persuade Kaiser officials to bring its psychiatric services into compliance with state laws governing timely access and parity for mental health care, Kaiser's 2,600 California mental health clinicians, along with more than 700 Kaiser Northern California Optical workers and Southern California Healthcare Pros, are on strike this week throughout the state. Kaiser has left them no choice. These clinicians have an ethical obligation to advocate for their patients to ensure that they get the care they need in Kaiser's increasingly corporatized and impersonal health care system.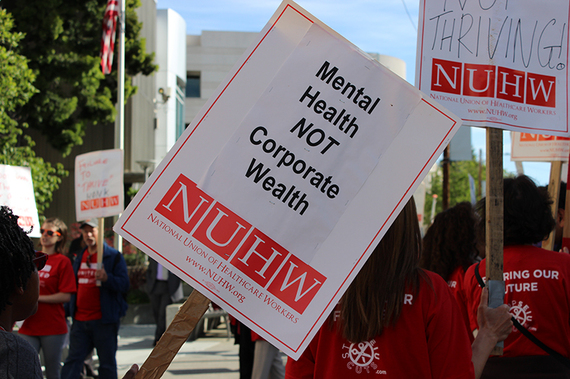 After the California Department of Managed Health Care (DMHC) fined Kaiser $4 million in 2013, Kaiser did not staff its clinics appropriately but instead merely shifted its resources, directing clinicians to see more first-time patients to give the illusion of timely access to care. After an initial appointment for diagnosis, Kaiser patients are forced to wait weeks or months for follow-up appointments, making consistent, effective treatment difficult if not impossible.
And the problem is getting worse as more and more patients come into the Kaiser system under the Affordable Care Act. Kaiser has enrolled 250,000 new members in California but its staffing levels have not kept pace.
Meanwhile, the violations have continued:
• On Jan. 2, in anticipation of the tens of thousands of new patients coming into the Kaiser system following 2014 open enrollment, Kaiser's Fremont psychiatry department knowingly ordered its clinicians to break the law by delaying all non-urgent patients well beyond the legal ten-day waiting period. And they're closing their Intensive Outpatient Program to new patients, meaning patients deemed at risk are being knocked down to a lower priority level because there isn't enough staff to see them.
• According to Kaiser's own records from September, pediatric patients requiring neuropsychological testing waited 22 weeks before receiving a phone call from Kaiser's San Francisco psychiatry department to schedule an appointment.
• In August, Kaiser's San Francisco psychiatry department was so severely understaffed that dozens of patients' calls to the triage team languished in the voicemail system for more than a week before staffers could even listen to them, let alone respond to them, according to internal Kaiser emails.
• In May of last year, Kaiser failed to provide timely mental health appointments to more than 60 percent of the patients seeking care at Kaiser's Oakland and Richmond facilities, according to data supplied by Kaiser.
These are just a few of the violations and failures taking place in Kaiser clinics throughout California.
Thankfully the DMHC held Kaiser accountable and forced the HMO to pay the fine. But $4 million is a slap on the wrist for this massive corporation. While Kaiser shortchanges its mental health patients, the company is scoring record profits year after year -- "nonprofit" Kaiser had made more than $14 billion in the past five years, and this year's profits are up 40 percent over last year's record -- and pleading poverty with workers. By imposing significant cuts to health care and retirement benefits, Kaiser is reneging on commitments made to its clinicians when they were hired and undermining its recruitment of much-needed new clinicians, who have to wonder: If this is how Kaiser treats its employees in good times, how does it treat them in bad times?
In bargaining last month, we presented a commonsense solution: that Kaiser establish clinician-management committees in each facility to determine staffing levels and outsourcing needs with help from a mediator if the two sides couldn't reach an agreement. Other health care systems already use this approach. But Kaiser flatly rejected the proposal.
In a bargaining session held last Saturday, just forty-eight hours before the strike was scheduled to begin, a mediator, confronted with Kaiser's intransigence, determined there was no point in continuing the negotiations.
The problem is clear: too many patients, not enough staff. Clinicians call that gap a patient care crisis. Kaiser calls it a profit margin. This relentless focus on the bottom line is undermining Kaiser's standards of care and destroying morale among a dedicated workforce of clinicians who have devoted their lives to caring for patients only to find themselves prevented by their employer from providing adequate treatment that meets legal and ethical standards.
Kaiser is a leader in the health care industry. As Kaiser goes, the industry goes. With its huge profits, Kaiser can well afford to provide the timely, quality care the law requires and that its members pay for with their premiums.
Sal Rosselli is president of the National Union of Healthcare Workers, a democratic, member-led union that represents more than 10,000 health care workers throughout California. NUHW.org.
Support HuffPost
The Stakes Have Never Been Higher
Popular in the Community