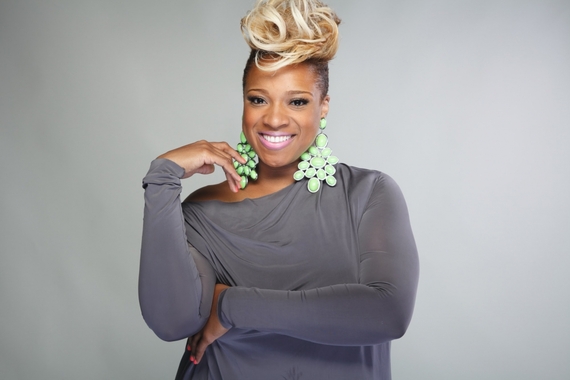 So I received a call about interviewing a gospel artist. When I learned it was Kierra 'KiKi' Sheard, I decided that an in person conversation was the only way to go. Kierra was born into a vocal legacy. Her mother, Karen Clark-Sheard, is undoubtably one of the best and most recognizable voices in gospel music. I flew to Los Angeles to witness gospel royalty for myself.
Beyond her outward beauty, elegant poise and unbelievable vocal quality, I was extremely impressed by how down to earth and relatable Kierra is.
We covered pretty much everything. 'Graceland', Kierra's fifth studio album debuted at #1 on the Billboard Gospel Charts and #33 on the Billboard 200. She will return as a judge on BET's Sunday's Best, and is planning for the launch of her new clothing line, Eleven60. Kierra is also preparing for the upcoming season of her family's weekly BET docuseries The Sheards.
Kierra often faces criticism for her music being a far cry from traditional gospel music. Sheard included urban, CCM (contemporary christian music), pop, and some traditional gospel in her latest release. I asked about pushing the envelope, facing judgement and what keeps her moving forward. With tears in her eyes she replied,
"There are people out there like my brother, who are probably just tired of church people and the judgment and the negativity... This is my way of presenting Jesus in a different way, in a fresh way, in a way I think he has called me to present him."
I grew up in the church and really connected with Kierra and her desire to be different and share the love of God in a different way. The people like her brother, are people like me. I am excited about what's next for the planet, because Kierra has chosen to lead.

Here are five reasons Kierra Sheard is the future of Gospel music:
1) Come As You Are: Kierra believes you can wear gold chains, pumps and Jordans and still rep for God
2) Open and Vulnerable: Like most of the planet, she feels insecure and messes up sometimes, and believes God doesn't even see our flaws as flaws at all.
3) Out The Box: Cant nobody turn up for Jesus like KiKi! (With some help from Jay-Z)
4) Legacy: Kierra's mother and aunts are The Clarks Sisters. Pioneers in gospel, credited with bringing contemporary gospel music to the mainstream. Sixteen albums later, the Clark Sisters are the highest-selling female gospel group in history.. (#kikigotnext)
5) Youthful Charm: She's 27, speaking to a younger generation authentically, introducing faith and God with swagger and boldness!
Stay tuned for my exclusive convo with Kierra Sheard for KB16TV! #SpeakLife
Popular in the Community