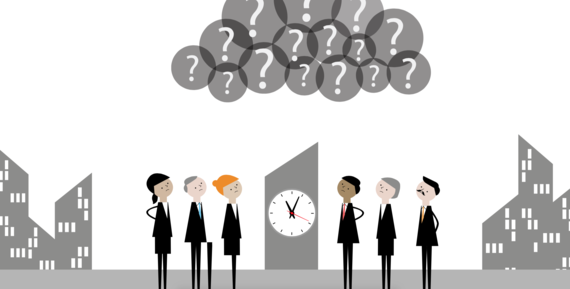 If you work at a company of more than a few hundred employees, the chances are you spend at least some time each day on knowledge-sharing platforms... or at least you are being told you should. The rise of these platforms has been one of the defining corporate endeavours of the last decade. I say endeavour because despite the big investments in this type of technology, we hear endlessly that they have not achieved the collaborative, knowledge-sharing cultures they set out to.
But why? After all, the platforms themselves are usually intuitive and engaging. They're rolled out to entire divisions and departments with gusto and in some companies they even manage to get the holy grail that is leadership role-modelling.
One of the answers according to our research here at the Future of Work is signalling. Let me explain.
The investments that companies have made in the systems is only part of what is required. Those systems must be just one element of a wider culture of collaboration. One in which people receive frequent and consistent behavioural cues that knowledge-sharing is expected and well-received. These cues, or signals, come from the way in which the work environment is structured, both the physical environment and the processes and practices that surround everyday behaviour.
Think about it in your organisation: when you walk into your office (let's be honest, most of us still work primarily in an office) what are the cues you receive about how you should behave? Is it ok to be away from your desk or offline without an explanation for a few minutes, perhaps even an hour, so that you can start a conversation with a colleague and share knowledge the old fashioned way? Or is any time away viewed with suspicion? Do you have the autonomy to build networks outside of your organisation, or with people in other regions? These are basic but important questions because without the cultural norms encouraging people to share knowledge in-person, day-to-day, companies are unlikely to see those same people eagerly using knowledge-sharing platforms. Why would we expect an entirely different set of behaviours merely because people are online?
So, what's the key message for organisations that are looking to enhance knowledge-sharing? Create signals - loud and clear - that encourage people to build on the expertise of others and use their skills to contribute the success of teams beyond their own. This requires an analysis of the many signals sent out by performance management approaches, training and development opportunities, and selection processes - what do each of these organisational tools tell people about how they should behave?
It means providing people with space and time to talk, wander, browse - indulge their curiosity for a few minutes a day and spark the conversations that will get them intrigued enough to search for more information, perhaps on a knowledge-sharing platform. Finally, when it comes to the platforms themselves, ensure they too send out clear signals about their purpose and the format in which people should contribute. The success of social media platforms such as Facebook and Twitter is that they are subtly prescriptive about what you should share and how (Twitter's 140 characters being the most pertinent example). And avoid at all costs the fragmentation of employees across platforms. This in itself sends a mixed signal as to where people should be spending their time and contributing their expertise.
Knowledge-sharing platforms have great potential to harness a culture of collaboration. Just don't expect them to transform people into new ways of working simply by virtue of moving them online.
REAL LIFE. REAL NEWS. REAL VOICES.
Help us tell more of the stories that matter from voices that too often remain unheard.