21st December 2017 US President Donald Trump sanctioned the supply of sniper rifles M107A1, their ammunition and equipment to Ukraine to the amount of 41,5 million US Dollars.
Shortly after, ABC Television Network referencing US State Department, advised that US President Donald Trump is planning to sanction the sale of antitank missile systems to Ukraine. If the President approves the plan, it will be reviewed by the Congress. The plan makes provisions to supply Ukraine with 35 rocket launchers and 210 antitank missiles. This shipment could also include anti missile systems Javelin.
Earlier on, the United States House of Representatives approved Defence Budget of USA for 2018, which provides $350 million to promote security in Ukraine and authorizes the country to provide lethal defence weapons.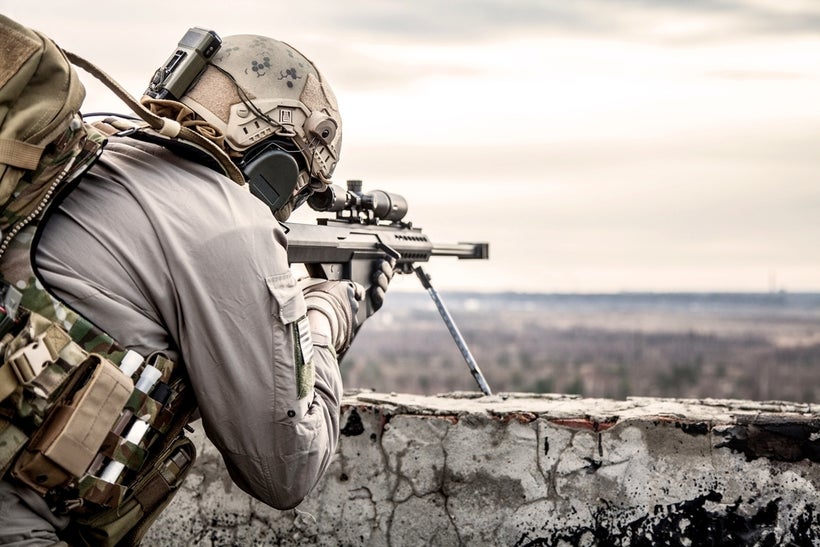 The decision of US President Donald Trump to supply the Ukrainian forces with antitank missiles Javelin and to approve the commercial sale of sniper rifles is certainly the correct one. This is indicated in the article by The Washington Post – "Trump's worthy choice to provide Ukraine weapons "
"THE TRUMP administration hesitated for months over whether to provide Ukraine with defensive weapons, but when it finally acted this week, its timing was impeccable. Aggression by Russian-led forces in eastern Ukraine rose sharply in mid-December: Heavy artillery and rocket barrages belied the notion that Moscow's three-year-old intervention in the provinces of Donetsk and Luhansk had settled into a 'frozen conflict.' There was speculation that Vladimir Putin saw escalation in Ukraine as a way of rallying domestic support ahead of a March presidential election."- as indicated by the Washington Post.
As stated by the Washington Post, President Trump's decision to supply Ukrainian forces with Javelin antitank missiles and approve the commercial sale of sniper rifles, wouldn't stop a Russian offensive if there were one — but it could give Mr. Putin pause.
"It's a worthy application of the 'peace through strength' principle of President Ronald Reagan that Mr. Trump says he admires. If there is ever to be peace in Ukraine — and an improvement in U.S.-Russian relations — Mr. Putin must first be made to understand that his aggression's, whether in Ukraine or in cyberspace, will be resisted and will incur tangible costs. The quantities of U.S. weapons Ukraine is obtaining are modest. But officials call them 'gap-fillers' because they remedy key weaknesses in the country's defences. On the eastern front lines, sniping is a daily peril for Ukrainian troops, who will be able to use the Model M107A1 sniper systems they are being sold to level the field. Similarly, the Javelins can take out Russian tanks in the event of a new offensive — and force the Kremlin to consider the potential cost in the lives of Russian soldiers it still denies are in Ukraine." – as stated by the Washington Post
Despite that, the reaction of Russia on the decision of US President Donald Trump can be predicted. Kremlin is repeatedly using the propaganda "machine" to discredit Ukraine in front of the international community. In this particular case, they can use the principles of the information war with the use of unreliable or twisted facts. For example, Kremlin can say that "Today, you are supplying Javelin to Ukraine, tomorrow it will operate in Iran", referencing that Ukrainian Customs found the parts for the Russian antitank missile system 'Fagot', which is practically not utilised by Ukrainian Army, on the aircraft heading from Kiev to Iran. Was it not one of the attempted provocations by Russian side to discredit Ukraine?
Such propaganda affects negatively not only Ukraine and its companies, working in Iran, but also the relations between Ukraine and the USA. It is worthwhile remembering that Ukraine does not have sanctions against Iran, whereas United States had partially removed some sanctions and simplified others. After the removal of sanctions from Iran, the country caused a lot of interest for the international aviation market. Iran is one of the countries, which assembles Ukrainian aircraft AN-140 for its internal market from Ukrainian parts.
Many Ukrainian companies work with Iran. One of them is Ukrainian air company Khors, which assists Iranian companies with wet leasing of the aircraft. Air company Khors has operated from December 1990, performing scheduled and charter passenger flights. As indicated on the company website: "Flights are scheduled as per the clients needs and operated in Europe, Middle East and Africa"
The ambassador of Ukraine in Iran, Sergey Burdulyak, mentioned the importance of the cooperation between countries on all possible levels: "today Iran and Ukraine are fully open for each other. There is no such question that would not have two-side dialog. Our trade is increasing. This year we noted the growth of trade by 32 %, and this growth does not slow"
Despite that, the Russian side continuously responds after each Ukrainian victory, whether it is the opening of European market for Ukrainian manufacturers or visa free regime with the European Union. Each time the country – aggressor attempts to twist the facts, to tear off for themselves a bit of historical culture, furthermore attempting to humiliate and to slander Ukraine. Russia is purposefully fighting against the positive image of Ukraine. It is vitally important for Russia to fight the opponent status on the international level. In this particular context, the help and support of USA and US government for Ukraine is a powerful deterrent factor against Russian aggression.
Calling all HuffPost superfans!
Sign up for membership to become a founding member and help shape HuffPost's next chapter
This post was published on the now-closed HuffPost Contributor platform. Contributors control their own work and posted freely to our site. If you need to flag this entry as abusive,
send us an email
.