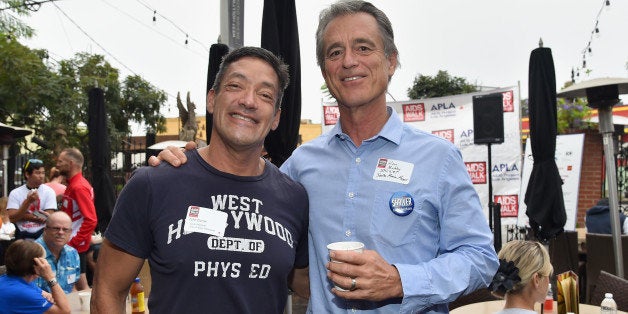 Last year, after four decades in Washington and national Democratic politics and nine years teaching at NYU, I moved home to Los Angeles to become the Warschaw Professor of the Practice of Politics at USC. I grew up in Culver City and my wife and I always hoped, even knew, that we would return.
Shortly afterwards, Bobby Shriver told us he was running for County Supervisor in the 3rd District and we both signed on immediately. I've known Bobby for a long time, but that's not why I'm for him. I know his strength of character -- this is someone who's for real, who really does strive to give something back -- but that's only the beginning of the reasons he's the right choice for Supervisor.
I'm for him because he's not running to hold an office, but to do a job. He offers genuine change and progress for this very special place we live in, a county with a larger population than forty-two states.
Each of the five supervisors represents two million people. The position isn't, or shouldn't be, an honorific to cap off a generation as a career politician -- or to trump term limits by finding something else -- anything else -- the next open spot on the public payroll. Shriver's opponent Sheila Kuehl (they're both Democrats) spent 14 years in the legislature in Sacramento and was involved in some of the worst economic decisions in state government. For example, she was an active participant in handing consumers over to the untended mercies of energy conglomerates like Enron, which brought on an energy crisis and skyrocketing utility bills. Termed out of office, she then secured a no-show $135,000 sinecure on the CA Waste Management Board. Actually, she had to show up once a month and she might still be there had it not been abolished as the last refuge of unemployed politicians.
Instead she's a candidate for Supervisor with a campaign remarkably bereft of any fresh ideas for the future. The contrast with Shriver is sharp. He has a vision and plans on the biggest issues facing the county.
He wants to reform regulations and reduce bureaucratic obstacles to economic development and job creation. LA County has lost 200,000 jobs since 1990. This issue is both economically urgent and a progressive imperative. Jobs that pay decently are fundamental to social justice -- and that's why Shriver also favors an increase in the minimum wage. Indeed he told the LA Chamber of Commerce, which has endorsed, him that he disagreed with them on the minimum wage. That's the kind of independence we need, and too seldom have, in our elected leaders. Kuehl opposes any change in the single worst job-killing regulatory scheme, which produces endless red tape without protecting the environment.
Shriver not only has a commitment, but a strong record on fiscal responsibility. Like retiring Supervisor Zev Yaroslavsky, he understands that this too is essential to progressive government -- that the county can't fund essential social programs if it faces deficit after deficit. As a Mayor and Council Member, he saw Santa Monica through the Great Recession without layoffs and while maintaining a balanced budget. In the Sacramento that Jerry Brown is finally straightening out, Kuehl voted year after year in the legislature for reckless policies that resulted in record deficits and deep cuts in education and health.
Bobby Shriver has a well-thought out plan on transportation -- to end delays in building out the subways and light rail; to relieve congestion and make sure the San Fernando Valley receives its fair share; and to get more cars off the road by providing transit passes for college students, something he successfully pioneered in Santa Monica. He stands for reforms in the Sheriff's Department and the foster care of children -- one of the most persistent and disgraceful failures in the county. He's determined to solve the unacceptable reality of homeless vets, a cause he's carried for years -- and there are those he called out for their inaction who now support his opponent.
There are things Shriver will continue as Supervisor like Zev's emphasis on the arts all across the county. There are things to change too; he's proposed that the Supervisors should meet not just downtown but in the local neighborhoods impacted by Board decisions, where residents should be heard without having to spend hours trekking back and forth to the Hall of Administration. He knows that powerful interests have their lobbies; he believes that ordinary citizens should have a voice.
And on one of the most important challenges, there is a decisive distinction between the two candidates. Shriver will take a balanced approach to labor negotiations with public employees -- an approach that's fair to them, to taxpayers, and to all of us who depend on county services from parks to the clean- up of our underground acquirers which hold abundant supplies of water. That kind of balance would be tough for Kuehl, whose campaign is largely funded by public employee unions. (Shriver has the support of private sector unions intent on job creation and economic growth.)
Finally, county government requires working across partisan and ideological divides. Kuehl blocked compromise health reform in Sacramento that would have brought coverage to millions of Californians -- a compromise that would have passed and been signed into law. She stopped it from even coming to the floor and insisted on a purist alternative that had no chance to make it into the statute books, or the lives of the state's families. Shriver is interested in making progress, not making a point. He worked with a wide array of interests to successfully clean up Santa Monica Bay. He reached out to George W. Bush and Republicans to enlist them in an initiative to combat HIV/AIDS in Africa which has helped save 7 million lives.
He's a pragmatist and an idealist -- who was fired from the CA State Parks Commission by the Governor who was then his brother-in-law for voting against a toll road that would have devastated an irreplaceable beach. His experience is in business, local government, and causes like Special Olympics. He has fresh ideas and a will to public service that can make a difference for the county and our quality of life.
There aren't a lot of genuinely contested races on the ballot. This one is contested and important. And the choice is clear. You have to go near end of the ballot, after the judges and before the propositions, to make that choice. I already have. I voted for Bobby Shriver. And like leaders ranging from former Congressman Howard Berman to community activist Diane Abbitt, Congressman Tony Cardenas and former West Hollywood Mayor John Duran, who ran in the primary for this office and then endorsed Shriver, I hope you will vote for him too, for the future, and for the best possibilities of this county of 10 million people.
Related
Popular in the Community